Top 12 Agile Project Management Tools to Improve Your Game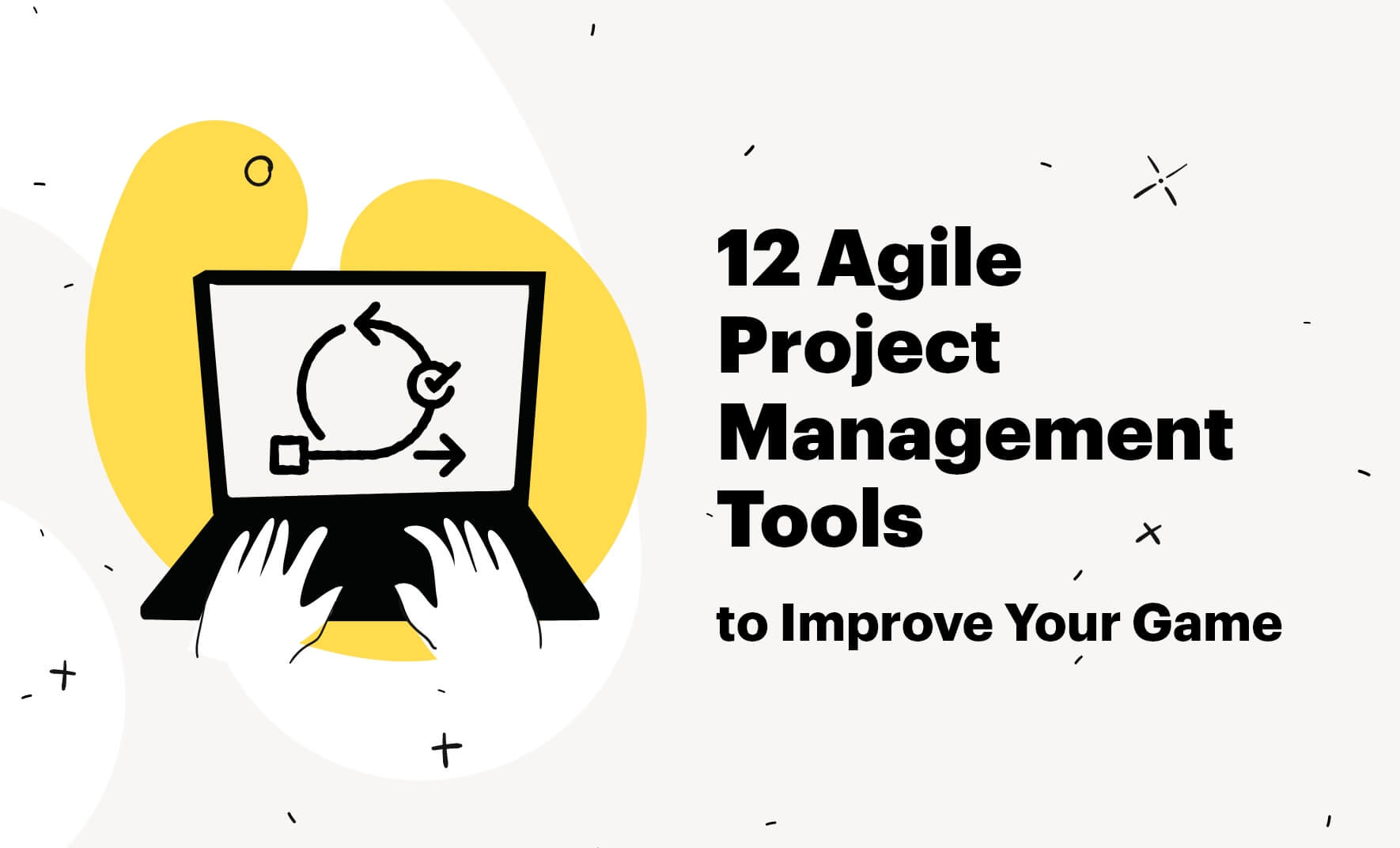 Agile Project Management tools are like icing on the cake – you need as a solid base a great team, adopting the agile methodology, and then, the tools help you improve what's already in place.
Whether creating a Kanban board, running sprints in Scrum, trying to work more efficiently, and adopt agile practices at your company, having the right agile tool is key to your optimized workflow.
Why agile project management tools instead of other project management tools?
Because they are purpose-built for agile workflows, as the demand for these is growing.
Companies like Amazon, Google, Microsoft, and Netflix are using agile in order to stay innovative and competitive on the market.
In this article, we review the top 12 agile project management tools we found most useful for all kinds of professionals.
Here is the list of agile project management tools that will, hopefully, will fit your various project, industry, and business needs.
1. Smartsheet – relevant for different businesses, roles, and industries
2. Active Collab – easy control over different users' access
3. Kitchen.co – communication, billing, file sharing – all in one place
4. Asana – easy tracking and task management
5. Miro – built-in chat, Kanban boards, and easy collaboration
6. VersionOne – great choice for development teams
7. Easy Projects – flexible agile project management tool
8. MeisterTask – user friendly with a free version available
9. Monday.com – preferred by famous big companies
10. WRIKE – highly configurable and comprehensive
11. Basecamp – a veteran on the market
12. Todo.vu – a great tool for freelancers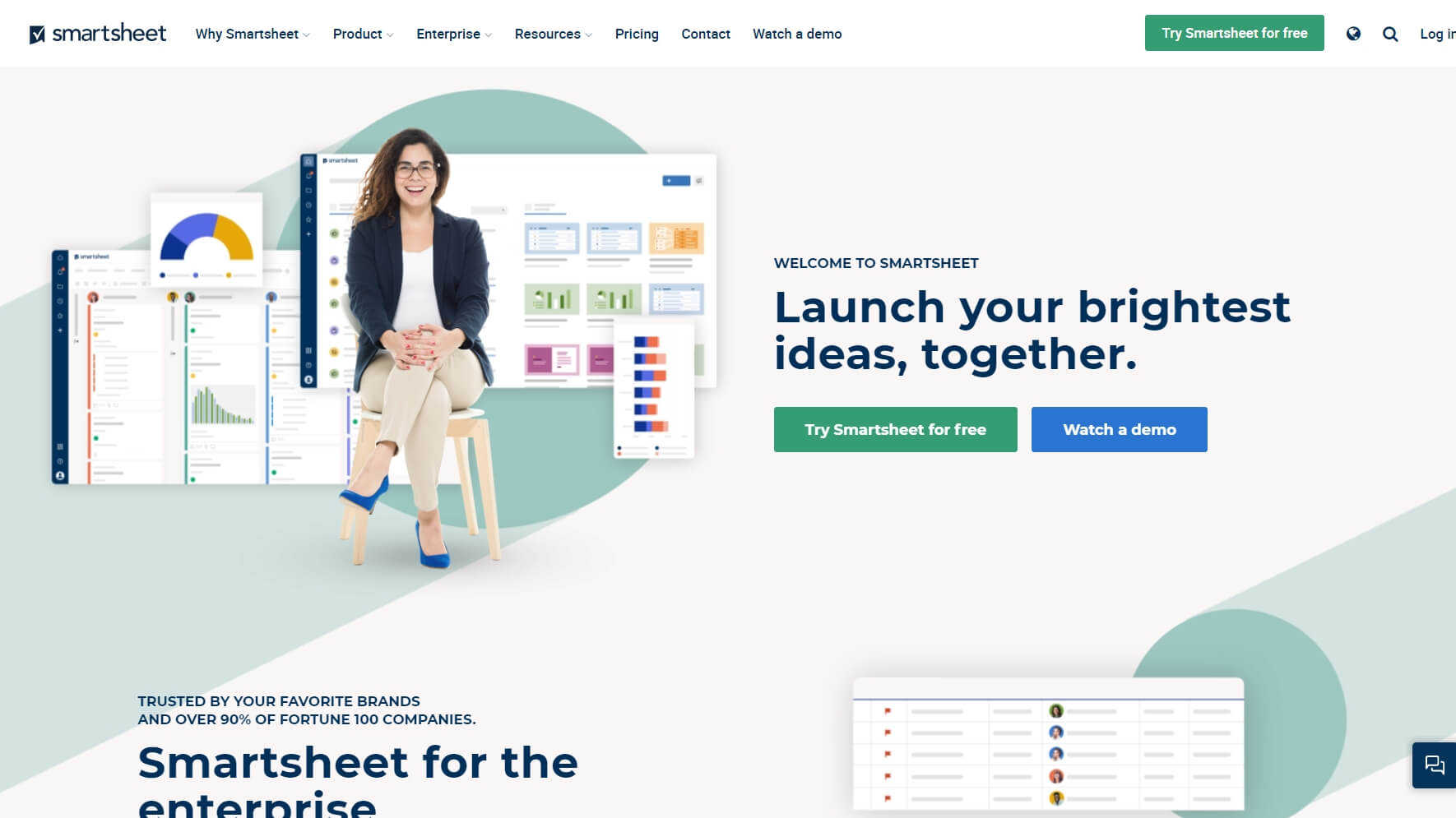 What it does
Smartsheet helps with managing operations, tracking marketing campaigns, and planning events.
Smartsheet considers different businesses, different roles, and industries, which makes it a very flexible agile project management tool.
It also has free and open collaboration and allows you to create an unlimited number of teams.
Pros
Great collection of dashboards. Easy to find and easy to use
Managing complex projects and tracking changes to a project sheet in real-time
Charts and visualizations
Gantt charts for project scheduling and management
Transparency with collaborative members
Cons
Ability to export in other formats
More logic could be added like other project management software
Smartsheet has no automatic backup
A bit pricey
Pricing
Business – $27 per user/per month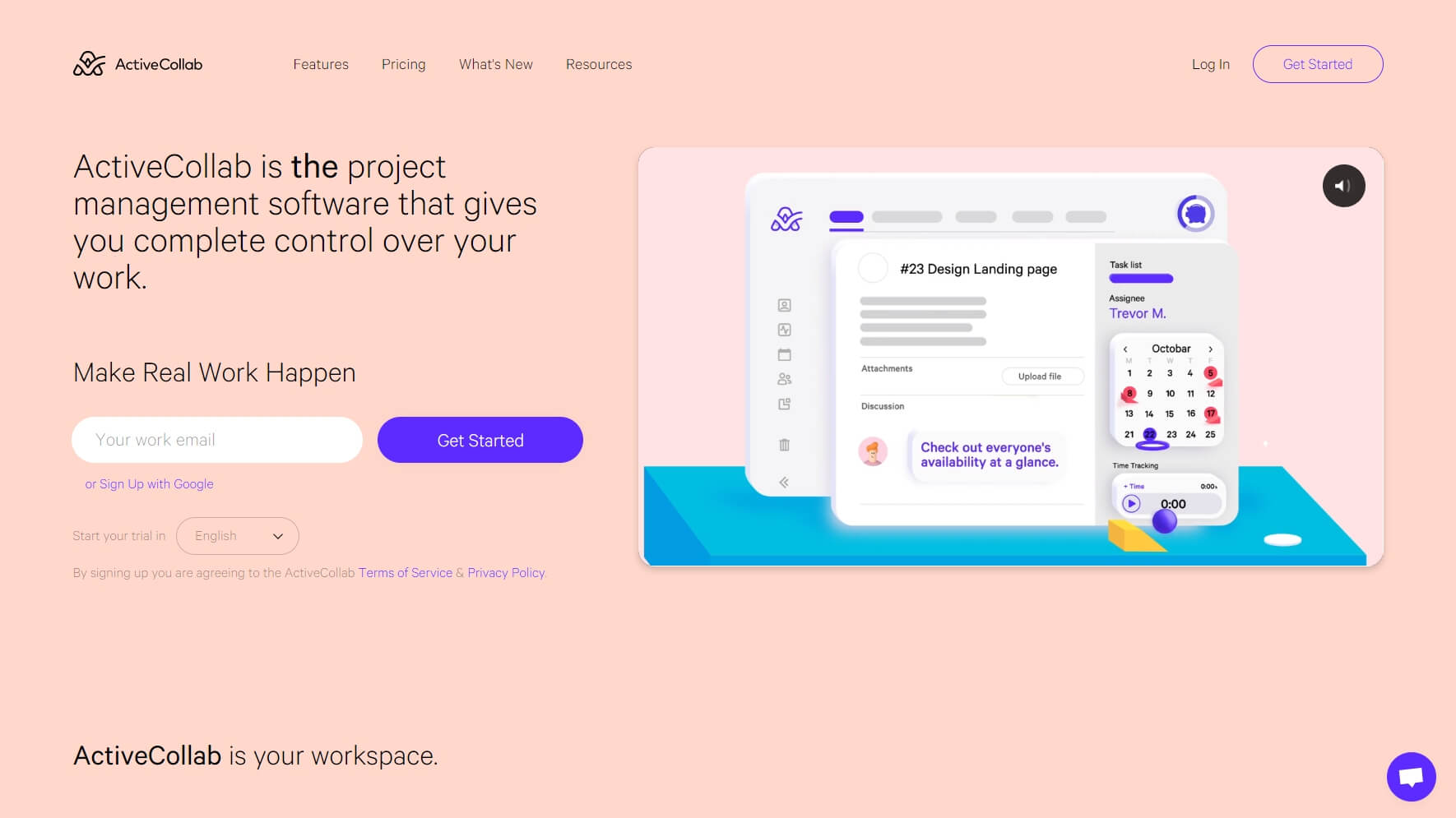 What it does
With Active you can decide what every user can see and access, keep them informed, and share what's relevant for them.
It offers project planning, allows file sharing, time tracking, expense tracking, brainstorming, discussions, etc.
Pros
Clients can start discussions and respond to existing discussions via email.
Discussions have good formatting options to allow for improved readability.
Simple interface
Flexible setup of tags and categories
Daily email report on things discussed the previous day
Cons
Subtasks cannot be managed as full tasks, with comments
No ability to make several assignees
No ability to color-code tasks
Pricing
Free for personal use
Plus package – limited to 3 seats – $7.5
Pro package – $6.25 per member / per month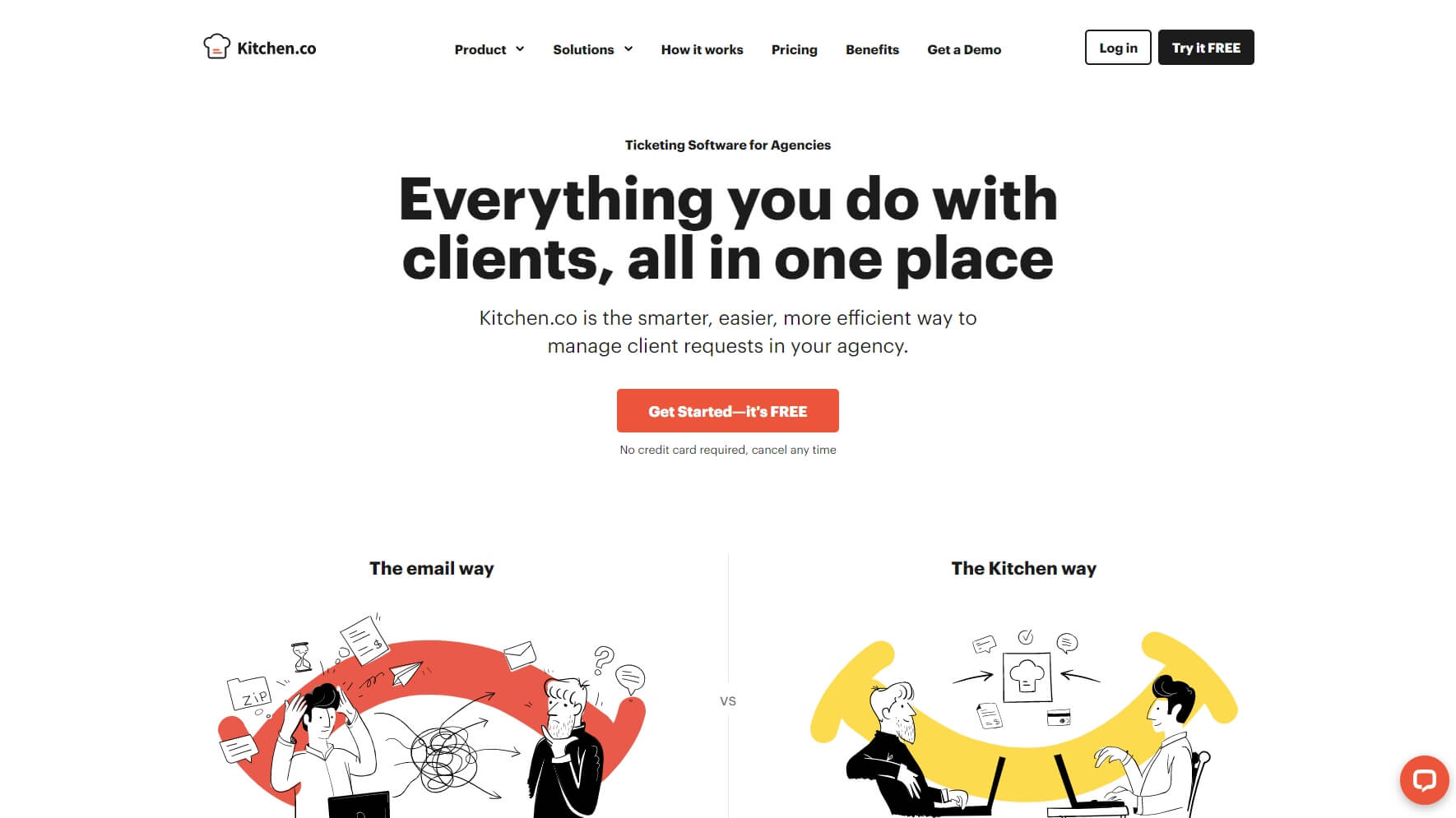 What this agile project management tool does
Kitchen is one of the newest products on the market for agile project management tools.
One of the advantages is that you can try it out for free for a solid period of time before you make a commitment.
At Kitchen.co everything happens in one place – from discussing a potential project with a client, through project scheduling and meeting deadlines to payments. You can attach project deliverables in the platform, so you basically have everything happening in one place, centralized.
It includes shared inbox features, price quotes, special client area and notes, internal messages and file previews, as well as unlimited storage (250MB/file).
Pros
Everything is centralized
Clean, easy-to-use, intuitive interface and zero learning curve
Tracking payments, synced automatically, and file attachment through the platform
Easy handoff of final files
Passwordless login
Easy file previewing of .psd, docs, and design files
Great support
Cons
Relatively new platform
Kanban boards are to be implemented
Statistics and segmentation features are soon to be enhanced
Pricing
Try it for free – 100 days

Standard – $28 per user per month

Pro – $68 per used per month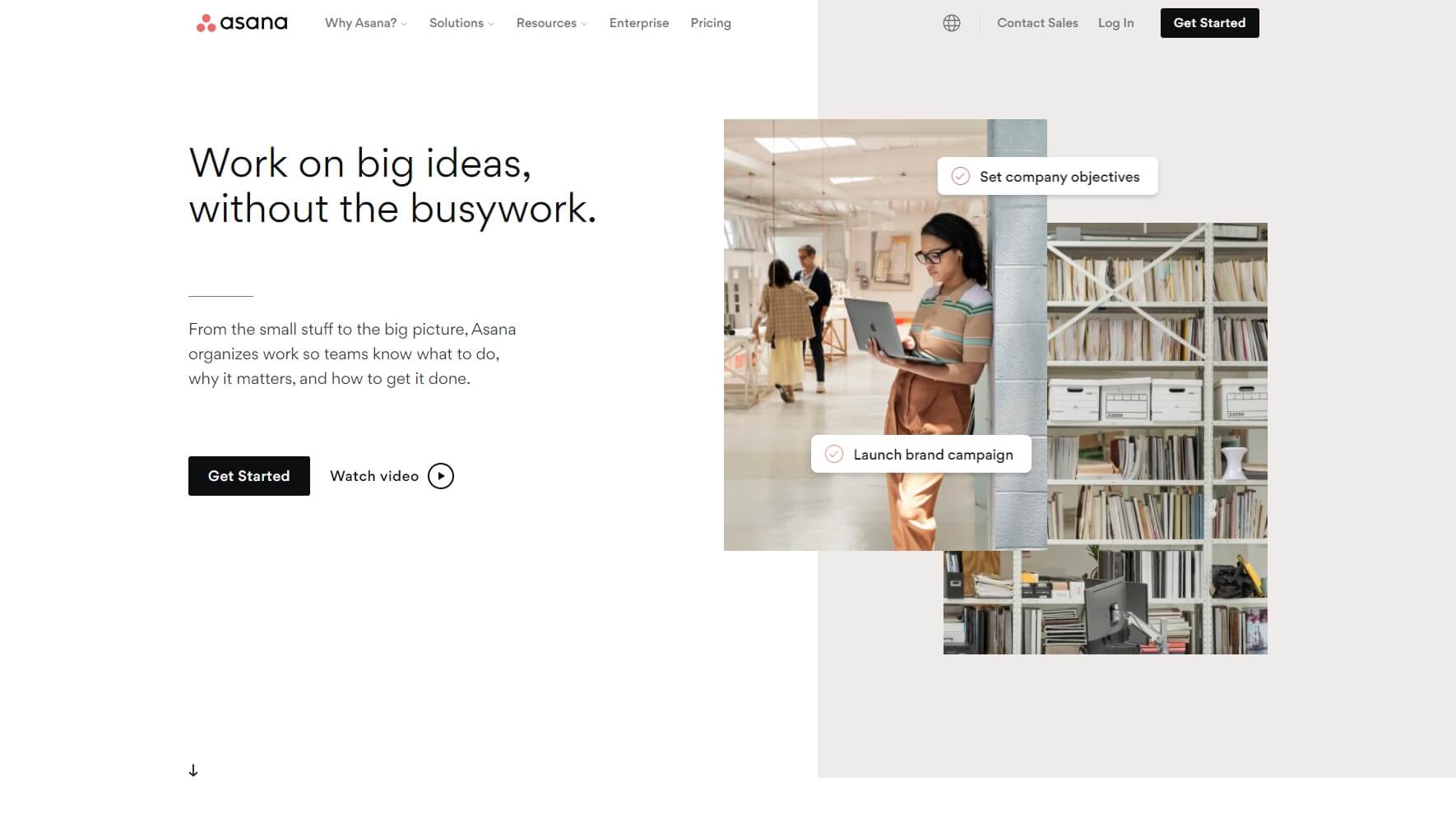 What it does
Asana is a cloud-based project/task management tool, ideal for organizing and tracking tasks' progress.
Some of the features that make Asana attractive for Agile project management tools of choice are tracking launches and iterations, making sprint plans, and easy communication with teammates.
Pros
Customizability
Task Management – being able to assign resources and timelines to specific activities
Kanban
Progress meetings
Cons
No direct export of data to Microsoft Project, popular among project managers
Training program to get people on board
Sometimes important notifications may not be displayed properly
Pricing
Free for individuals to test it out, collaboration with up to 15 teammates
Premium – $14 per user, per month
Business – $30 per user, per month
Enterprise – ask for a quote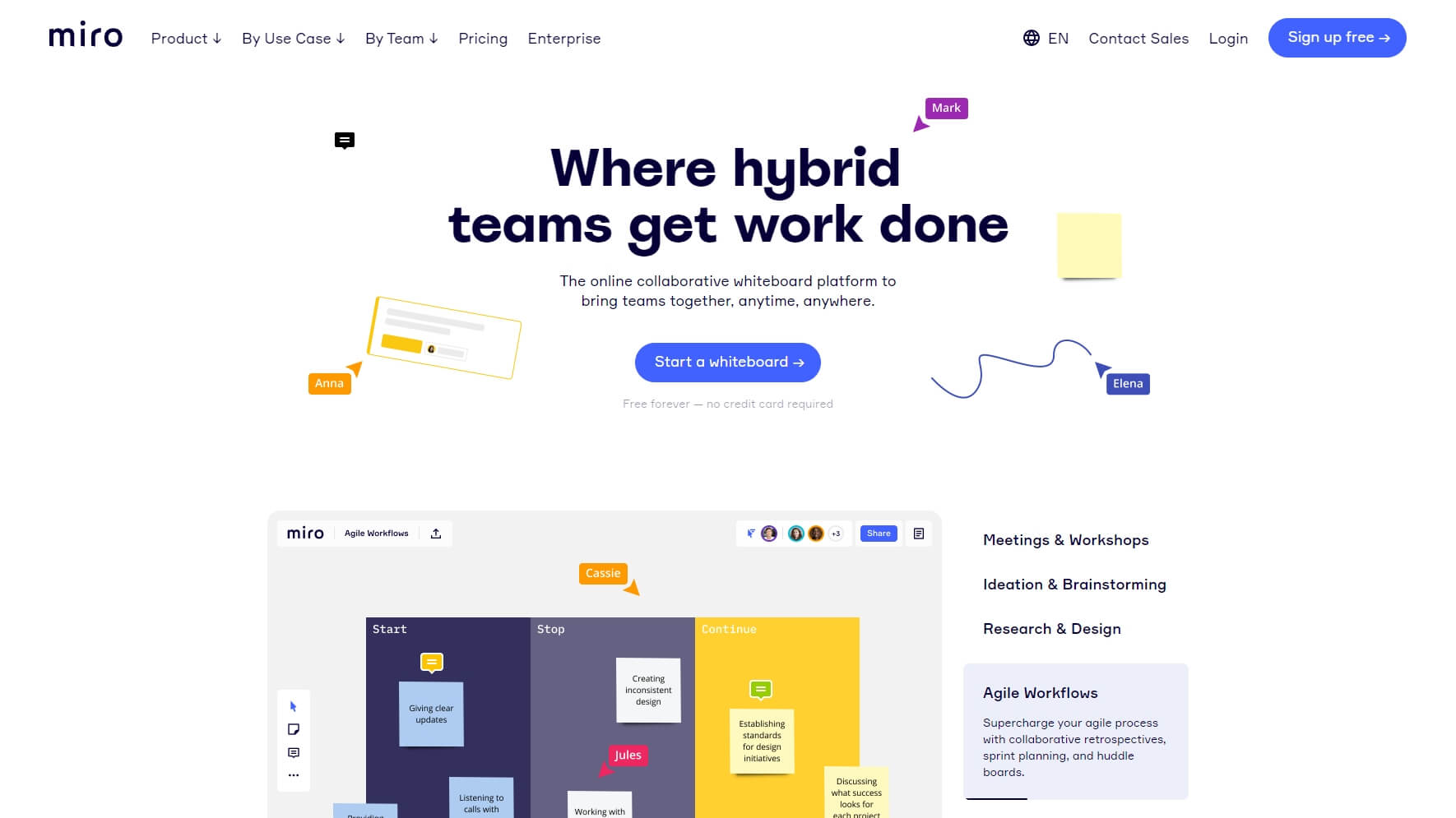 What it does
Over 12 million users worldwide trust Miro. It has a very high score among many users and it stands out as a preferred agile project management tool.
It gives you the advantage of creating Kanban boards, it integrates with Jira, Asana and more.
Easy collaboration and centralized communication are the things Miro is famous for.
Pros
Built-in video chat
Ability to invite people from outside an organization
Good for real-time collaboration
Cons
There is a bit of a learning curve
Changing font size and graphic elements are difficult
Pricing
Miro has a free plan with limited functionalities
Team – $8 per user per month
Business – $16 per user per month
Enterprise – ask for a quote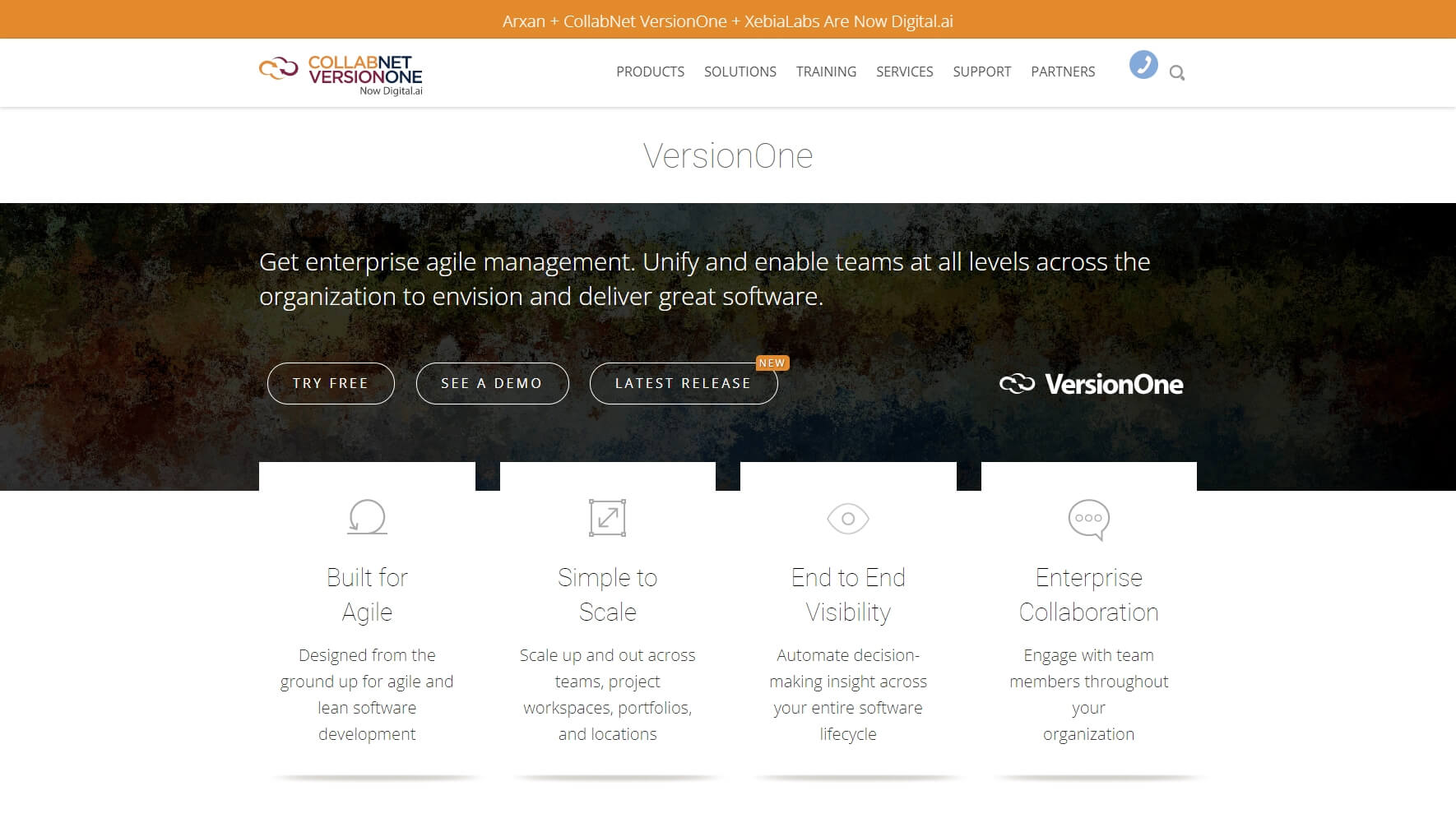 What it does
The popular features of VersionOne are Agile portfolio management, program management, quality management, business intelligence, collaboration, hub integration, and development. As you can see, it is more development-oriented.
Pros
Easy to use
Great integration systems
Suitable for remote teams
Cons
Too many features
The free version is very limited
The more feature you want to use, the more expensive it gets
Pricing
Free for 1 project, 1 team
Standard – $29 per user per month
Advanced packages – up to $175 a month based on the number of users and features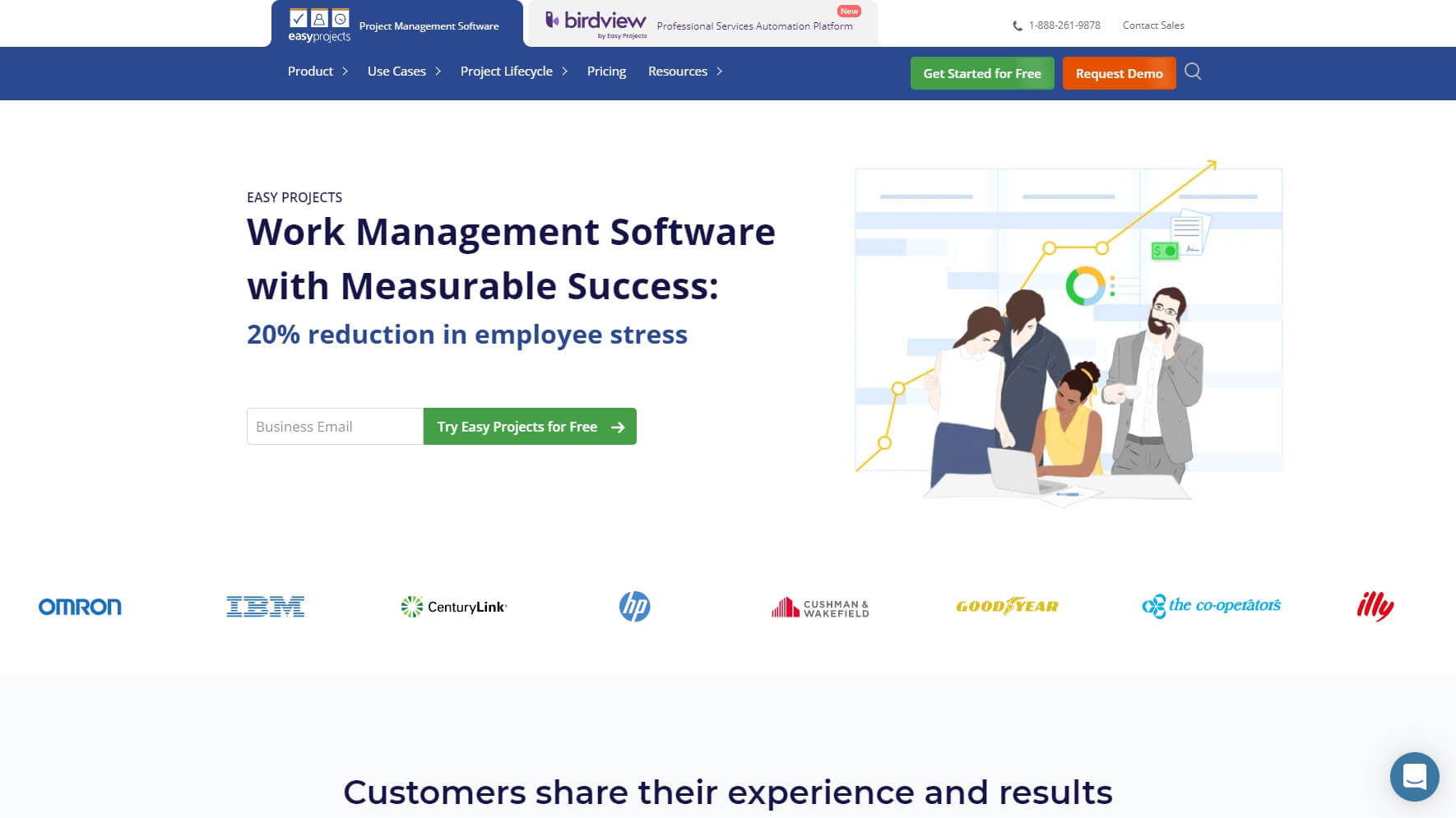 What it does
Easy Projects is an award-winning project management platform, especially useful for Kanban and Scrum, even a hybrid agile approach.
It includes a built-in Kanban board and sprint planning capabilities.
It also has a relatively high score of satisfaction among users.
Pros
Great support
A stable, reliable platform
Great formatting
Easy collaboration
Cons
Needs more custom chart options
User interface and navigation need some improvement
A bit of a learning curve
Pricing
Essentials plan – $7 per user per month
Business – $15 per user per month
Platform – $29 per user per month
Enterprise – ask for a quote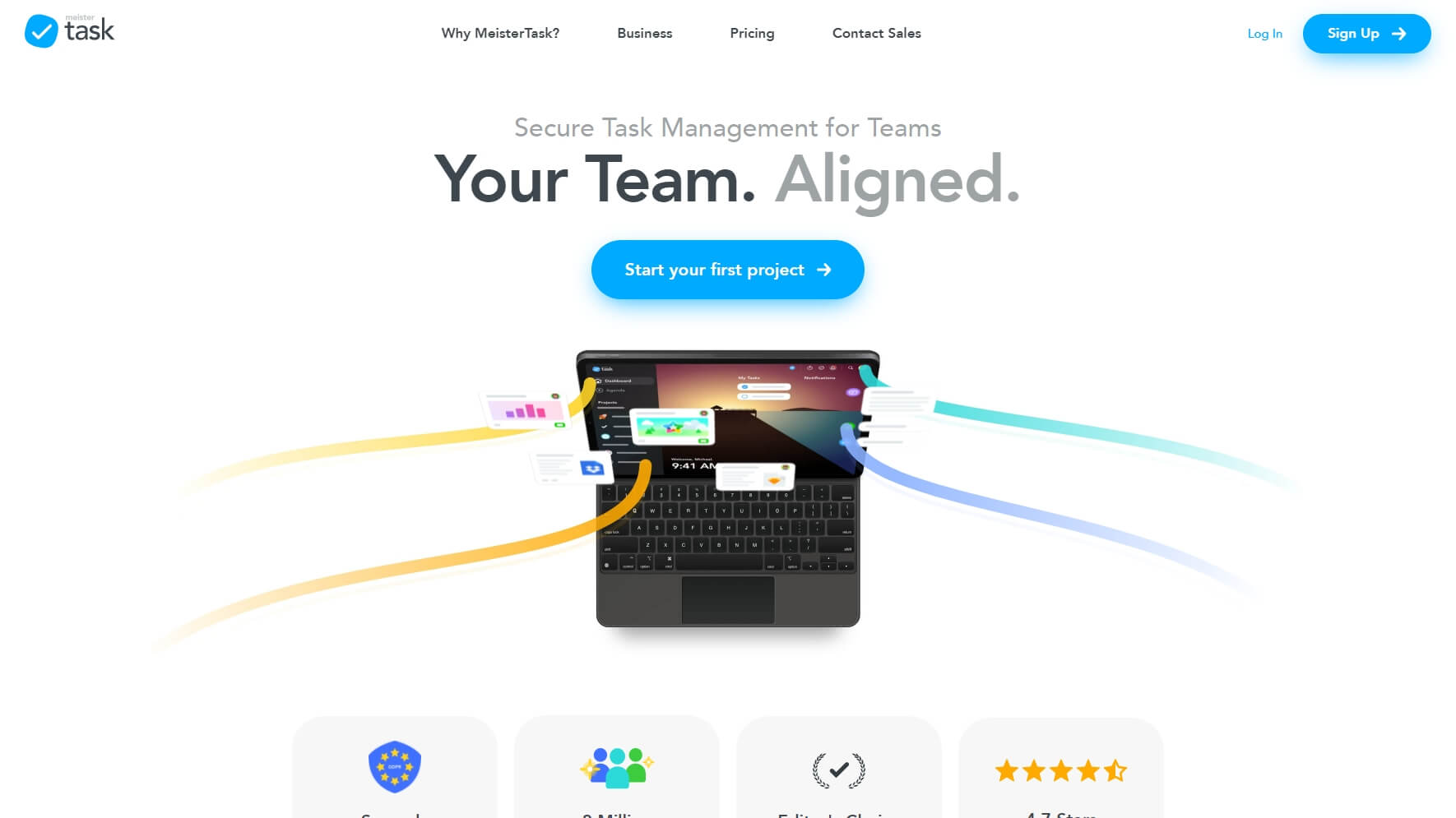 What it does
The key features of MeisterTask include file management, time tracking, and reporting. Overall very intuitive Kanban tool.
Atomization is another advantage of the tool – you can create recurring tasks, add predefined checklists, notify stakeholders when a task is completed, and ensure that tasks are assigned and tagged correctly.
Integrations are possible with many tools, like Slack, GitHub, and Zendesk.
It has a very high score of satisfaction among users and free webinars and an extensive online help center are there to make the experience better and smoother.
Pros
Easy to manage several projects at the same time
Versions that are adapted to any type of company
User-friendly panel
Cons
Large gap between different packages
Lack of internal calendar
Pricing
Free plan with limited functionality
$8.25 per user per month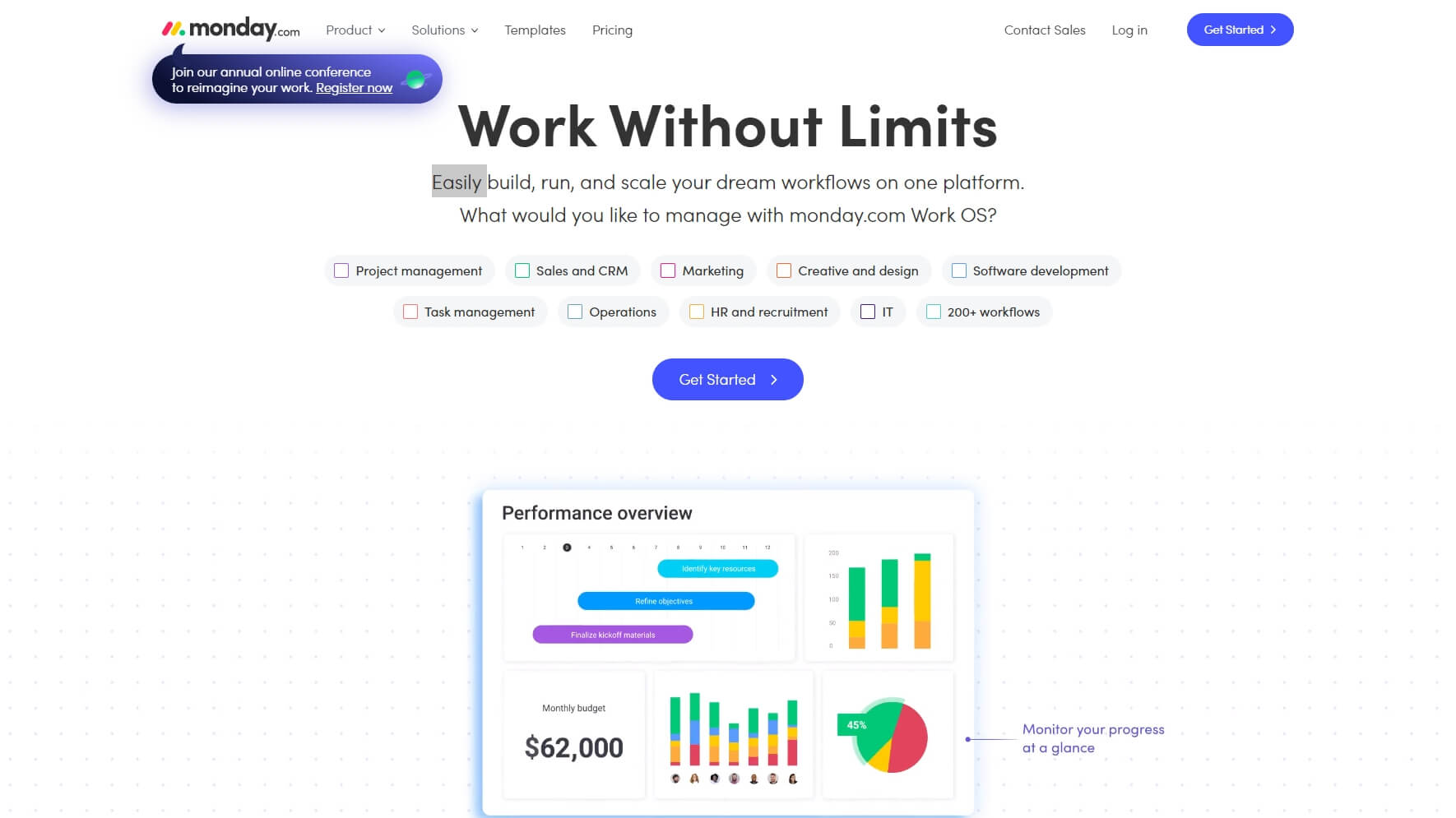 What it does
Monday.com is an open platform with high score satisfaction from users.
It is trusted by big companies like Coca-Cola, Adobe, and the Discovery Channel.
It offers a wide range of integration options like Slack, HubSpot, G Suite, LinkedIn, Teams, etc.
Its key features include visual data with Kanban boards, timelines, maps, calendars, and more. Another great thing is the 24/7 support with a 10-minute response time.
Pros
Huge focus on collaboration
A long list of supported integrations
Customizable notifications
Cons
Complicated paid plans choices
Adding seats for users
Moving items to different boards
Pricing
It offers a free trial
Free plan – for two users
Basic – $8 per user per month
Standard – $10 per user per month
Pro – $16 per user per month
Enterprise – get a quote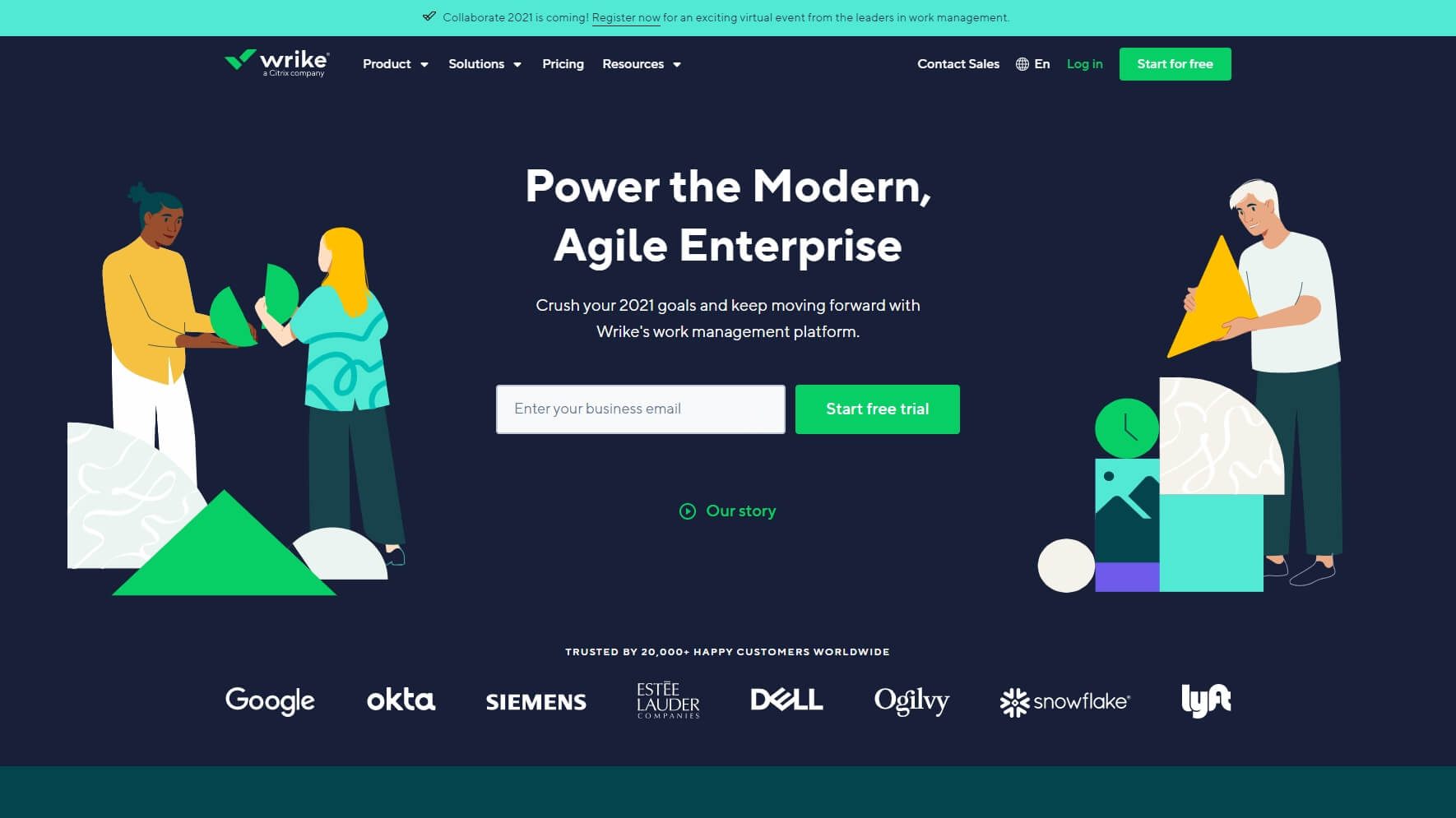 What it does
Wrike is a highly configurable agile project management tool that allows teams to customize workflows, dashboards, and reports.
With Wrike, you can easily switch between Kanban boards, interactive drag-and-drop Gantt charts, and workload views to visualize priorities.
Some of the useful features are: backlog management functionalities, agile reporting and analytics, folder organization, and automated task management.
Pros
Comprehensive task modeling
Plenty of configurable features
Customizable dashboards
Easy creation of project templates
Cons
Not suitable for small organizations
The commenting system could be improved
UI could be improved
Pricing
Free plan with some basic features
Professional – $9.80 per user per month
Business – $24.80 per user per month
Enterprise – get a quote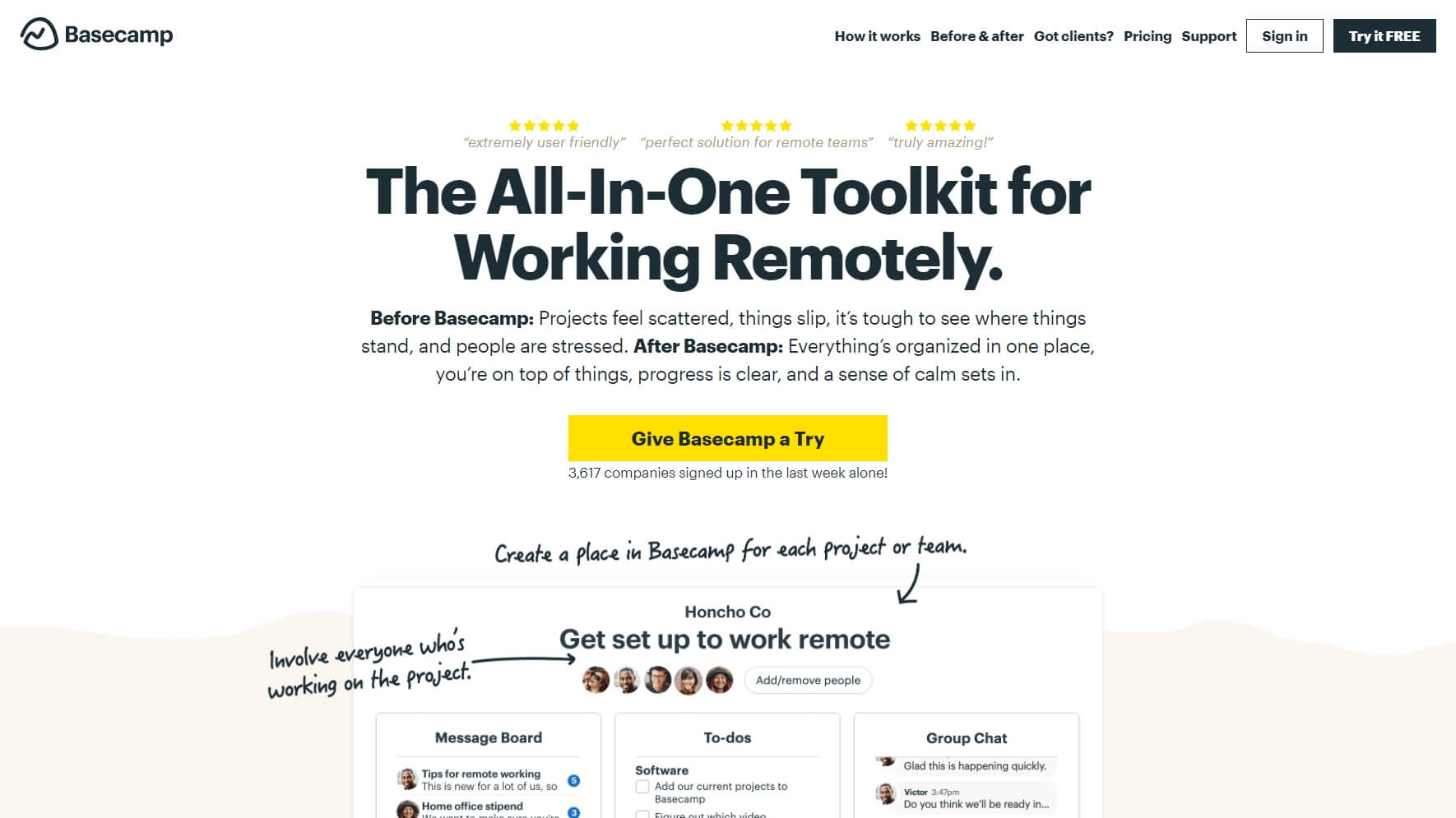 What it does
Basecamp is a popular Agile project management tool, focused on Scrum, with over 22 years on the market.
One of the advantages of Basecamp is that it's easy to use on both desktop and mobile devices.
You can enjoy simple task management, easy file sharing, real-time team communication, task reporting, delegating tasks.
Pros
Quick updates
Monitoring costs
Easy to organize teams and projects
Cons
E-mail integration and other
UI can be improved
Steep learning curve
Pricing
Not so straightforward on the website, you should contact the sales team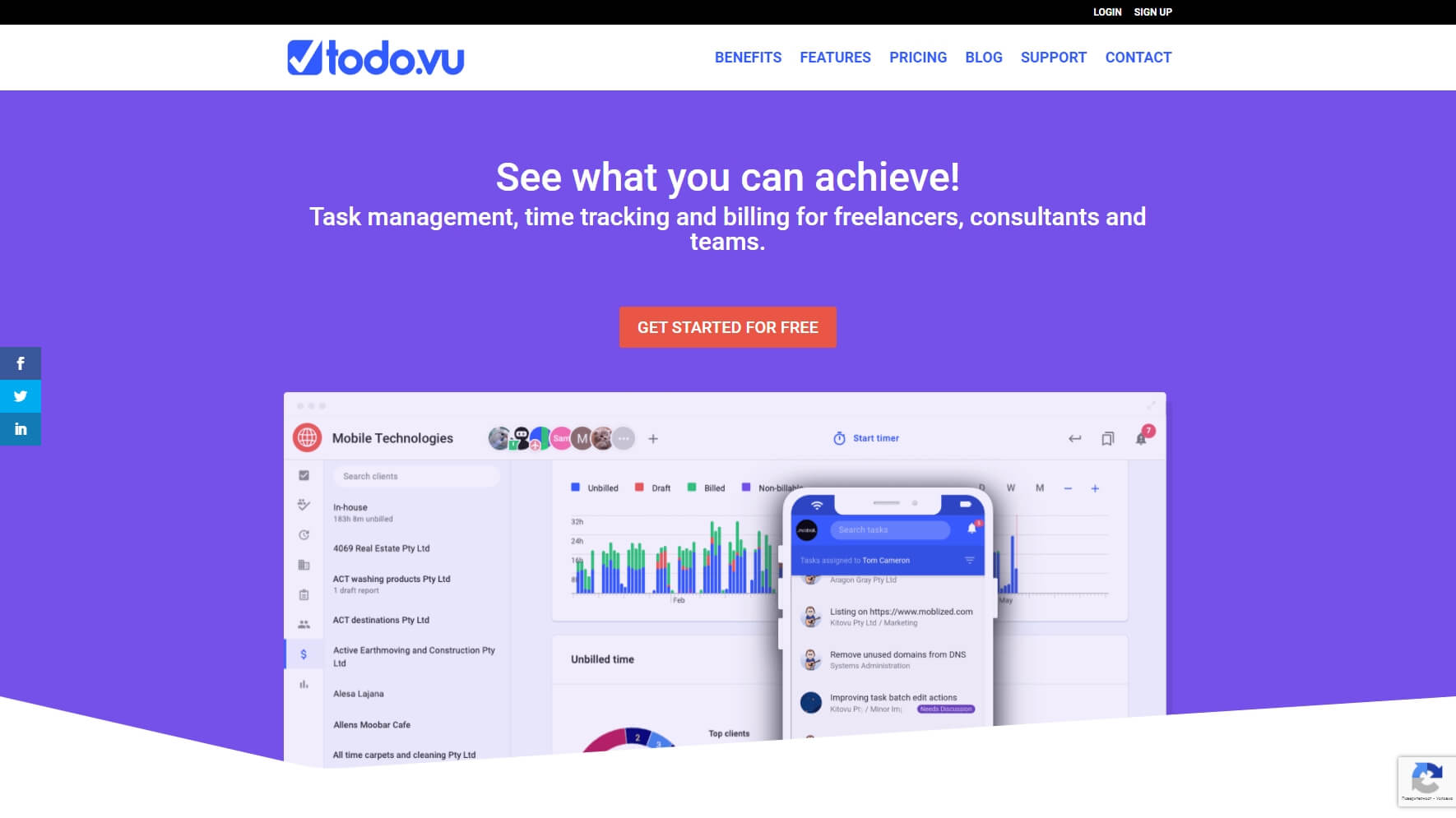 What it does
Todo.vu is a productivity tool offering a unique blend of CRM, task management, time tracking, and billing functionality.
Todo.vu is tailored to fit the needs of freelancers, consultants, and teams who need a more transparent collaboration.
Pros
Ability to create multiple subtasks
Great support
Great interface
Cons
quickly filling data with media
billing feature needs improvement
Pricing
Free for freelancers
Business – $9 per user per month
With that we conclude our list of best agile project management tools.
Maybe we managed to convince you so far how popular these tools are and how beneficial they can be to professionals from different industries. But maybe you still ask yourself a question:
Why Agile Methodology?
Well, here are some of the advantages of adopting the agile methodology in your work. With agile:
The projects can proceed faster, detects issues and defects faster
The teams collaborate and communicate more easily and it is easy to stay on track
The project control is improved as it is easily monitored at each step and it's visible to all parties involved
The adaptability to change is increased
As a result, you can enjoy:
Optimized development processes
Elimination of rework
Focusing on customers, less project chaos
Well, and know you might ask but how do you choose from the abundance of tools? Worry not, the following section is aiming to help you in this regard too:
What to look for when choosing Agile Project Management tools
Of course, readers of this article would have various needs. You need to consider which factors are important for you: project type, team size, shared documentation with clients, and many others.
Still, we have a checklist of questions to go through when making a choice:
Do you want to use Scrum, Lean, Kanban, or Crystal? (Not every agile project management tool would support all the frameworks)
What is your team size? (even if the tool offers collaboration features, it might not be robust enough for your team's needs)
Do you need reporting? (Analytics and reporting are important for future project decisions and evaluation of the work done)
What is the technical experience of your team and clients? (Usability of a tool is important – after all, it needs to support your processes, not frustrate the users)
All in all, you need to find a balance between a tool that's robust enough to handle the complexity of your projects while still easy to navigate.
Our advice is to always take advantage of the free trials and see what works best for you. And don't forget to involve your team in the decision process – they can come with valuable feedback on the tools.
A website that can help you easily compare different tools is Trustradius. You can read many reviews of products by different professionals, just like you. That way, you can get even more ideas on how to evaluate your product choice and what to look for.
Final words
We hope this article was useful for you and if we have missed out on any tool here that you think should be on the best agile project management tools list, your comments and experiences are most welcome!
If you liked this article, you might also like our other project management related articles:
When Not to Give Discounts to Clients
How Much Upfront Payment You Should Charge?