Kanban Tools: Essential Features You Need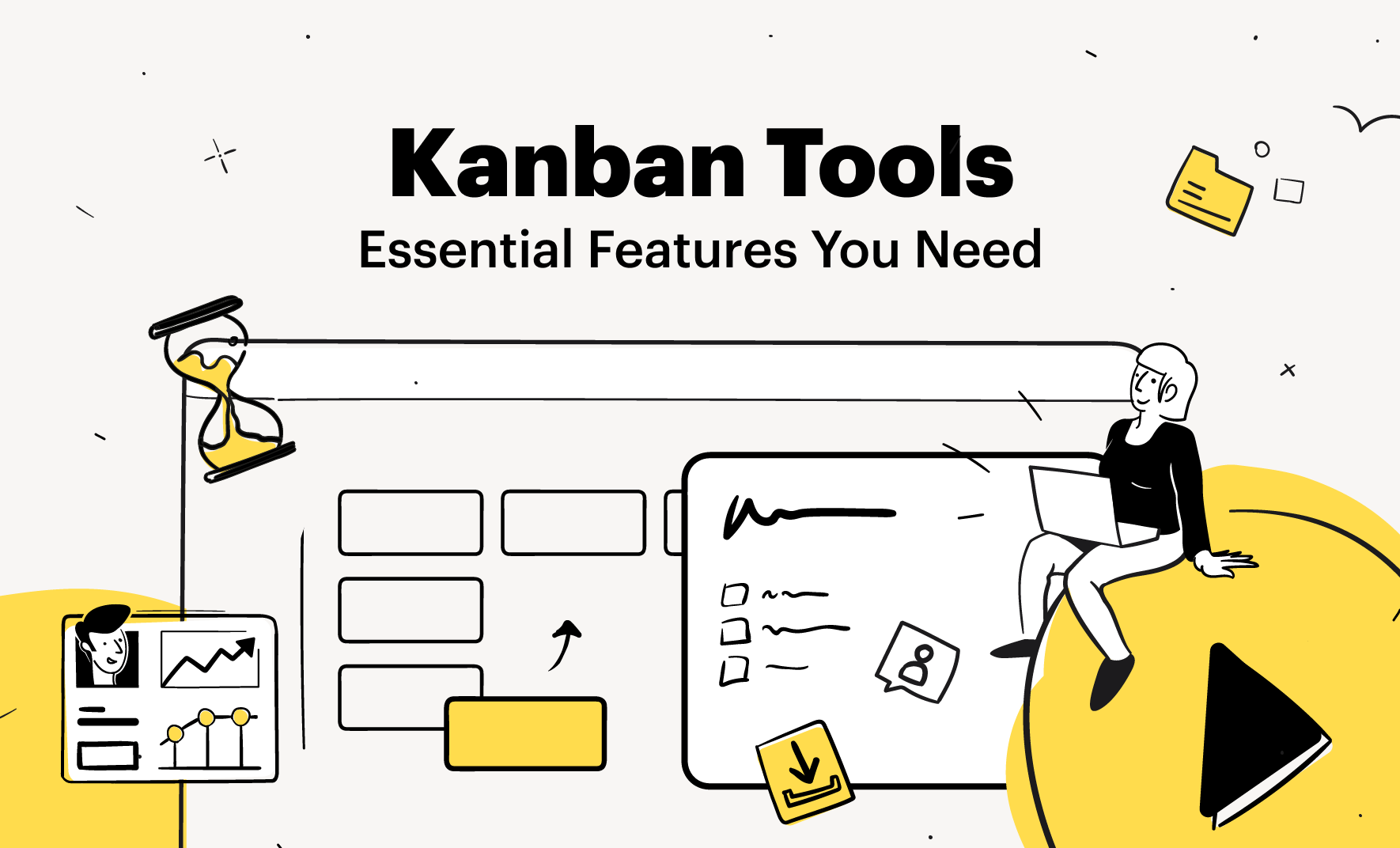 Kanban is, without doubt, one of the most popular project management methods around today, and for good reason. Its long history, beginning in Japan with the just-in-time car manufacturing industry of Toyota, is one sure sign of success. But it has been improved and adapted to form a perfect method for many other fields that are taking over the world today. Particularly in Software and Web development.
The method is based on a highly visual workflow system, that is efficient and produces results. The idea is to streamline the workflow and promote collaboration but also self-management and responsibility. All the team working on the project, know what is happening and can see the plan ahead. The progression is clearly defined and open.
Kanban has the added bonus of lending itself perfectly to remote and virtual work. Online Kanban tools are numerous and growing. They are specifically designed to add value to your business and improve the organization and planning, and they are usually made by people who have programming experience and Kanban experience.
The number of tools is large and their similarities often make it difficult to choose the perfect tool for your business. They all have certain features that are common to Kanban, board creation, card creation, etc but the competition is fierce. And that can only be good for the customer.  Tools are adding features all the time and looking to improve on their own designs. This can sometimes get confusing.
Here we will go through some of the essential features that Kanban Tools offer. So you are well tooled up and in the know before you go searching for the tool that you want.
1. Kanban Team Features
Kanban is a team working method and much of its success is down to good, efficient communication and minimum fuss. Task planning is clear and organized and every team member from the manager to the worker has easily accessible information, they know what is being done and they know what needs to be done and when. So your Kanban Software needs to facilitate this, cross-communication and cross-collaboration. Here are some of the key features to look out for.
1.1. Communication Features
Support for multiple teams and synchronized team accounts
Real-time synchronization
Support for different workflow methods
Email notifications – including deadlines, summaries, and changes
Options for uploading files, images, and documents with multiple extensions
Prioritization and de-prioritization (low,medium,high)
Weekly to-do lists
1.2. Collaboration Features
Real-time updates – including clear progress updates
Advanced board – sharing options
Task Assignment and commenting
On-board notifications of changes by collaborators
Addition of tasks
2. Kanban Cards and Board Features
Within the Kanban method, there are certain "givens" Boards and Card are essential, and pretty much follow a standard pattern. Without them, this isn't Kanban. However, how they are done and designed is open to some degree of interpretation. How you organize your cards and boards are vital and the clearer you can make them the easier it is for everybody. Features and options for Kanban boards and cards include:
Task cards  – customization of information such as time estimates, deadlines, task dependencies, file sharing, comment, and subtask sections
History – task card history
Customization style – text options, categorization, color, labels, and tags
Filters – easy filter options include color, due date,  and user
Drag and drop feature for card editing and shuffling
Direct links for each card
Mirrored cards – where changes are mirrored on different boards
Cloning and recreating cards and tasks on cards – saves time
Board and Card templates
Variety of ready-to-use boards for different fields – marketing, product design, sales, software development, etc
Variety of boards of different focus – time drive, event-driven, etc
Swimlanes that split the board horizontally for easy tasks categorizing – different activities, teams, services
Clear Roadmapping – customization, color options
Calendar or timeline view
3. Data Analytics/Tracking/Control
Analyzing data and tracking progress or hold-ups, is an essential feature of Kanban. This not only helps solve problems on a current project but also identifies ways of improving future projects. Digital Kanban boards allow you to automate data collection and gather information to help you manage the process and keep track of performance. Features to look out for:
Powerful analytic options
Data filtering with overlays
Breakdown charts with quick insight into task distribution
Data export to Excel or CSV files
Board Playback – a feature that allows teams to play back their Kanban board's progress as a video. This is great for reviewing what happened over a given period and getting visual feedback on their board.
Progress meters – allowing you to create checklists
Timesheet tracking and reports – automated timers and trackers of work columns, produce reports on logged-in times, etc. It is possible to filter by user, stage, or task.
Activity logs
Work In Progress (WIP) limits – you can put restrictions on time on tasks.
Cumulative flow diagrams
Gantt charts –  a horizontal bar chart used to illustrate a timeline of a project, program, or work.
4. Extras
Digital Kanban software packages are always looking to improve and things are being added all the time in order to improve the overall working process and add extra value. Some key features that you may find useful for your particular business are things like
Multi-language support – ideal for remote and multinational teams
Integration with other applications – ability to connect your Kanban boards to integrations such as Google Drive, Microsoft OneDrive, Dropbox, and other tools
Integration with Android, iPhone, and iPad apps to allow you to connect on the go
Support – different software packages offer differing support packages to help you out if you have a problem.
Security
Conclusion
When you are choosing your digital Kanban software, you need to be looking at the features that are going to be most useful for your particular business. How it is set up and how you see it moving forward in the long term. Look at the number of users you envisage and the amount of storage you will need. Many of the software packages will have slightly different versions of the features above and you'll feel more comfortable with one product over another. Of course, the other factor you need to consider is the cost, which can vary considerably. There are free options, often for either trial periods or with limited features. These are really worth experimenting with before you take the full leap. Paid versions have far more features and control and are typically charged per user, per month.