13 Tips to Host a Virtual Meeting Like a Pro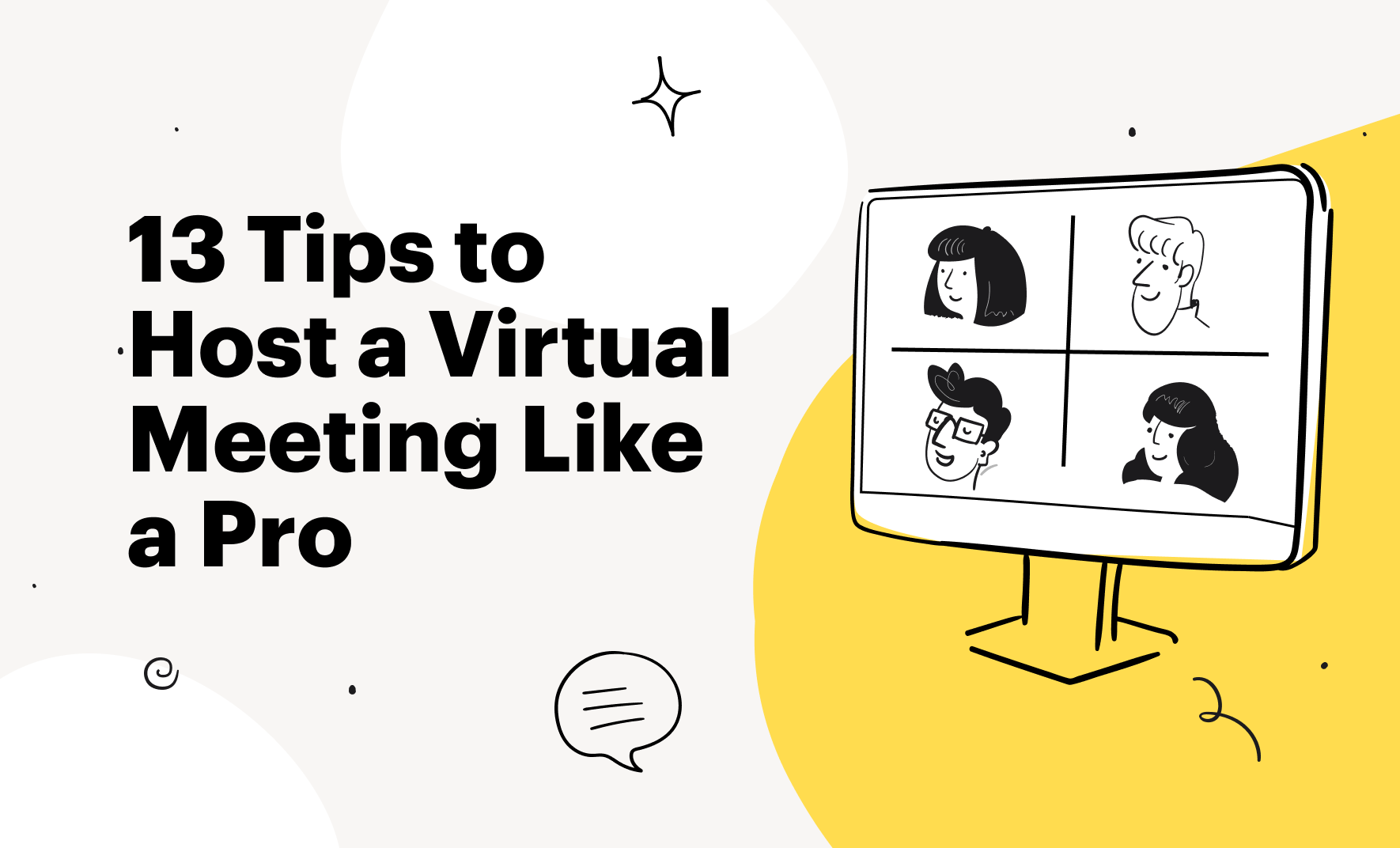 The new era in technology has massively helped distant colleagues collaborate effectively. "Virtual meeting" has become a synonym for communication and cooperation. From TV interviews to online town hall meetings and 121 sessions, virtual meetings have become standard practices that have led to the rise of video conferencing platforms like Zoom, Microsoft Teams, GoToMeeting, etc.
And some statistics indicate that almost 79% of workers prefer virtual meetings over real ones. And while some say online meetings waste productive time, we are certain that conference video calls over the Internet are here to stay.
In this article, we will explain what virtual meeting means, go over the advantages and disadvantages of virtual meetings, and provide you with 13 great tips for effective meetings.
1. What is a Virtual Meeting?
A virtual meeting is a form of voice communication that doesn't require physical attendance. Virtual meetings or virtual conferences as some people know them are sessions that are hosted online. Thus, they are called "virtual". There aren't many requirements, which makes this type of meetings a good option. All you need to have is a computer, a stable Internet connection, a webcam, and audio with a microphone.
Businesses are actively using virtual meetings to speak with clients, team members, and fellow managers. Rapid advancement in technology leads to things that we are more used to seeing in movies, rather than experiencing in real life, like hologram meetings but the latter now seem more realistic than ever.
But which are the advantages that make video conference calls such a viable option this day and what are the setbacks of virtual meetings?
2. Pros and Cons of Virtual Meetings
If there is a lesson to be learned, we could say every technology has its devoted fans and naysayers. And while it's arguably the best way to manage virtual teams, there are some things to consider before going all-in virtual.
2.1. Advantages of Virtual Meetings
Cost-efficiency
Meetings clients and holding conferences is an expensive endeavor. You pay for travel, hotel stays, drinks and sweets. It's a hefty bill. On the other hand, there are free virtual meeting platforms on the market(think of  Google Meet and Zoom), and if you pay some small fees, you can hold unlimited meetings with about 500-1000 participants.
Practicality
Virtual meetings can bring participants together from all over the planet with the minimum organization. This makes it great for hosting meetings with your virtual team.
Instant access to the room
Conference calls are often booked and you might find it hard to reserve a slot. And if you book a slot for 3 pm, the previous meeting can be prolonged which will disrupt your schedule. Virtual meetings can start as soon as all members have joined, regardless of room availability.
Eco-friendly
It's important to think about the environment. Virtual calls and presentations can lead to a lot of fossil fuel saved, less paper used, and less energy spent. If you apply some climate-preserving strategies, you can make a difference.
Frequency
As virtual meetings are so much easier to arrange, they can be held much more frequently. Virtual meetings can be 10 minutes daily check-ins with team members, feedback chats with clients, and weekly events with your team – there is no limit.
Familiarity
There is no fear factor anymore. Virtual meetings have become standard and almost expected.
2.2. Disadvantage of Virtual Meetings
Lack of face-to-face contact
We can all agree that online meeting platforms make it easier for us to enter a call immediately and discuss assignments. However, face-to-face meetings have a different energy. You can share vibes and show emotions.
You need to schedule calls
Sometimes, you want to ask some simple questions that would need no more than 2-3 minutes to answer. If you schedule a call, you might have to wait for hours while waiting for the other party to free up some time for a call.
Distractions
If you hold a virtual meeting, especially a big one, there is a good chance that most participants prioritize other tasks and your important call becomes "white noise".
Technical difficulties
Technical difficulties can become a big issue when attending virtual conferences. Poor microphone output and unstable connection make communication harder to execute. Using video and streaming presentations can cause additional latency. It's particularly true if the host is experiencing the issues.
Video call fatigue
According to an article published in Medical News Today, there is an event called "Zoom fatigue". We won't go into details but we have to mention that people are used to eye contact – it indicates that others are listening. Since cameras are mounted on the top of the screen, you cannot both see the others and stare at the camera. Another thing to notice is the pressure individuals feel that someone is looking at them constantly.
13 Tips to Hold Virtual Meetings Like a Pro
A virtual meeting is still a meeting. It may seem less formal in many ways but there still needs to be behavioral expectations and standards. Someone needs to take control and planning is perhaps more important than a traditional face-to-face.
1. Identify your needs and choose a platform
Since the pandemic has created a huge opportunity for holding virtual meetings, there are loads of options on the market. The industry is saturated and you can find plenty of options depending on your needs. To learn how to select a virtual meeting platform, we have selected a couple of questions that can navigate you toward your choice:
Do you want to pay for software?
Where do you prefer to store the recordings?
How many attendees do you plan to invite?
Do you desire to make virtual meetings more interactive?
Are advanced features such as polls, breakout rooms, etc. crucial for you?
Do you have internal access to such software (like Microsoft OneDrive or Google Drive subscription)?
As you can see, answering those questions will significantly affect your choice.
2. Find a quiet place to hold the meeting
Needless to say, a barking dog or shouting neighbors are not the background noise you are dreaming of. Before you hold the meeting, ensure there aren't any distractions surrounding you. If you're in an office, ensure your employees, colleagues, or managers know that you're in a meeting. The same applies if you're at home – alert family members you're about to jump into an important video call.
Pro tip: If you're at home, try to find a room with more furniture and a carpet. This can drastically reduce the echo sound.
3. Invest in equipment
While virtual meetings can give birth to a lot of memes, you don't want to be the main "face." The built-in microphone on your computer is often okay-ish, but it lacks many functions – like noise cancellation. Also, laptop manufacturers often cut costs by lowering the quality of the camera. A decent camera can support Full HD resolution (the benchmark for virtual meetings).
A standard microphone with some functions and a webcam from a non-fancy brand can cost you less than $200 in total, but you can blur your meeting background and reduce background noise that causes distractions. Another factor to consider is how you look in other people's eyes – while nobody will notice your clear microphone output and high image quality, people quickly identify low resolution and surrounding sounds.
4. Practice online speaking skills
Holding a virtual conference requires you to be the one in control of the whole call. If you're used to office meetings, then you might know some techniques to keep participants involved. But things can change quickly when you're speaking in front of an online audience.
Virtual meetings have to be tight and collected. You should start with some ice breakers that take no longer than a couple of sentences, and then you should go straight to the point. If you're presenting information, you should speak according to your slides. Since attendants can distract from the meeting, you should involve them regularly. This way, you can keep them focused.
Another benefit of asking questions to particular people is making everyone listen, as they can be the next ones to speak. And if they aren't prepared, they might embarrass themselves.
5. Utilize the "little things"
Body language plays a massive role in face-to-face communication. Since you cannot get the full benefits of gestures, you must utilize everything you are left with.
Tone of voice – by far, the most essential factor. You should speak loud enough to be heard but avoid shouting at all costs. You should speak in clear and concise language. Do not mumble, do not use a casual tone, and avoid industry jargon unless all members can understand it.
Clothes – if you're attending a meeting, it's sometimes okay to wear a good-looking T-shirt or a hoodie. However, if you're the host of a business meeting, dressing up is the only way to go. Formal clothes can make you look more authoritative and boost your confidence.
Background – virtual meeting backgrounds should be neutral. In a best-case scenario, your background should be a plain wall. But if that's not possible, then you might need to blur your background. Family photos, colorful flowers, and even furniture can distract your audience.
6. Keep eye contact with your audience
Virtual meetings cannot fully replace face-to-face ones. However, you should try to keep as much eye contact with your audience as possible. During web conference calls, it's crucial to look at the camera, rather than the screen. It's easier said than done, however. If you have an external web camera, you should never keep it down. It looks unprofessional and ugly.
By default, laptop cameras are positioned on the top of the screen. Most external cameras can also be attached to the screen bezels. But we have to admit it – looking at the screen when your camera is up top is still not good enough.
Fortunately, there are two simple solutions. During the virtual meeting, you can distance yourself from the desk. This way, you will create a better viewing angle and it won't appear as if you're staring at the screen. But that won't work if you're limited in space.
If that happens, there is a simple solution that costs less than $10 – a webcam tripod. What you need to do is adjust the height of your webcam to match the center of your screen. Now, you can freely peek at the participants while you're also looking at the camera.
7. Prepare for the call
Just like the checklist pilots fill before each flight, you should have your own checklist before hosting a virtual meeting. First and foremost, you should ensure your devices work properly. During the second stage of preparation, you have to check the background – is there an item that might distract the audience?
Another important thing to mention is to mute all notifications before joining the call. Last but not least – you should prepare a plan for how to carry out the call. If you have a presentation, you must spend some time rehearsing. It can help you speak with confidence and authority.
8. Schedule the virtual meeting properly
You can't chat with someone and expect them to join your meeting in 30 seconds. People have tasks to work on, and they should fit you in their schedule.
Schedule – the first thing to do is schedule the meeting. You have to send invites to attendees and check who will participate and who will not. For small 1-on-1 meetings, it's okay to send an invitation a day earlier. For big gatherings, consider a week in advance at least.
Topics of discussion – you should send an email that will mention the topics of discussion. Regardless if you will be the speaker or it will be a discussion, everyone in the meeting should know what will be discussed, prior to the meeting.
Importance – you have to stress out virtual meeting importance to all members who will participate. If you think someone won't get much value from attending the meeting, you shouldn't invite them in the first place.
Meeting length – everyone has their own plans. You should mention the online conference length and stick to it.
Questions – you can leave room for questions so that people can address their concerns and ideas for the meeting.
Pro tip: Always remind your attendants to avoid using the "Reply All" option if they want to answer your email.
9. Layout the rules
There are unwritten rules that everyone should follow. Ensure you personally notify the attendants to follow a simple guideline before joining the call: things like finding a quiet space, checking their web cameras and microphones, Internet connection, etc. They should join the virtual conference on time and mute notifications.
During the call, attendants should introduce themselves, keep their cameras on, and stop doing anything unrelated to the meeting. They should also act according to the meeting type – if it's a discussion, they should participate actively.
10. Interact with your audience
One of the biggest problems of meetings is how fast attendants lose focus. This is particularly true for virtual meeting interactions. To keep your audience engaged, you should involve them regularly.
Not only will you keep your audience on pins and needles (which sometimes should happen, as bad as it sounds), but they can also add value to the meeting by offering solutions and sharing their knowledge and opinions. After all, your success as a presenter is measured by the results you have managed to achieve after the virtual conference.
11. Follow-up after the meeting ends
One of the most important tasks to complete once the virtual meeting has ended is to follow up with an email about what has been discussed and agreed actions. If you have been presenting, you should also attach the presentation.
One cool tip about email follow-ups from our own practice is to write a draft, cite the details from the meeting minutes you didn't mention, and send it as soon as possible. It's crucial to send the follow-up email right after the meeting, as information is still fresh.
If you procrastinate for a day or two, there's a good chance your audience has already forgotten what has been talked about. It's also not impossible for you to forget to send such an email at all, which is the worst-case scenario.
12. Ask for feedback
No one is born great. In order for you to host virtual meetings like a pro, you need to gain experience in how to lead web conference calls. This experience will also help you manage a remote team successfully.
But to learn, you should also write your homework. Asking for feedback is a great step toward progress, as attendants can provide you with valuable advice on how to better present information so that you keep audiences engaged during the whole virtual meeting.
13. Record your meetings and watch them at home
One of the best pieces of advice we can provide is to record your virtual meetings and then watch them at home. It doesn't mean you no longer have to ask for feedback, but if you create recordings, it will be easier to spot areas of improvement which you wouldn't otherwise notice.
After you watch the recordings, you can take notes, so that you avoid making similar mistakes the next time around. And if you have liked your performance and the audience has reacted positively – you can pat yourself on the back. Congrats! It's a job well done!
Conclusion
Hosting a virtual meeting is not an easy task. While there are some fantastic benefits of online video calls, you must ensure you have prepared well for each one. And remember – you're not talking to the computer. You are talking to human beings. If you manage to engage them and make them part of your ideas, you can achieve much better results.
FAQ
How to make virtual meetings more interactive?
The best way to make virtual meetings more interactive is to listen. For every key point you have brought, you can ask open questions and form a short discussion. If participants have a chance to contribute, they will feel more valued and will share their thoughts.
How to improve virtual meetings?
To improve virtual meetings, you should break the ice first. Another thing to do is to keep those meetings short and keep the participants engaged from start to finish.
How to set up a virtual meeting?
First, you should send an email invitation to everyone. You should mention when it will take place, the topics that will be brought, and who will participate. After you receive a confirmation email, you should then provide an access link for the virtual meeting.