10 free Kanban project management tools you can use today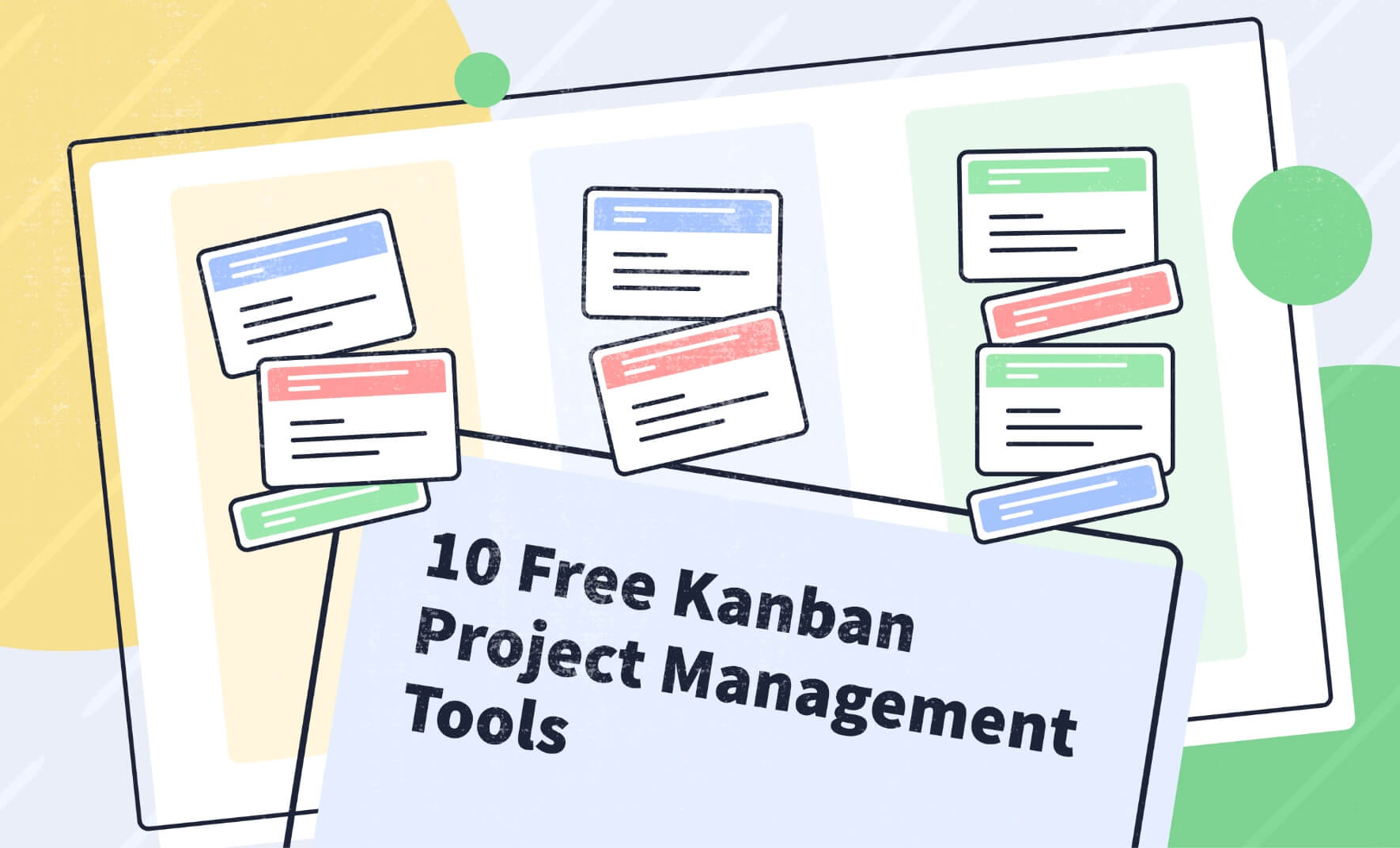 You've decided to use the Kanban project management methodology, you've looked into the system and are aware of the potential improvements it could make to your business, you've taken the decision that it is the way forward – at least for certain projects. Then we need to move onto practicalities. The good news is that the popularity of Kanban has provided a marketplace for Kanban tools, the great news is that many of these are free. 
If you are a company owner or a project manager of a small company, budget is always an issue, so the opportunity of getting free help shouldn't be ignored. The added bonus here is that the tools we've featured are actually really high quality, useful and usable tools and not some cheap throwaway to get you interested.
You've nothing to lose and everything to gain, so why not read on and try out some of these recommendations to make your life easier and more cost-effective.
1. Trello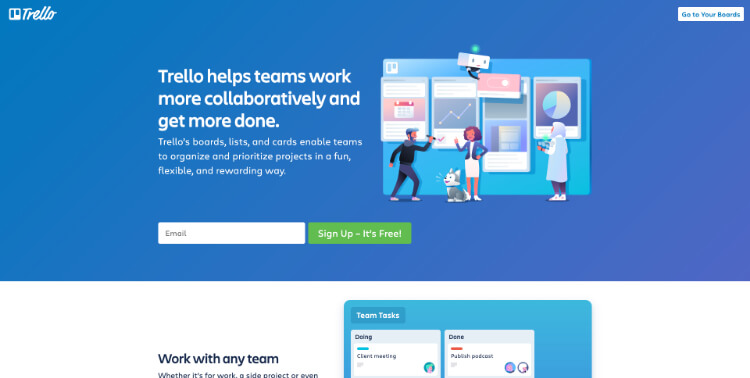 If you are looking at an all-in-one digital Kanban application for managing your project then perhaps Trello is the way to go. Trello is used by some of the biggest names in business, especially in the IT field, with over 3,000 tech companies using it including GoogleDrive, DropBox, Udemy, and Slack. 
Trello is a collaboration tool that organizes your projects into digital boards. Like all Kanban boards, these then tell you about the different stages of the project. As Trello is web-based you can then access these boards from wherever you are in the world even on your smartphone.
It is a well-used, popular, lightweight application that is easy to use and gaining in popularity all the time. There are online guides to help you set-up including YouTube video tutorials. 
Is Trello really free? We'll let's put it this way – it can be free. There is a really good free plan, that is usable and definitely a good way to get yourself started and get a feel for the process and the app. There are paid-for versions too with greater capacity and control, Business Class at $9.99 per user per month(if paid annually, $12.50 monthly), and Enterprise at $17.50 per user per month for up to 100 users. There are also non-profit and educational discounts available.
What's included in the free plan
Unlimited Personal Boards (up to 10 team boards)

Unlimited cards

Unlimited lists

1oMB limit on file attachment

1 power-up board

Limited automation

2-factor authentication for security
2. Asana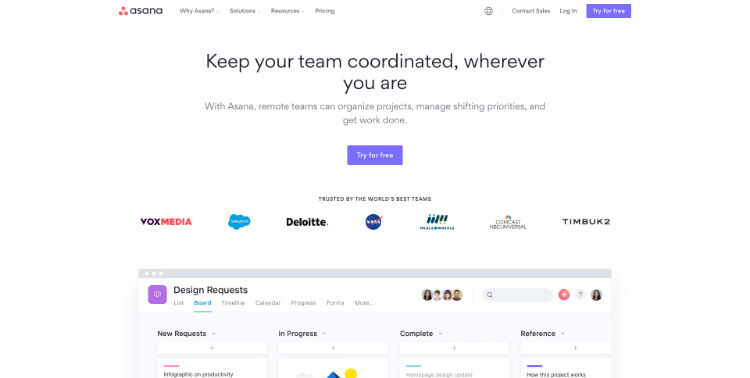 Asana is an online tool for creating and managing Kanban boards. Having all the project management tools for a successful board creation, Asana also has added features such as timelines, automation, and submission of forms all in one place. 
Airbnb, The New York Times, Red Bull, Nasa all use Asana as it has flexibility, and intuitive as well as containing top-level collaboration and productivity tools, all under one elegant interface. It gets especially good reviews when being used for larger projects. Of course, being a digital app it allows project managers to keep their finger on the pulse from anywhere in the world. 
There is a basic free package suitable for freelancers, students and individuals, and three paid-for options of increasing complexity and capacity. Premium ($13 per user per month, billed annually) Business ($30 per user, per month, billed annually) plus an Enterprise version – cost depending on need.
What's included in the free plan
Unlimited projects and tasks

Unlimited storage

Collaboration with up to 15 team colleagues

100+ free integration of apps

Time tracking
3. Wrike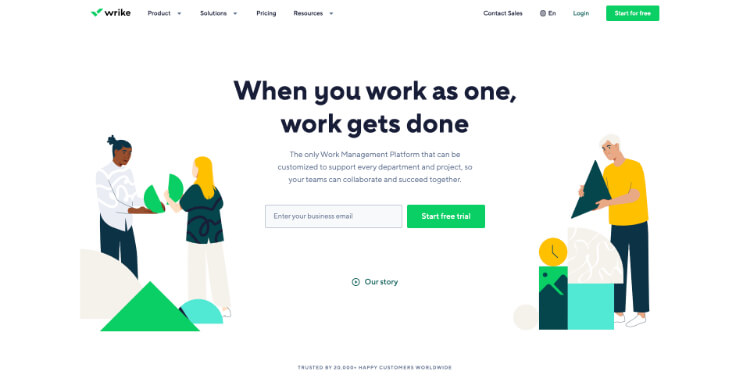 Wrike is an easy-to-use tool for streamlining and project managing  Kanban-style. Another online app, meaning collaboration and management can be remote. It is renowned as being really easy to use and fast. 
You could say Wrike is more a collaboration tool than a project management tool but it is flexible in this regard. Its plus points are speed, power, and simplicity. If you're looking for a pure Kanban project management system this might not be for you, but it's still worth checking out if you are heading on a larger collaboration route and you want management tools thrown in. 
There is a free plan that is suitable for small teams (up to 5) and further plans for increased team member numbers. Professional (up to 15 members at $9.80 per month/per user) Business ($24.80 month/user for up to 200) and a flexible Enterprise package.
What's included in the free plan
File sharing

Task management

Real-time activity stream

Cloud storage integrations

2GB storage space
4. Taiga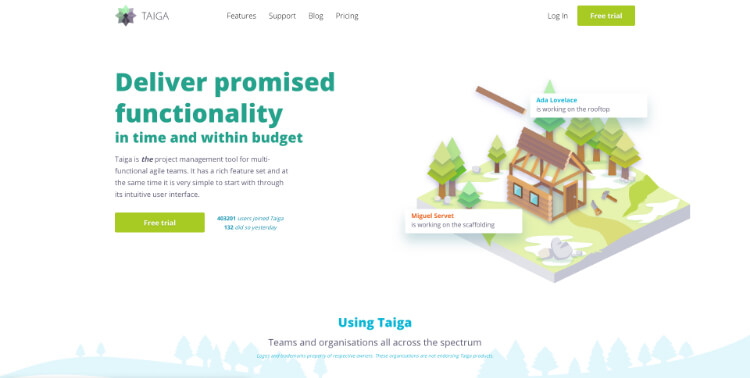 Taiga is an open-source project management platform for multi-functional teams and agile developers that is used by HP, Washington University, and Orange amongst others. A big advantage of Taiga is that it not only contains Kanban options, but also Scrum, (and consequently Scrumban) and is easy to get going with almost immediately. 
There are good features for the expected fully, wide-ranging customizable Kanban boards and cards, WIP limits but also an intuitive backlog and sprint planning, a sprint board with swim-lanes per user story, and a sprint dashboard. It has web-based and desktop versions. Wiki pages, gamification, integrations, and social management tools add to the feature-rich package.
As far as pricing is concerned, the Basic plan is free but limited regarding private projects (although unlimited for public ones). The two further versions are Premium at a very reasonable $5 user/month (unlimited number of team members) and an Enterprise (contact for details) version. Special deals are available for Educational institutions and NGOs.
What's included in the free plan
 1 free private project (up to 3 team members)

Unlimited public projects
5. Teamwork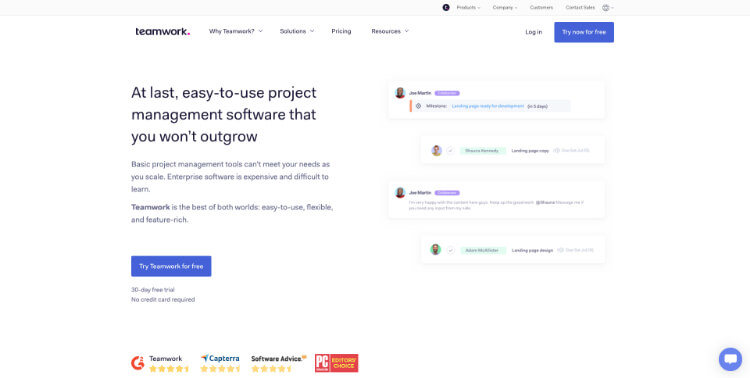 Teamwork – a strong and direct name for a project management tool but does it live up to its name. Users such as Spotify, PayPal, Netflix, and Disney must certainly think so. It's powerful, flexible, scalable, and relatively easy-to-use. 
Teamwork includes features for collaboration, integration of other apps, portfolios of work, and has a high level of security. There are also highly customizable templates, which are well-designed and very useful. The paid-for versions are certainly well thought especially in large businesses with multiple projects on the go. 
There is, of course, a free version but it is rather limited. However, it's a great taster when deciding if it is worth upgrading to the Pro version ($10 user/month) or Premium ($18 user/month).
What's included in the free plan
2 projects

Up to 5 team members

Limited board view
6. Clickup
ClickUp is another cloud-based project management tool with collaboration features and it includes Kanban boards. It's suitable for all businesses but larger teams may need to upgrade to paid-for versions. Used by Nike and Uber and many other businesses.  
It has plenty of customizable features for all stages of project management and it's easy to keep track of tasks, and in general, is easy to use and intuitive plus Integration possibilities. There are tutorials online if there are issues. There is a great 24/7 support team in place too, so you really shouldn't have any problems.
There are only two pricing plans; the Basic Free Forever plan and the Unlimited plan for $5 per month/user, there is also a free trial and a make a deal option button.
What's included in the free plan
Unlimited tasks

Unlimited users

Limited 100MB storage
7. Kanbanflow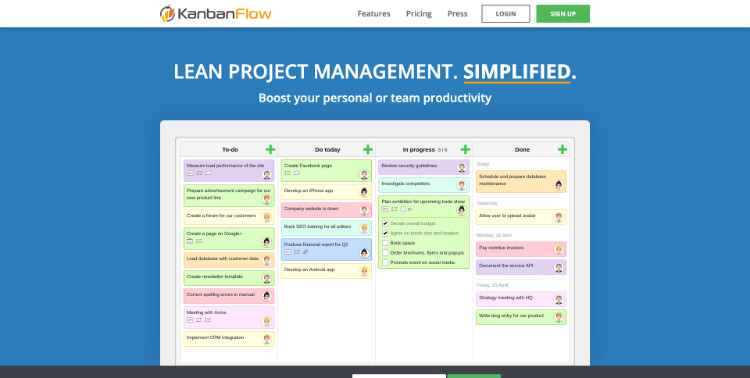 Whereas some of our other free options are general project management tools that can use Kanban, here is a truly Kanban based solution. KanbanFlow is a cloud-based project management solution allowing real-time collaboration between all users in the team and solely focused on the Kanban method.
Using Kanban boards to spell out the existing work situation and help improve communication and overall effectiveness and efficiency. It offers templates that are customizable and collaboration tools as well as time and expenses tracking but mainly this is a Kanban board with real-time collaboration display of changes. 
The two available versions are a great free version (forever) or a Premium version at $5 per month per user, and free trial option.
What's included in the free plan
Unlimited tasks

Unlimited boards

Pomodoro timers and statistics

WIP limits

Subtasks and filters
8. Kanbantool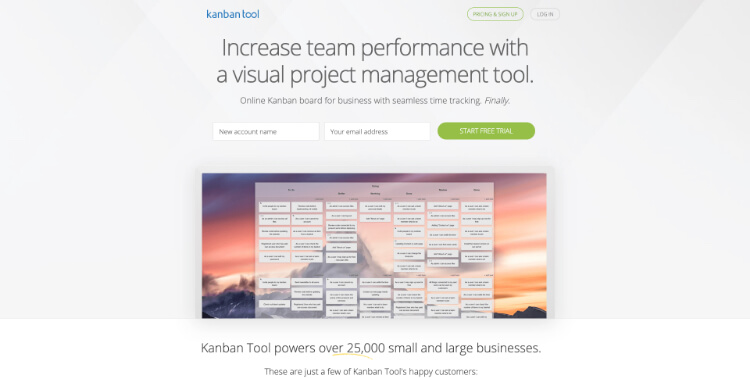 Kanbantool is used by NHS, Pirelli, Siemens, Skyscanner and many other companies. It is what it is. An easy-to-use yet advanced, intuitive tool for Kanban project management.
With the usual Kanban board features, plus time tracking, collaboration tools such as file sharing, Kanban analytics, and integrations, it ticks all the boxes. There are also power-up options for Developer tools, Team activity widget, Calendar widget, Card blocking, Card aging, Add task box, Task navigator, Auto assign, Web attachments.
Three plans, including a limited free version, and two paid-for versions; Team at $5 user/month and Enterprise at $10.
What's included in the free plan
2 users

2

boards

No file attachments
9. Kanbanzone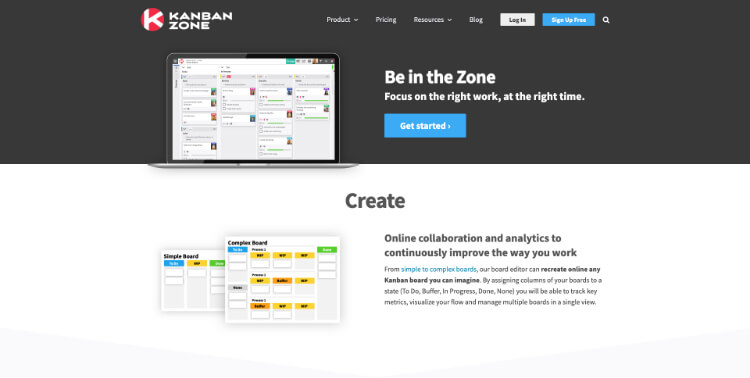 Following on the totally Kanban theme, we have Kanban Zone, an online project management software. Kanban zone covers all the basics of Kanban and covers them well.
Interactive boards and cards, integration and collaboration features, analytics, checklist, file sharing, and uploads and templates are all here as you would expect. What raises the bar for Kanban zone is the board/card editor. An incredibly rich feature where you can come up with just about anything without being restricted to standard grids.
The Personal plan is free but limited, the start-up plan is a $10 per month flat fee with a 30-day free trial option, and Enterprise starts at $7 user/month and rises depending on the scale.
What's included in the free plan
1 admin

1 collaborator

2 boards

Limited templates
10. Pipefy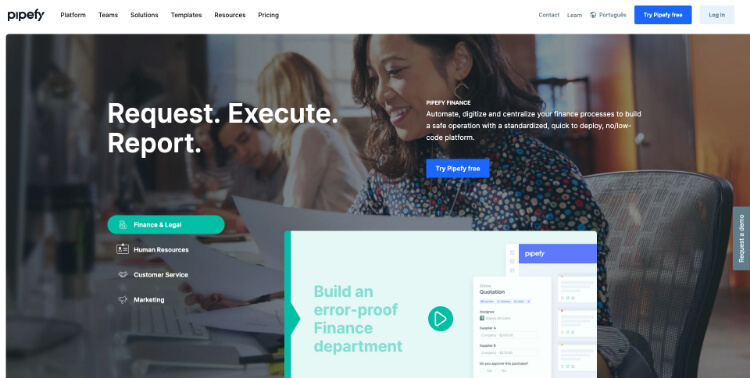 Pipefy takes us back to our general project management software. A cloud-based business process management solution suitable for businesses of all sizes.
Features include task management, customizable workflow, pre-designed process templates, admin controls, two-factor authentication, email messaging, and reporting. There is also a useful automation possibility option.
There are 4 price options, the first being a free one, and then growing in price and capacity through Professional ($9 user/month), Business ($18 user/month), and finally  Enterprise (custom pricing). All except Enterprise have "try for free" options.
What's included in the free plan
up to 5 processes & 10 users

integration

plug and play templates

up to 50 news cards, every 30 days.
Final words
You certainly can't say there is no choice if it's possible you could have too much choice. The great thing is that all of the above project management software applications are very, very good and they are all free at least to some level. This gives you a no-risk chance to try different offerings. Applications are often personal and you'll get a feeling that one works better for you than another. Beauty is very much in the eye of the beholder. None are difficult so you won't waste lots of time learning a specific system, so no time to waste, dip your toe into the Kanban water and enjoy the swim.