Revolutionize the way you work with these 15 collaboration tools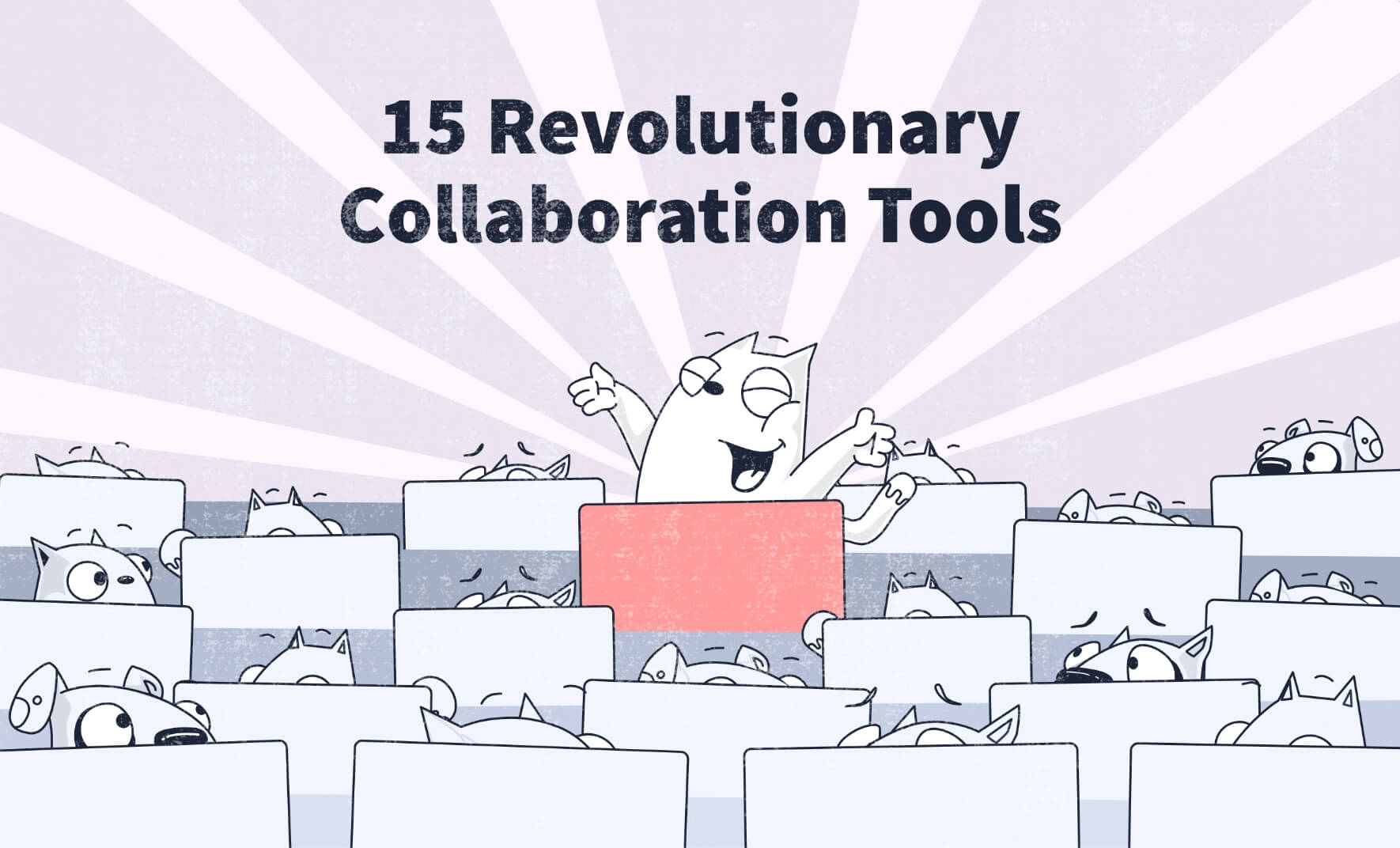 Collaboration has always been important in business, the difference is it used to be mainly done via physical meetings, discussions, and hands-on working practices. We all know the world has changed in the last few decades, and the pace of this change has exploded over the last year. Globalization and digitalization have continued to rise as predicted but remote work has exploded, admittedly not always through choice. Given this current situation, digital collaboration and communication tools have become absolutely essential to keep the wheels of business turning not only across international borders but even within nations, within cities and local communities.
Luckily the market was at least prepared for this growth if not the sheer scale of it, with any number of fantastic online collaboration tools to help remote teams and workers effectively communicate and collaborate on joint projects. There are general collaboration all-in-one solutions and more specific tools for solving specific problems, and here in this article, we've taken 15 of the very, very best.
Effective communication and collaboration tools could and should revolutionize the way you do business. Check out our selection of communication and video conferencing tools, task and project management tools, designer collaboration tools, and brainstorming tools. These are not the not only tools available and we always encourage you to do your research but these 15 are top quality tools, with a variety of useful usages and a superb set with which to dip your toe into the collaborative water.
Tools for Communication

Slack
"Where work happens"
Pricing: Free to $12.50 per month/user or enterprise version
Storage: 5GB – 20GB per user
A well-known, worldwide brand for channel-based messaging connecting team members across the globe. There are typical communication features such as public and private channels through voice or video calls, and direct messaging. In addition, you can make calls to phones, share your screen, and integrate with over 2000 apps such as Google Drive, Office 365, Zoom, Jira Cloud, Invision, etc. The key idea of slack is to gather all your communication in one place.
Introduction video: https://www.youtube.com/watch?v=9RJZMSsH7-g
Flock
"The best alternative to Slack"
Pricing: Free – $4.50 per month/user or Enterprise at $8 per month/user
Storage: 5GB – 20GB per user depending on package
Flock is an advanced online team communication and collaboration management tool that is simple and intuitive to use and it's fast. As well as being a great place to keep the communication going, Flock will also help you manage your team with project management tools. You can create to-do lists and polls, share notes, files, and docs, assign tasks, conduct video calls with groups (paid version), shared screens, use the app offline, and enjoy many more features.
The developers of the app have compared all its functions with Slack over here.
Introduction video: https://www.youtube.com/watch?v=hIymRucpNSk
Tools for Video Conference

Zoom
"#1 Video Conferencing and Web Conferencing Service"
Pricing: Free – $19.99 per month/per host and further business and enterprise packages
Capacity: Up to 200 people simultaneously (with the option for even more)
Zoom is now a verb, a regular part of daily conversation but above all, it is a great tool for video conferencing suitable for 1:1 meetings to enterprise-wide meetings with 500 participants and 10000 viewers, teaching, lecturing, etc. This app provides you with HD quality video and audio for your conference calls and webinars, video recording, scheduling meetings, desktop and application sharing, and many more features described for each plan. A major advantage is that it's now so well known that people aren't scared of using it.
Introduction video: https://www.youtube.com/watch?v=BGH1y70zSkg
Whereby
"Stay productive with effortless video collaboration"
Pricing: Free – $9.99 per month & Business at $59.99 per month
Capacity: Up to 12 people simultaneously (50 with business version)
Formerly known as Appear.in, Whereby is the result of a trademark dispute. An online video conference app providing you with high-quality video calls with up to 4 people for the free version, and up to 12 people for the pro version and up to 50 for business. No registration, or downloads required! There are chat and reaction features, meeting room management controls and recording, and options for branding rooms on the paid-for versions. The app also offers screen sharing and integration with some famous tools such as Slack, Trello, Google Docs, and YouTube.
Demonstration video: https://www.youtube.com/watch?v=yl-bTXwV_Kk
GoToMeeting
"Video conferencing and collaboration solutions made easy"
Pricing: $12(Pro) – $19(Business) per month or Enter[prise option with individual pricing
Capacity: Up to 150/250 people simultaneously
GoToMeeting is an advanced business video conference tool that lets you conduct HD video calls with up to 100 team members simultaneously. With such a huge capacity, GoToMeeting offers additional features such as screen sharing, drawing tools that let you take notes and draw right on the screen, video recording that allows you to watch the meeting later, and more. Including new features such as a Smart Meeting Assistant with automated transcription and integration of plugins.
Introduction video: https://www.youtube.com/watch?v=GJpHJ2bUJQM
Task & Project Management Tools

Asana
"Move work forward"
Pricing: Free – $10.99 per month/user (Premium), $24.99 (business) and an Enterprise package (call)
Asana is a well known, well-used tool for web and mobile that offers you an intuitive way to track multiple projects and organize your projects from start to finish. You can easily assign tasks to team members and monitor progress and specify deadlines. The app comes with a timeline for projects, a calendar, a dashboard, and more useful communication features that help you easily plan all your projects from the very beginning till completion. Here is also free app integration. A great all-round package of project management and communication.
Introduction video: https://www.youtube.com/watch?v=IMAFWVLGFyw
Basecamp
Combines the functions of Slack + Asana, Dropbox & Gsuite
Pricing: Free Personal package (Light use and limited users, storage, etc) $99 per month all-inclusive and 30-day free trial
A project management tool with a board-based interface that is super easy to use, and offers a complex solution, as it combines the functions of Slack + Asana, Dropbox & Gsuite. Basecamp provides you with separate boards for each project. Within each project board, you have a separate board for messages and communication, a board with to-dos where you can assign tasks and track progress, a schedule board, a docs-and-files board with 500GB storage, a board for chat, and more. Accessible through your web browser or phone, it offers fantastic structure and controls even over multiple projects. The price is a flat fee for unlimited projects, users and includes all features.
Introduction video: https://www.youtube.com/watch?v=su5xAZHF114
Wimi
"Everything you need to work smarter"
Pricing: Free – $18 per month/user (team), $21 enterprise plus a powerful Armoured for security-sensitive projects.
Wimi is an advanced tool for project management specially designed for small and medium businesses. The app combines the features of different apps, as it provides you with systems for messaging, file sharing, task management, calendars, video calling, and more even for the free version. You have from 10GB to 50TB cloud space available for all your files and docs and automatic sync with your OS, so you can access your docs even if you are offline. It offers a centralized system of tools and data, running alongside unified individual workspaces. You can also use it to communicate with video/audio calls.
Introduction video: https://www.youtube.com/watch?v=dHyYCT2_MX0
Trello
"Trello lets you work more collaboratively and get more done."
Pricing: Free – $9.99 Business, $17.50 Enterprise (up to 100) per month/user
Trello is a widely used tool for project management and collaboration. With its easy-to-use board interface and feature-rich free version Trello is a preferred tool by many. You can easily create project boards, add team members, assign tasks to different people, attach files, and follow up. Trello also supports integration with different handy apps which increases its flexibility.
Getting started video: https://www.youtube.com/watch?v=xky48zyL9iA&t=6s
ProofHub
Pricing: $45 (Essential), $89 Ultimate Control – unlimited numbers, and no per user fee
ProofHub is a project planning and work management tool that offers a comprehensive centralized suite of collaboration and project management functions. On this platform, you can organize files, plan and monitor projects, and discuss with colleagues and stakeholders all under one roof. ProofHub also lets you review and approve files through a very useful online proofing tool.
Getting started video: https://www.youtube.com/user/proofhub
Collaboration Tools for Designers

inVision
"The digital product design platform powering the world's best user experiences"
Pricing: Free (up to 10 users) – $7.95 (Pro) per user/month with up to 15 users, & Enterprise option
inVision is a powerful prototyping tool for designers that helps them communicate their design ideas and mockups better by making the design interactable like a live website. You can share it in an instant with colleagues and clients. This helps the whole team envision the end product before any code is written. The app allows you to add transitions, animations, and get instant feedback on the design. You can also add integrations such as Sketch, Photoshop, etc.
Introduction video: https://www.youtube.com/watch?v=0qisGSwZym4
Figma
All-in-one tool for your design, prototyping, and communication
Pricing: Free (up to 2 editors & 3 projects) – $12 (Pro) per editor/month – Organization $45 per editor/month
Figma is a browser-based design and collaboration tool for UI & UX designers that lets multiple editors work and collaborate on the same design. The app can be used right from your browser or downloaded to your OS. Figma supports all the essential features for a design app, along with tools for prototyping and communication.
Getting started: https://www.youtube.com/watch?v=RFi7wQHUP0c
Brainstorming Collaboration Tools

Mural
"Think and collaborate visually. Anywhere. Anytime."
Pricing: $12 (starter up to 50 members) per month/per user -$20 (Pro version) & Enterprise version
Capacity: up to 50 people
A digital collaborative real-time life board for visual collaboration, that allows you to draw on the screen, take notes, make comments on a shared board with your team. Every member's screen gets updated in real-time, so brainstorming becomes possible and effective even if you are located in different parts of the world. Templates too. The app adds new handy features on a regular basis which you can check out here.
Introduction video: https://www.youtube.com/watch?v=425bNEDNlwk
Miro (previously RealtimeBoard)
"Simple whiteboarding platform for cross-functional teams collaboration"
Pricing: Free –$8(Team) $16(Business) per month/per team & Enterprise version
Capacity: up to 50 people
A rebranded web-hosted collaboration platform digital whiteboard tool that lets all your team brainstorm on the same project simultaneously and map out on an infinite canvas. The whiteboard feature comes with useful tools that will help you express your ideas for everyone to see in real-time. Besides tools for brainstorming, you also get other goodies such as video calling, screen sharing, high-resolution export, integration with other apps like Slack, Jira, and more. You also get the ever-useful templates.
Introduction video: https://www.youtube.com/watch?v=btBU3426GBk
MindMeister
"Visualize your thoughts."
Pricing: Free (Basic), Personal $6, Pro $10, Business $15 all per month/per user
Capacity: multiple team members
A handy online mind-mapping/brainstorming tool that helps you work better on your personal projects, as well as on business projects which require team collaboration. MindMeister runs on all desktop and mobile OS's and changes are seen by the rest of the team in real-time. You can assign tasks, export boards to a project management tool, attach docs, take notes, chat, and many more features for business purposes which you can check out here.
Closing words
The collaboration tools these days are striving to offer more complex and effective solutions to the problems modern teams across the globe experience. We hope we've been helpful with our selection of 15 collaboration tools and we certainly hope with these tools you will be able to revolutionize the way you work. Don't be afraid to try some of them out.