How to Share Files with Clients and Guarantee Payment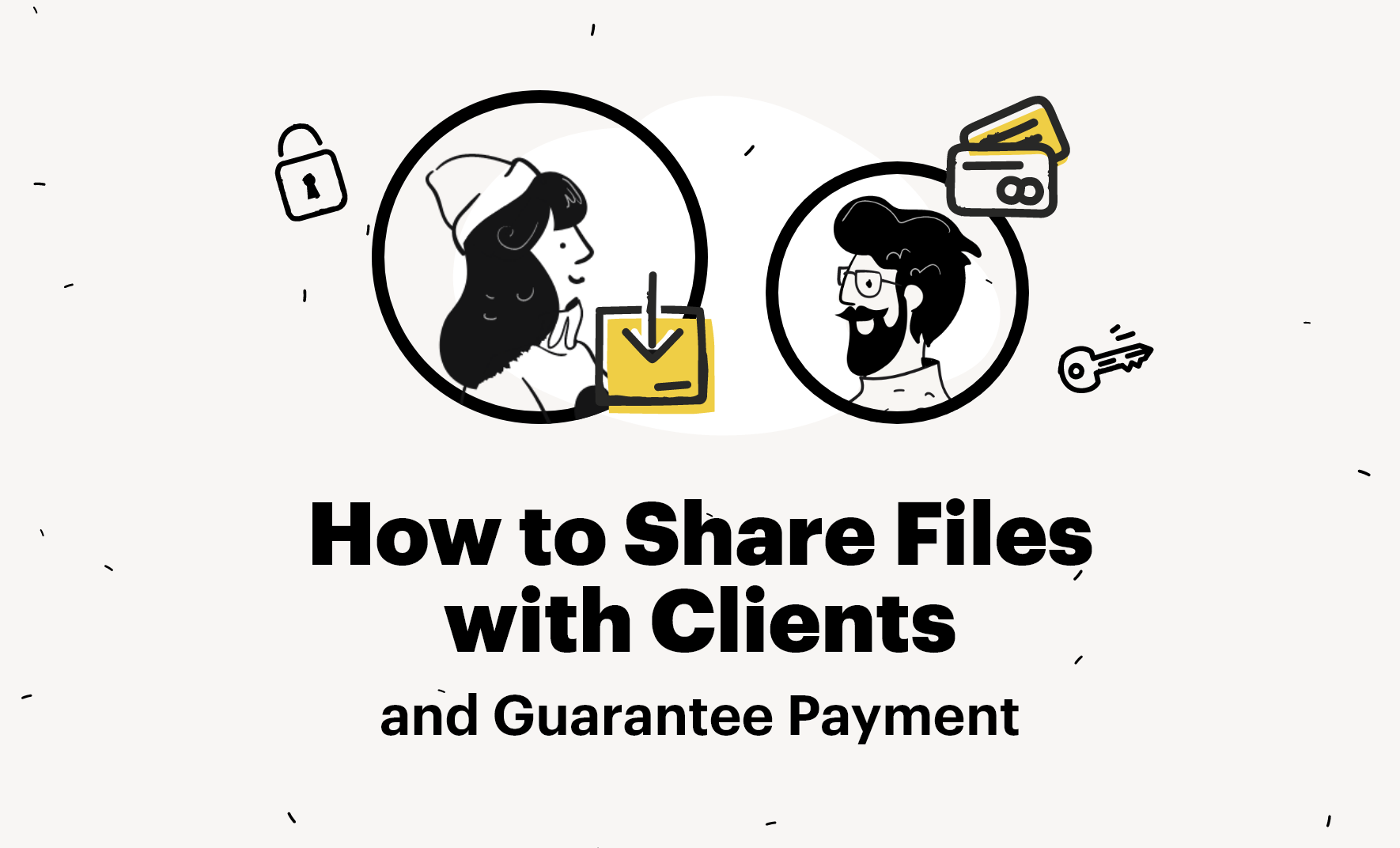 The biggest disappointment of all, and often much more serious than that for businesses, is working for nothing. If you've spent long hours designing something for a client, not to mention the time spent in communication and negotiation, then quite rightly you expect to get paid the agreed fee. The nature of online business means that you are often operating with clients from far afield, different countries, even continents. This is an advantage, of course, a larger market and great client spread is usually a good thing. The downside is you can't just turn up and demand your payment. With this in mind, today we'll review the best ways to guarantee the payment protection of digital files.
You may feel secure with a contract, even an upfront deposit but if the client doesn't pay the rest, then it has a serious knock-on effect on your business. Not only have you lost the promised and budgeted for income, but you've also lost the time when you could have been doing other work. Added to this is the feeling of being cheated and taken for a ride. It takes time to get over it, it's like someone breaking into your car, for a long time after you don't feel secure leaving it parked up. Every time you return to it, you're expecting it to have happened again. If this is the case with your clients, it can put a real downer on your work. You lose motivation and trust, and it hangs like a heavy cloud.
Freelancers simply can't afford for this to happen, and even bigger businesses and agencies take a hit.
What can you do about it?
You have to send digital files, that much is a given. And you certainly don't want to be holding your files hostage until full payment, that strikes as desperation and shows a lack of confidence.
The question is what is the best way? Email is an option for small files but is limited, Gmail for example only allows files up to 25MB. Other than this there are popular file sending services WeTransfer, Securely Send, and Dropbox, where you share a private link with the recipient. quick, simple, and free up to 2GB. These are fantastic for sharing files and collaborating with colleagues. You can use cloud storage spaces like Google Drive and Microsoft's OneDrive in a similar way – great.
The problem is still that once the files have gone what control and what guarantee do you have that the client is going to come up with the money. Let's be fair here, most clients will. But some clients will need a push, all this takes time, effort and is without a doubt stressful. It can even break and potential business partnership. And let's also state that no payment has happened to almost all creatives at some point.
However, once you've pressed the send button there is nothing to stop the client from downloading and using it.  If you've got a legally binding contract, you have got the option of legal action –  but it's time-consuming and costly. So the question remains how do you protect your work?
Options
Here are some good options that can guarantee the payment protection of digital files.
1. Add a watermark
It might seem a good idea to send digital designs with a watermark, especially when you are sending drafts for approval. This can not only protect your work to some extent but also emphasize your brand, as well as provide useful information about the current document state. It's an option to send a Watermark file and on full payment send the final unmarked version.
2. Google Docs -disable download
If you are sharing files on Google docs it is possible to send files as view only. Once you've uploaded your file you should right-click, select share and choose advanced. As usual, you invite people by inserting their email addresses. Now select "view" instead of "can edit", and then change the owner settings to "disable download". This gives the can access to the finished files, and on payment to can send the downloadable files.
3. SendOwl.com
SendOwl.com is a site that enables you to sell all digital goods online and this includes digital files. It supports different payment gateways including Stripe and PayPal, Apple Pay, and others. There is no third party involved in the transaction so this system works like a normal payment gateway transaction. SendOwl receives the files from you and then automatically releases them to the buyer on payment completion. The clients receive the files instantly.
Send Owl works on a flat monthly fee with 3 bands: Standard at $15 per for up to 30 products/files; Premium at $24 for up to 100 products and Business at $39 for 250 products.
4. Kitchen.co
Kitchen.co is an all-in-one client hub that features a communications platform, price quoting tools, shared inboxes, automated invoices, and much more. By directing the client to Kitchen you can concentrate client/provider service in one place and this includes the final delivery of files. Kitchen.co provides an option for payment protection of digital files as a standard part of the full service. You simply upload your files ready for the client and lock the files behind a one-click paywall. The client can see the files waiting and as soon as they pay, Kitchen immediately and automatically unlocks and shares.  Payment is through all the most popular payment gateway options and neither you nor your client pays any commission. The standard package costs $28 per month for unlimited files and includes over 100 other specialist client/provider services. There is also a great 100 day free trial period.
Advantages of payment protection of digital files
The main advantage of payment protection of digital files is obvious, for the client to access the material they need to pay up. However, there are other advantages from his method, from the client's point of view, the files are sitting there waiting to be accessed. as soon as they pay they get them. There is no need for a back-and-forth messaging process. The client gets instant access, with both Watermarking and send view only files this is not the case.
You can also see it as adding a level of professionalism to your whole process. You've clearly thought about and invested in a platform that is designed to improve all aspects of client/provider communication from initial exchanges right through to the final delivery.
In a full-scale client hub, such as Kitchen.co there is a tremendous advantage that everything is in one place. This makes the ease of this whole process, efficient and simple. An effective routine is established almost at once by the service provider and the client, and so sending the files through this platform is a natural conclusion.
Possible disadvantages
There may be an issue with trust and an overly formal feel to the exchange. The very fact that you are protecting your files can suggest to some clients that you don't trust them. However, it is important to note that these "protections" are optional. If you have had a long-term relationship with a client then you can choose to send the file unlocked. Equally, you are free to come to other payment arrangements, whereby you can release the files at your discretion. This creates the flexibility you and your client may find useful yet still keeps the safety factor.
Some businesses put into place criteria, for sending unlocked files. This may be after a certain number of paid-for, completed projects or a service agreement of some kind. Sending unlocked files at this point can signify a higher level of partnership and trust, a movement to the next level. Therefore the movement from standard protected locked files to unlocked gives your client a psychological attachment to your service and brand.
Summary
Options in business are always a good thing. The option to have the payment protection of digital files guaranteed gives you a level of control and backup. You may be able to afford non-payment for a couple of small-scale projects without it breaking your business, but they still irk. Non-payment of longer, more in-depth projects can cause serious pain both emotionally and financially. The bank and the bills don't listen to your tales of woe. By protecting your files, you are protecting your work and your business, you are showing yourself to be a serious-minded business person as well as a creative, and you are demonstrating that you have clearly thought about your options.
And it's good to remember these are options, only options. You still have the flexibility to negotiate other outcomes, payment terms, and release options.