Integrated Project Management: Learn the Basics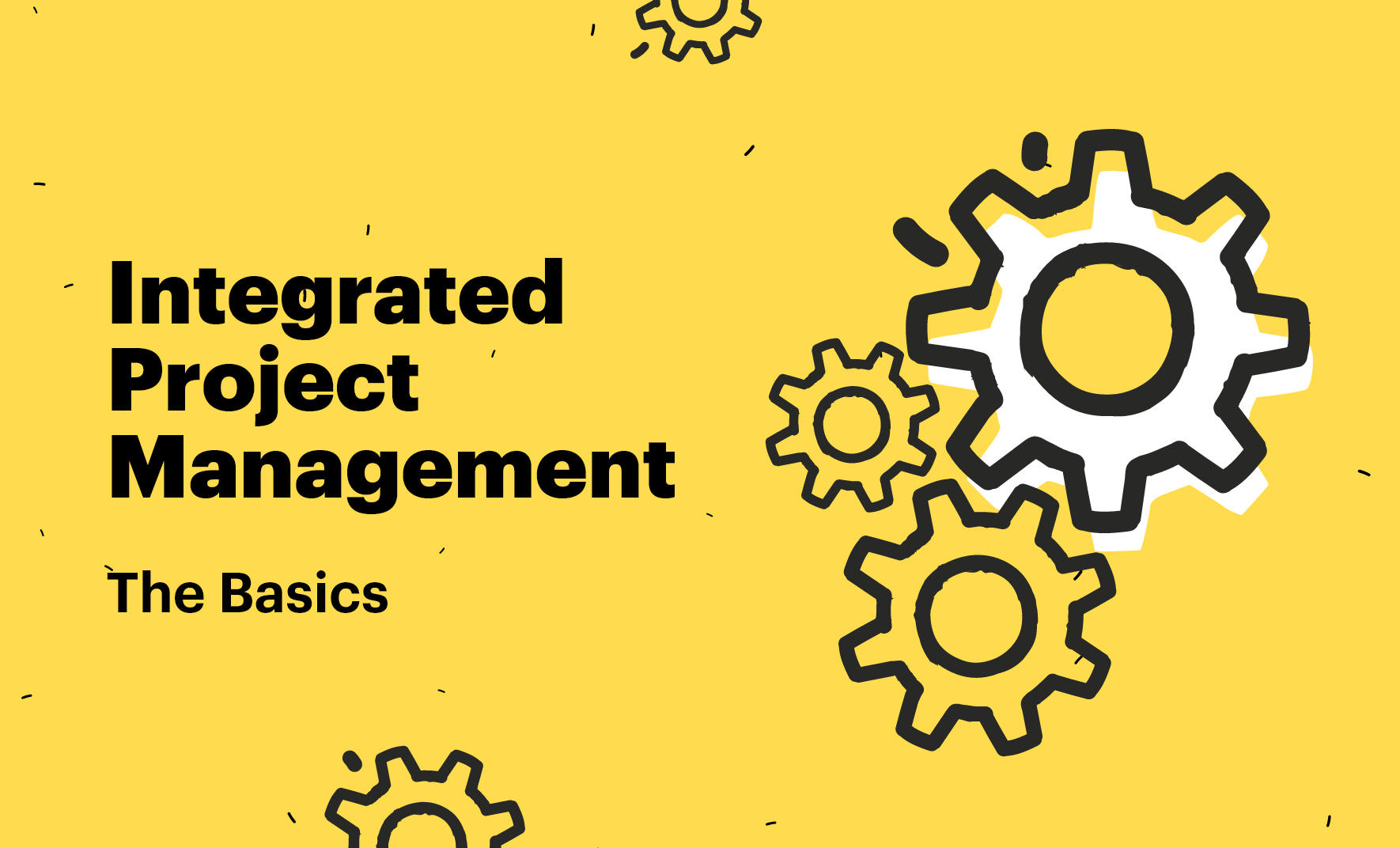 In this article we talk about integrated project management or project integration management – it is the same thing!
No matter your level and knowledge about project management, the goal of the article is to introduce you briefly to the basics of integrated project management.
You will get answers for what project management integration is, why it is important, and what are the steps you will go through when implementing it.
What is integrated project management?
Integrated project management is the sum of processes that ensure different elements of the project are coordinated and include the management of stakeholders and resources. Integrated project management (IPM) includes making trade-offs to meet the needs of a project. Also, it aims to involve the whole organization and share knowledge across individual departments.
In short, IPM is concerned with collecting, sharing, and implementing project management knowledge and best practices across an organization.
Project management integration is also one of the ten main knowledge areas according to the PMBOK Guide (Project Management Book of Knowledge). It's crucial for the project managers and projects' success.
Why is Integrated Project Management important?
Integrated project management is important because it's working towards building more collaborative teams, which communicate effectively and can share information freely.
Communication and collaboration are crucial to projects where many internal and external members are involved – stakeholders, vendors, subject matter experts. Integration of all resources is critical to the project's success.
Here are a few more reasons why integrated project management is important:
1. Scope definition is more clearer
When you define your scope, you can clearly communicate it to the team and you can encourage team members to participate in the planning. This will lead to more accurate time estimates.
If a client decides to make changes, you can implement them seamlessly with IPM and avoid scope creep, missed deadlines, or a stressed team.
2. Improves schedule monitoring
One of the advantages of integrated project management is that you can set up the interdependent deliverables and leave teams to communicate with each other. That allows you to focus on other tasks while building better and stronger teams.
3. Helps to monitor and assessing
Project integrated management encourages communication and sharing information and you will be able to monitor the project's progress more closely.
That's also a good time to give feedback to your team, encourage team members for meeting the deadlines. Also, more open communication allows you to be more honest when you need to nudge tasks and your team will have a better understanding of why this happens.
Besides the communication part, projects, in general, are complex and a manager should know how different elements relate to each other.
Imagine what will happen to a project, if the scope changes, but you don't know how it will affect resources, budget, and deadlines? It sounds like a disaster, right?
That's why project integrated management is important for the success of your project.
8 steps of integrated project management
There are 8 steps or processes of project integrated management:
1. Developing a Project Charter
Project Charter is a document that formally authorizes the existence of a project and provides the project manager with the authority to apply organizational resources to the project activities.
It also outlines the objectives and identifies the key stakeholders.
Simply put, it's the "ground zero" for the project.
There are various inputs, tools, techniques, and outputs involved in this step, see the table below: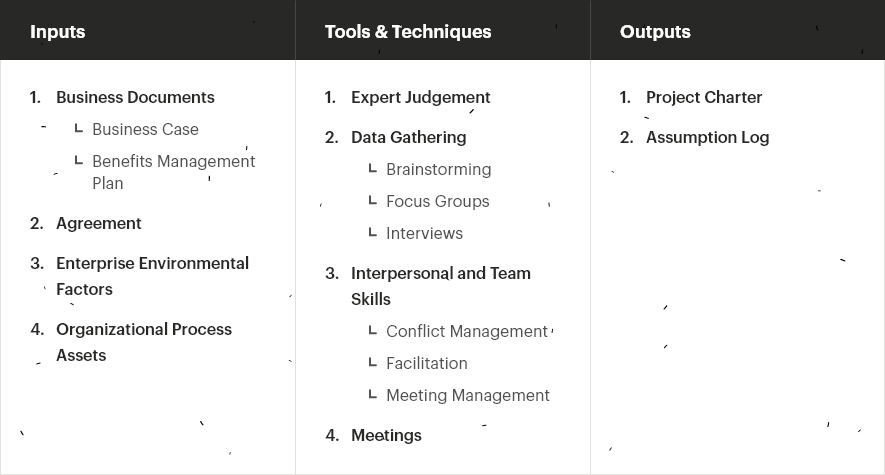 2. Developing a Preliminary Scope Statement
Here the project goals and objectives are specified. To clarify, the goals are the long-term aims of a project and the objectives – the exact milestones of a project.
3. Creating Project Management Plan
As opposed to the Project Charter process, you don't really create the entire plan in this process. In fact, you will only integrate all the subsidiary plans into a comprehensive Project Management Plan. Try to think of it as a "plan that defines all plans". Here the Project Manager documents all the activities that have to be defined, prepared, integrated, and coordinated.
For example, you might have separate plans for design and programming teams in an IT company. The communication protocols, the knowledge sharing processes, risk management between the teams- all of these are defined at this stage.
There are various inputs, tools, techniques, and outputs involved in this step, see the table below: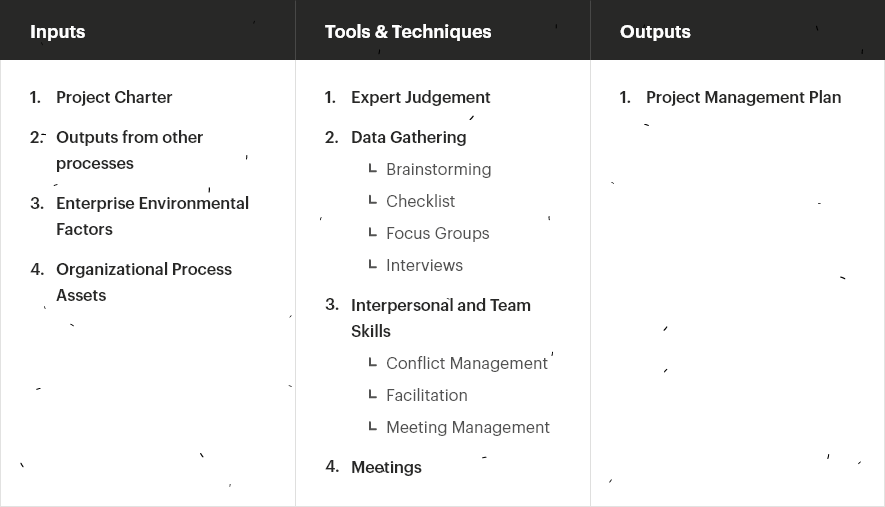 4. Directing and Managing the project itself
This is the process of leading and performing the work defined in the Project Management Plan to achieve the project objectives. Measuring activity velocity and performance are vital in this step.
There are various inputs, tools, techniques, and outputs involved in this step, see the table below: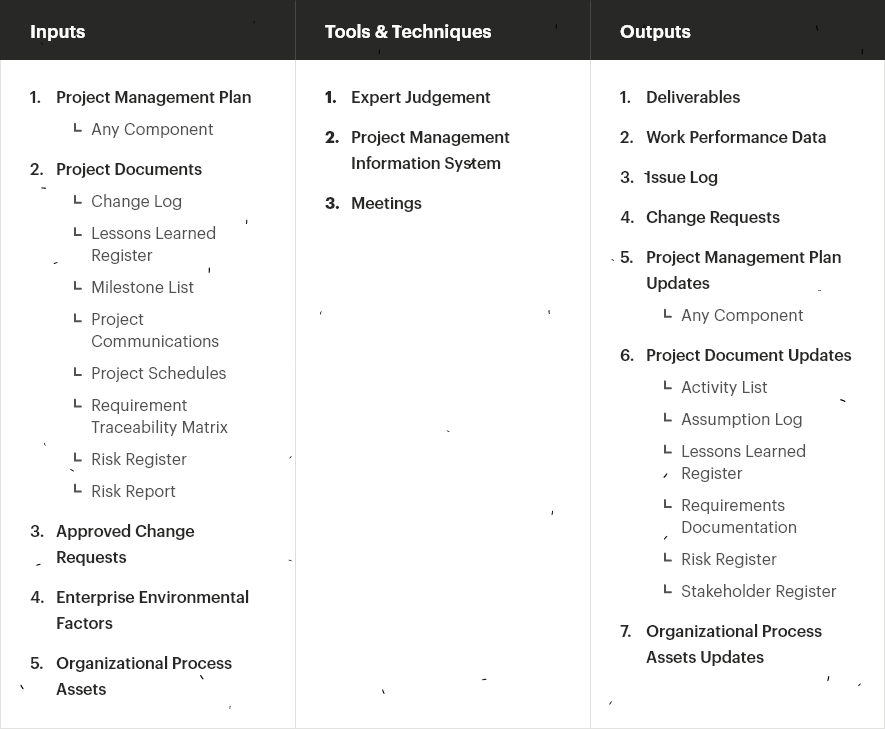 5. Managing Project Knowledge – new integrated project management process – PMBOK 6
This is a new process introduced in the PMBOK 6. This is where you use the existing knowledge (through previous projects and experience), as well as create new knowledge as part of your current project. Simply put, contribute to organizational learning.
There are various inputs, tools, techniques, and outputs involved in this step, see the table below:
6. Monitoring and Controlling of Project Work
This step is one of the most important tasks of the Project Manager to track, review and regulate the project's progress. He/she does that in order to meet the performance objectives defined in the Project Management Plan.
The main aim is to compare the project performance against the baseline for the project, on a regular basis – so if there is a deviation from the baseline – it can be taken care of and modified.
There are various inputs, tools, techniques, and outputs involved in this step, see the table below: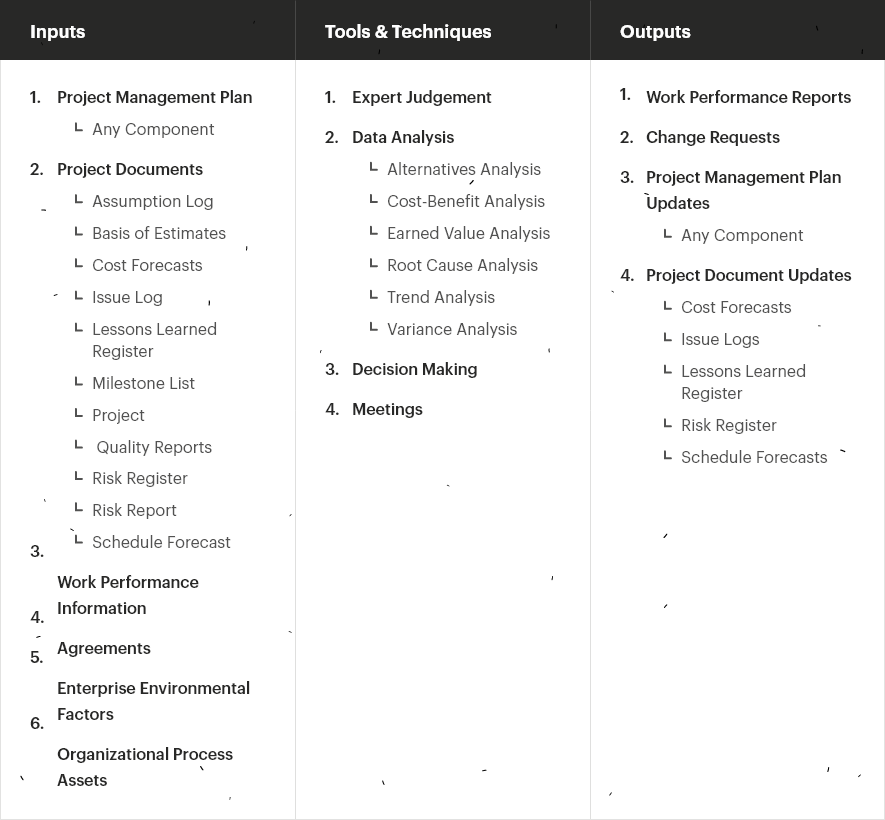 7. Performing Integrated Change Control
As the project progresses, requirements and circumstances might change. This could be delays of team's delivery, resource becoming unavailable, stakeholders requesting additional changes.
So in this step, you are reviewing all the Change Requests, approving and managing changes to the Project Management Plan, the project deliverables, and all other project documents.
In this step, a document that establishes norms for managing stakeholder requests is created.
There are various inputs, tools, techniques, and outputs involved in this step, see the table below: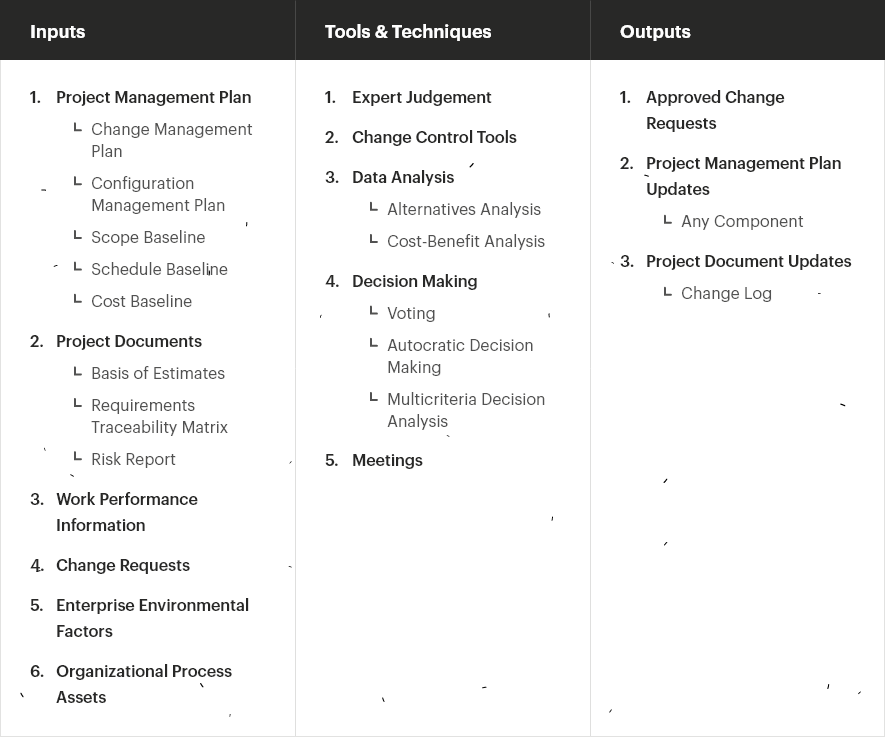 8. Closing the Project or Phase
The Project Manager finalizes all the activities across all the project management process groups and formally completes the phase or project.
There are various inputs, tools, techniques, and outputs involved in this step, see the table below: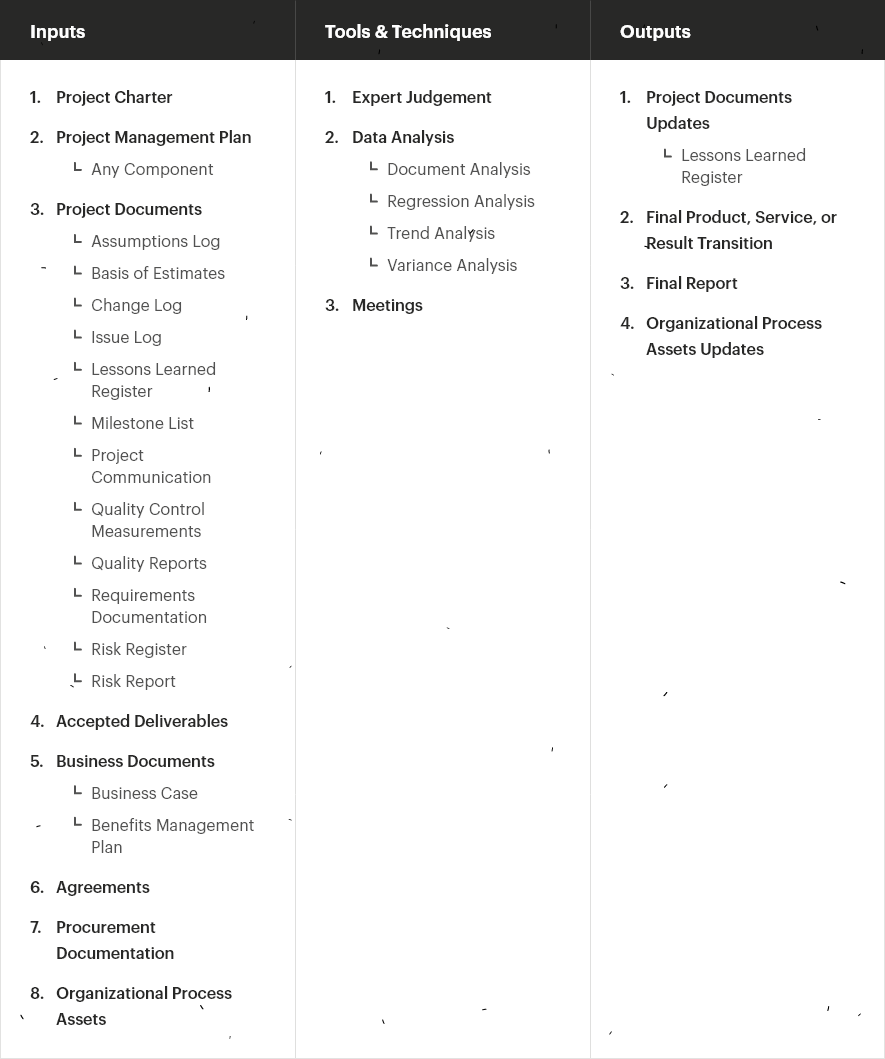 In this final table below you can see under what project phase all of these processes are happening and what are the key deliverables (the outcome) of these processes in a nutshell: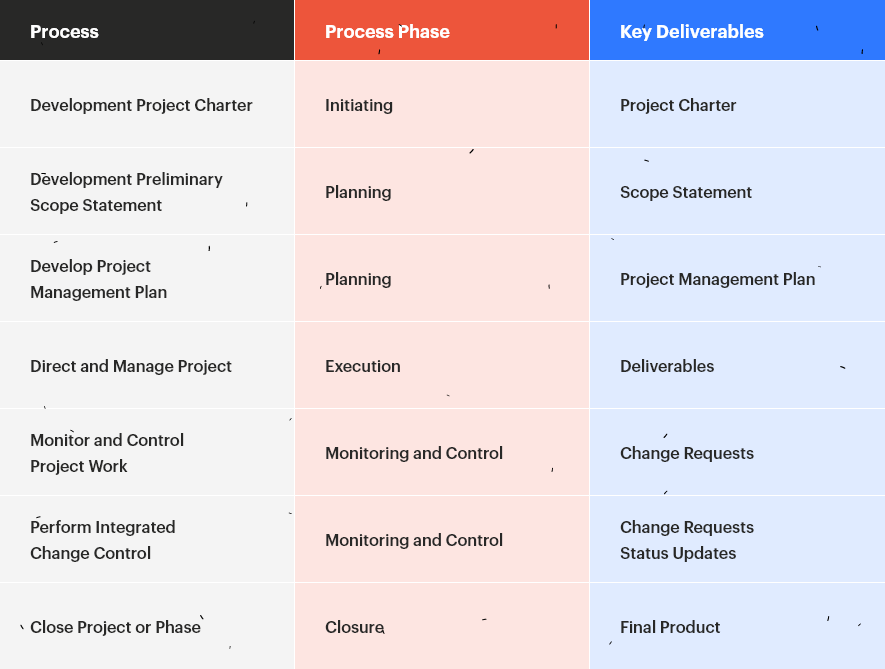 Final words
As you've probably noticed integrated project management is a very broad topic and we could certainly overwhelm you with much more information. But that's not necessary for someone who is just starting in the project management field or is just curious to gain some more knowledge about successfully leading projects.
For now, we believe we went through the absolute basics, just to help you get going.
If you liked this article, you might check as well: