What are Digital Agencies: Can They Help Your Business? [Pocket Guide]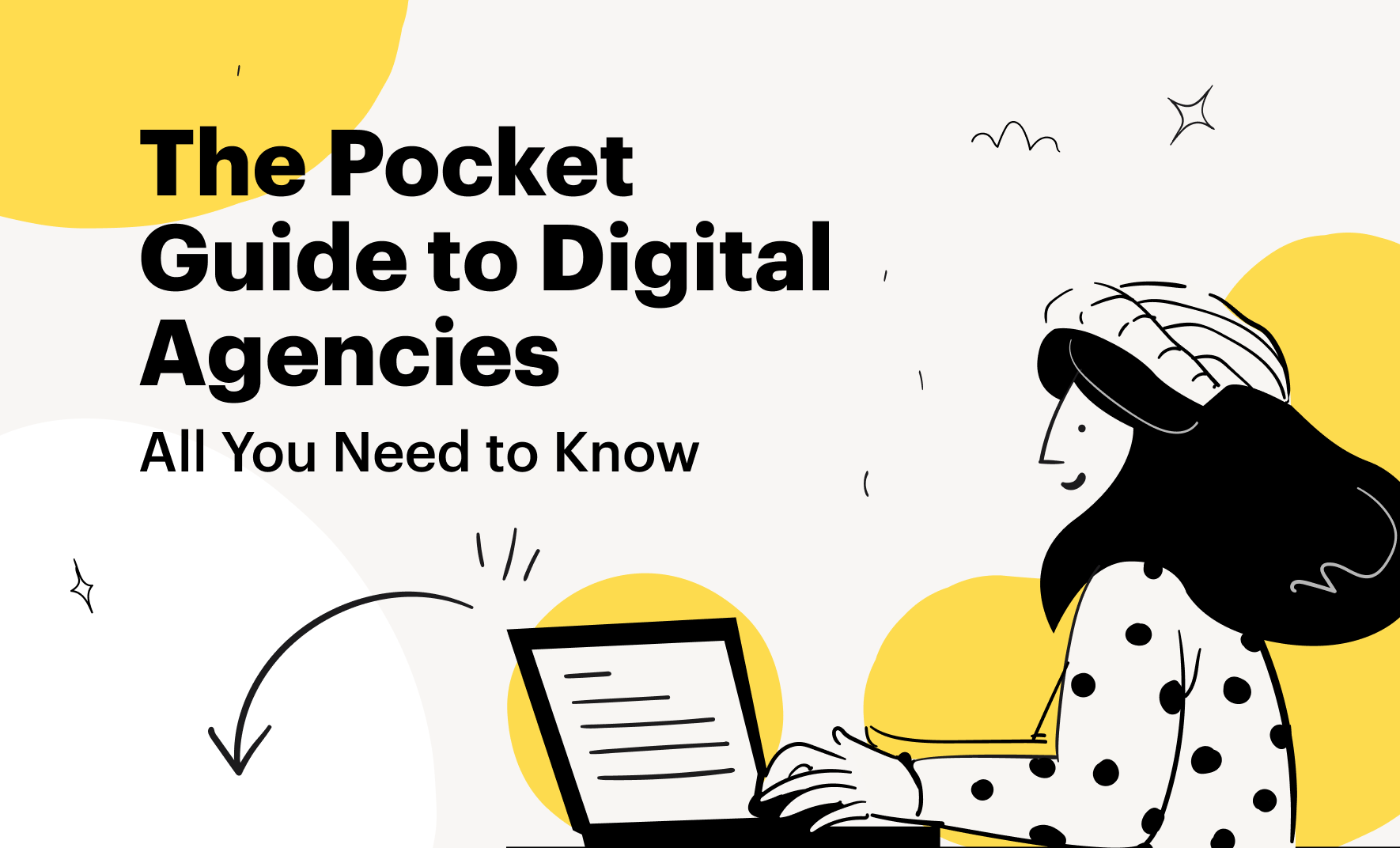 Digital agencies are the new form of the traditional advertising agency, taking advantage of and using the newest technology for these digital times. It's a mix of the art and science of advertising with the engineering of I.T.
A digital agency will help your brand and give an advertising strategy to your business and target specific audiences online. It will use web design and development, email marketing, social media, content creation, and marketing and online ads to market your business. A digital agency joins the artistic and tech-based worlds to offer a creative, technologically advanced combined marketing service.
1. Why Do You Need Digital Marketing?
The past is not forgotten but we are moving forward rapidly with barely a look over our shoulders. The days when your marketing strategy could revolve around flyers, posters, newspaper, or even radio ads have well and truly gone for good. The online world opens up your business to a potential global base and a vast target audience, and digital marketing is the best way of increasing your market share.
The numbers are enormous and rising. Almost half of the world's 8 billion population have some form of social media activity, and this is only going to get bigger. We're not just talking about the ubiquitous Facebook, Instagram, and Twitter either there are new, increasingly popular platforms vying for the viewers' interest. Add this to social video platforms such as YouTube, and we are drifting into mind-blowing figures before we even mention the normal website views.
And not only does digital marketing give you the opportunity of reaching millions of consumers, but it also has other advantages too. You can target audiences like never before, plus you can analyze the figures, and see what is working and what isn't. All this means that the control of your branding and overall marketing strategy can be directed like never before.
2. What Can Digital Agencies Do for Your Business?
Digital Agencies offer a very targeted approach by combining the skills of their whole team. Typically they employ specialists in Creative industries -Art & Design, Marketing, Developers, and Strategists. These groups work together to follow an overall singular direction that is designed to target your audience and purpose.
Website design and development is one of the most important aspects of a digital agency. This involves much more than coding an informative site with a few pretty product pictures added. that kind of thing just doesn't hit it anymore. Digital agencies will look at how your site works, optimization, responsiveness, user interaction, and experience on different devices. They can investigate the analytics of your site -hits and time spent on the site, etc. Audit the site, add microsites, or link multi-sites. Digital agencies are also expected in the vital Search Engine Optimization that we get your site noticed.
Digital agencies can help with digitally specific branding design and branding strategy. Taking into account the current trends and tailoring your brand to its target market in the most meaningful way.
Digital agencies can advise and help with mobile apps and web apps. They can even help create internal apps for your business.
Digital agencies have the creative specialists or contacts to use and utilize photographs and video production in your marketing strategy.
Digital agencies can provide not only web design but also design for digital signs, graphics for printed material, logos, brochures, etc.
Digital agencies can help create and direct your whole social media presence. From which platforms are the best to target for you, to the actual social media content which will get the likes and shares you want.
The creation of ads for social media or paid ads on other sites and Search Engines are growing features.   A digital agency can help with the design and strategy to get your name out there.
Digital agencies can help create or advise on content that will keep the viewers coming back, and keep the search engines happy.
3. What is the Role of Digital Agencies?
If these are the main services provided by a digital agency, a further question remains -what role does a digital agency play in your business?
Firstly the digital agency needs to understand your business. They need to learn about your product and services but they also need information on your target market, the present situation, and future goals of your business. This information will be vital in the marketing strategy that they will develop to push your business to the next level. They can then start the creative and analytical processes.
Of course, their main role is to create profit for your business. You are investing in the agency and you need to see a definite return on this investment. How do they do this?
4. Creating and Improving Your Online Presence
The rise of your online presence and its efficiency is all about boosting your business. There should be a direct relationship between your campaigns and your profit and digital agencies are in the best position to use their knowledge, experience, and skills to take advantage.
4.1. Creating Websites
One of the first things to look at regarding your online presence is your website. If you haven't got one, you'll need one creating. This is not simply a list of your products or services and a few snippets of information. Your website is the core of your digital presence and represents you, your brand, your vision, your professionalism, and your values, as well as advertising what you do. A digital agency should be able to develop a site that functions not only to show what you offer but to represent who you are.
You need to attract potential customers and clients and hold their attention. This is not only for the reason that people are more likely to buy from you the longer they spend on your site. There is also technical analytics which means the longer people spend on your site, the higher your site ranks. A digital agency knows the tricks of the trade.
4.2. Improving Websites
If you already have a website, a digital agency can analyze it. They can look at the traffic and the nature of that traffic. They will use this data to influence your whole marketing strategy. A digital agency can remodel, redesign or update key features of your site in order to attract greater numbers. A digital agency will use all the tools of the trade to boost your numbers and presence, such as Search Engine Optimization so your rank well on the main search engines. They can also make sure that the site is accessible to all devices so you're not missing out on anybody. Creating a blog is another way of drawing traffic and establishing regular visitors.
4.3. Digital Marketing
Social media marketing is another aspect of a digital agency's role. Get you noticed on the platforms of your choice by creating marketing campaigns and managing these campaigns.  A digital agency can utilize social media and a strong social media presence is an absolute must these days. It will:
Boost your brand
Showcase products and services to an enormous audience
Drive traffic to your site
Help create a relationship with potential clients or customers
Cement relationships
Build trust
Social proof
Give you a 24/7 marketplace
4.4. Advertising
Email marketing works. It should not be dismissed as old skool. A strong email marketing campaign can target exactly the right people, keep your business buzzing around a client's head and give you direct access to people that really matter. Digital agencies are experts are strategizing and designing such campaigns.
Online ads, whether on social media, search engines, or even video ads on popular platforms such as YuoTube are being used more and more frequently with excellent results. Digital agencies are specialists in not only creating such ads but also where and when to place ads for the greatest effect. It's a science.
5. What Are the Advantages of Using Digital Agencies?
The main advantage is clear. Using a digital agency will create money for your business. It is an investment that should have real rewards.
It may be argued that much of a digital agency's work can be done in-house by your own business or even yourself. There are tools, courses, and advice available, that's for sure. But a digital agency contains special and experienced experts in many areas. Creating a great online presence requires numerous skills, and very few people have all of them. Plus the time and resources are taken from your day mean that you can't get on with building your business in the ways in which you normally do.
You could, of course, set up your own digital marketing department but this is a huge investment. Certainly, it's worth it for major multinational businesses but do you really have enough need for a full-time group of experts, and you will need a group! Set up costs, salaries, taxes, resources… it's will really need to be thought through.
Therefore, surely it's easier to employ someone who does this every day. A team that can work for you, rather than your team. And if it doesn't deliver, move on, choose another team.
6. How to Choose the Right Digital Agency?
It's a growing field, which means you have plenty of choices.
There are the traditional ways, word of mouth, recommendations, trade fairs, etc. Then there is a web search. A digital agency's website should be the premier source of their advertising, a great showcase of what they can do for you. If they can't stun you with their own site, can they really be expected to produce the goods for your business?
Look at case studies of what they've turned out for others, especially if they are in a similar field to you. Consider the businesses they've worked with, and read the comments, reviews and feedback. View their services and skills, not all agencies do everything. You may decide to go for a specialist in one particular area, e.g email marketing. The decision is about what you need.
6.1. Search for Digital Agencies Globally
There are digital agencies all over the world, it is worth looking far and wide for the best value. You aren't necessarily tied to your local area or even country, but consider the high-level communication you are going to need to make a success of this partnership. Can you get a better price somewhere, yes – but are you getting better value, in the long term? You can check out lists of different agencies online, using directories such as Ranked, Google Partner directory, or Top Digital Agency amongst others.
6.2. Shop Around
And contact some different agencies. Talk to them, see what they have to say and what they are offering. This is an area where good communication is so important. If you feel it, you get a connection, then that's a good sign. How much effort is the agency going to put into you? do they get back to you quickly when you make an inquiry? Is the level of communication good? Do you feel comfortable? All important aspects of a relationship.
To Sum It Up
The digital agency is what takes your physical presence and puts it out there for the world to access. Exactly how successful your business is, still depends on your product and services, a digital agency isn't a magic wand. But what a digital agency can do is provide the partnership that will promote your business in a strategic way. Provide a forward momentum and defined direction of travel. Improving what you have, or completely working it. They can advise, as well as create.
The benefits of an online presence are enormous, and a digital agency contains the expertise to make this presence a vital feature of your business. Is it worth the investment? Only you can decide but you've got the gist of the argument. so you are well armed for the decision-making.
In the meantime, you might be interested to continue with some of the more specialized related articles on the topic of digital marketing: