How to Start a Social Media Marketing Agency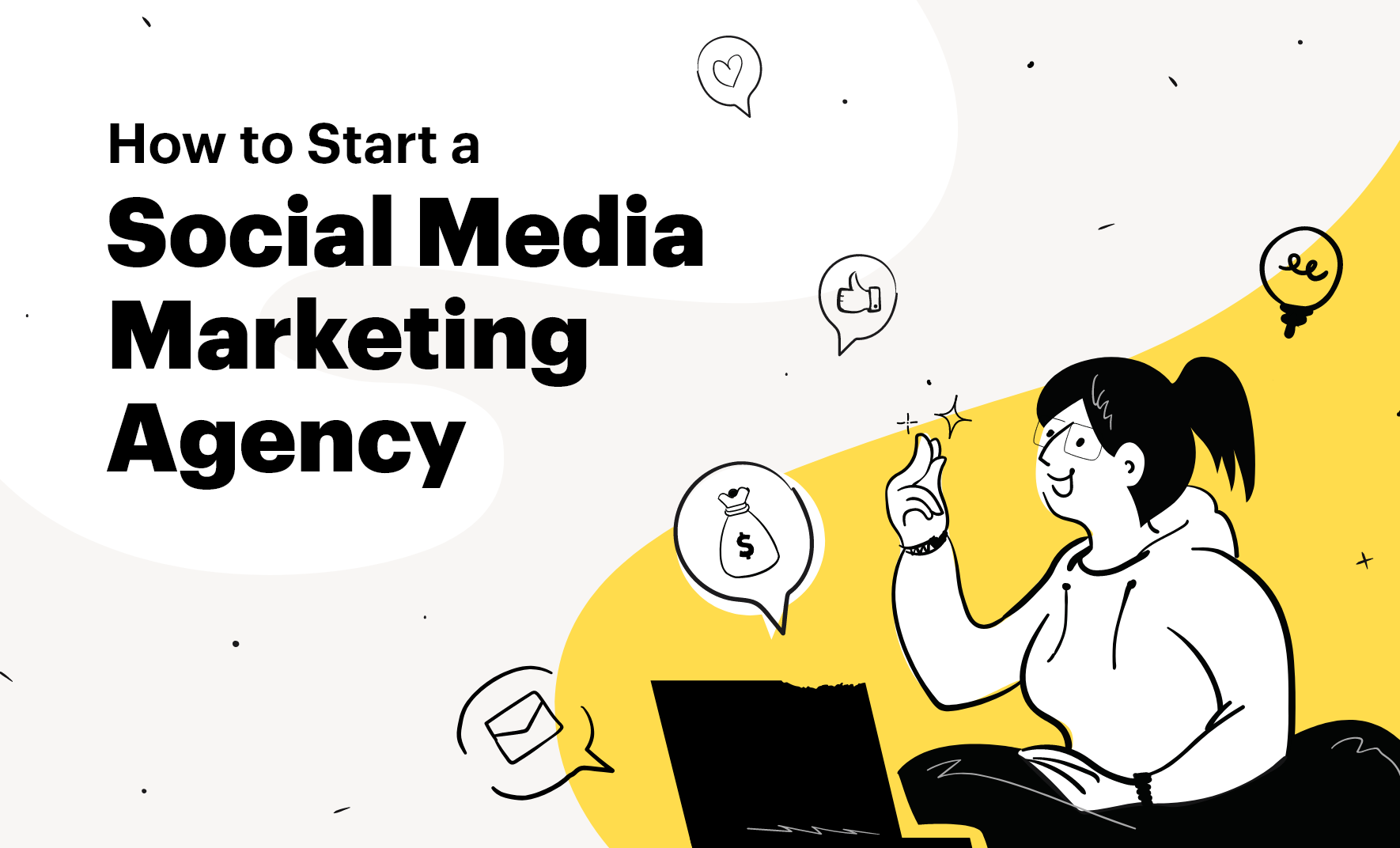 Social Media Marketing is something that no brand can dismiss any longer. The phenomenal rise over the past decade shows no sign of slowing down, in fact, quite the opposite. The latest statistics show that a third of the world's population uses some form of social media for news and entertainment, and not only are the established platforms still growing but there are new exciting platforms being added to the diverse range. Different social groups are using different social media platforms, and specialist platforms are emerging. This is ripe territory for advertising in general and targeted advertising in particular.
Expenditure on Social media advertising is already well over $100,000 million per annum and, yes, this too is on the up and up. It's great for businesses with a significant return on investment, with Facebook Ads claiming is 4:1 ratio of ROI. And this means it's great for specialist social marketing agencies. This is especially true when you consider that unpaid organic social media marketing is less effective and so true experts are needed to generate the strategies, content, and ads that will really make a difference.
Starting up your own Social Media Marketing agency in a growing market such as this is indeed fertile ground for a new business but it's massively competitive. You are going to have to get working and get planning to get ahead of the game.
1. The Decision to Start a Social Media Marketing Agency
Let's presume you've made up your mind to start your own agency after a great deal of in-depth thought, and discussion of pros and cons with the vital stakeholders in your business. Not only potential investors, business partners, and advisors but also the people close to you. Having your own business is not going to run like clockwork all of the time and you will need as much support as possible.
You've assessed the market and got some confidence that you'll be able to find a niche and decided to take the plunge. A little bit of a warning, the decisions don't end here, this is only the start.
2. Your Background
We can also assume that you have some kind of knowledge about Social Media Marketing, you didn't just see some random statistics for potential business growth and think that's the business for you. If you're a business entrepreneur already, much of this advice won't be new to you. However, you are going to need some skilled experts, so for you, the first job is to find some staff.
More likely you are either a freelancer or an employee already daddling in this field, and you feel that now is the time to take the plunge and set up your own agency. You have some creative and technological skills and some knowledge about the industry itself. The first lesson, "some" is not enough. Set about really developing those skills and knowledge, this is an industry that depends on results and you'll easily be found out if you can't live up to expectations. Work at becoming an expert or surround yourself with experts.
3. The Business Plan
You need a plan. You need to address the basics from the very beginning. Decide who is involved in this business, who else you'll need to employ (internally or externally), what you are going to do? the target market and services and the practical aspects of running a business. Starting small is a good idea but put in place the basics that will help you when you scale and grow. set yourself some targets and goals and assess them along the way.
4. Practicalities
Once you've made the decision to start up, you need to go through the boring but essential practicalities of what you will need, at least to get started. The most obvious is the physical space and the actual technological resources. These are just what you need to do any job that comes your way. And get a business bank account open as quickly as possible.
Then comes the business side of things. Opening an agency means going completely legit. We are talking accounts, invoices, receipts, taxation, licenses, contracts, business rates, registration fees and that's before we add on employee costs and contributions to pensions, health and safety requirements, etc.
You need to get these issues clear, perhaps employing or at the very least getting advice from trained accountants, lawyers and established business people as well are getting the information specific to the rules of your own country and location.
5. Costs
These practicalities are at the very base of your setup, then there are the running costs and it is important to calculate your monthly costs just to keep your business going. Your running costs include bills (utilities and others) employee costs, rent, fees, etc. Add to this your own time and potential wage, to get a rough estimate of your needs per month.
On top of this, you will need to budget for your own advertising and branding and costs to cover your marketing strategy.
6. Research
Your research covers the analysis of your completion both direct and indirect. Look at their costs per service, what service they are offering, their branding and style, their marketing, and their target market. This will help you mark out your ground and your brand.
Let's be honest, this should be your forte as it's what your whole business is about. Do for yourself, what you are promising to do for others.
7. Finding Your Niche
One thing we can 100% promise you is that you are not the only one thinking of starting a Social Media Marketing Agency. You are competing with fresh start-ups and the already established, as well as other traditional marketing agencies that can see the growth in Social Media.
So what are you going to do, to make sure you stand out from the crowd. The answer is to find and concentrate on a specialist area, a niche. By focusing your efforts in a highly targeted way you should be able to get yourself noticed. Don't rule anything out, but you can always expand later. We aren't saying turn things down, if you get a chance to do something -by all means, do it but a  USP will help get the ball rolling.
Look for a suitable niche in an area that you feel comfortable with and have some knowledge of, this way you can at least be confident in your pitch and ability.
Choosing a sector where you have experience and background can help you show off your skills and get your foot in the door. Once you've got some clients in a specific sector, and the case studies, portfolio evidence, and testimonials to back it up, then you are far more likely to attract clients in that very sector or a similar field. Human nature states you want what others have, in life and in business.
Another alternative is to select a specific section of marketing in social media and pitch yourself as a market specialist. Learn, do courses and read up on one specific area and then really hard sell yourself and what you can offer. and show those skills off with a targetted portfolio.  Building a reputation in one area doesn't necessarily limit you, in fact, it makes it easier to expand into other areas because you created a name for yourself.
If you have the skill set to help specific clients in a specific way, then this can be a key area for direct marketing. Target a specific client and directly offer them something that your know they need.
8. Services Offered
Social Media Marketing Agencies offer a number of services from full design and/or strategy services, to management to smaller specific content and you may be in a position to offer them all from the word go. If you aren't, be very clear about what you can't and can't offer. It can be heartbreaking to turn people away, especially at first but honesty is going to be the best policy. If you are getting requests for services you can't offer, then think about how you can turn this to your advantage. think about referring requests to another agency if they return the favor, a trusted freelancer, or even working on offering these gaps in your service as quickly as you can arrange it.
9. Pricing
All of your planning, running cost estimates, and market research come together when you start looking at your prices and pricing strategy. It doesn't all come down to cost in business but it is important.
What are you offering, at what cost? There is a balance between being competitive and being cheap. you want to attract clients but not be taken advantage of. Your prices have to cover the work done and the business extras, if they don't you might as well be working for someone else and have the security of a monthly salary. Your prices have to take into account that there will be quiet times as well as busy times, outgoing are consistent, incomings not always so.
Advertise your prices, people are suspicious if you hide them away or are cagey. leave yourself negotiating space, but have a bottom line.
Look into payment and service options. Upfront, management fees, discounts, promotions, long-term partnerships, bulk discounts, taster services, project or hourly rates -be flexible but with a strategy, don't make things up day by day.
And get yourself a payment system that works, and is easy for clients to pay you. Consider payment-protected files, the last thing you need is to be working for nothing. It is safer and adds professional integrity to your service.
10. Your Website
All of this goes into your site. Create a great website, have it up and running before you launch the business, and make it represent everything you stand for. This site is the clearest way you have of showing what you are good at. Creative but easy to navigate, fresh and dynamic, plenty of information all clearly sign-posted so that any potential client can find exactly what they need in seconds.
11. Winning Clients Over
A great location, skilled staff, forward-thinking action plan, what could go wrong? Without the clients, none of it matters -simple.
You have to do everything you can to get clients coming through your virtual door, this is the biggest challenge. Here are some of the most valuable tips for winning them over.
Contact, Contacts Contacts
Don't be shy to use any and every contact you can find. From Family and friends to ex-colleagues, from acquaintances to old clients. Even if they can't provide you with work directly they can and will spread the word.
This is your bag, so use it. Kill two birds with one stone, showcase your talent and get the clients clicking
Contributing to forums and helpdesk can be time-consuming but it a sure-fire way of establishing a reputation as an expert. It's indirect marketing at its best and you'll be surprised at how many people listen to your advice and then think it would actually be better if you did it for them.  Sites like LinkedIn and Quora are particularly good for business help.
Create How to Youtube videos
People searching for how to create Social Media Marketing are already interested. You aren't losing clients by teaching people how to do it for themselves, those people weren't going to come to you anyway. What you are doing is feeding that reputation. Provide links to and from your sites and social media profiles and look like the expert that everyone wants.
Official and unofficial networking, anywhere and everywhere. Get yourself known, get yourself out there. Conference and business meetings, business cards passed on to a brief conversation partner in a bar, what have you got to lose. Soft sell your service, offer help and advice, pitch yourself as someone who wants to and can help.
Browse the Appropriate Websites
You can search for job offers on sites such as Craiglist, Indeed, Upwork, or the many others out there. These are a treasure trove of possibilities. and use IFTTT to keep checking and getting notifications
Special offers should be exactly that, special, and limited. The idea is to spread the word and prove yourself not to become a charity. Have a specific aim in mind when offering something, what are you getting in return? It could be publicity, testimonials, kudos, case studies but there should always be something.
12. Selling Your Services
When your marketing and networking kicks in, clients will come looking. But this doesn't mean you have automatically secured the gig. So now you have to sell your service, at least until you are so well known that they start to sell themselves. Sales is a specialist area, and it is frequently not the area in which creatives excel, but no excuses…..you have to sell. Courses and tutorials can help but there is no true replacement for actual practice, so get out there and start pulling out the stops to sell. Actually, if you are proud of your services, it really does make the selling easier, after all, you believe you are giving the client something they really need, and they can feel that belief.
But there are some tips too.
Use specialists to sell for you. It might be an expensive outlay but it's certainly something to look at long-term.
Create a pitch team and strategy
Concentrate efforts of your team on this area, brainstorm, discuss tactics, practice together. Working as a team to help the virtual footfall will ease the strain
Clients love to see what you can do, not just the final product but where you started from. Document project, and highlight the results achieved. Post the case studies, direct clients to case studies, use them actively to illustrate exactly what you can do for them.
Great testimonials will win you business, so let's get them seen. Flood your website and social media with them don't keep them hidden away.
Clients will check you out and your site is hugely important. Everything about it matters, again it is a demonstration of your skills even if it's not directly related to social media marketing, it shows technical nohow that you are expected to be good at. Boost your SEO by adding great content, blogs article, etc.
13. Keeping Your Clients
This should be the easiest part, you want clients coming back. If they don't come back, you at least want them to be complementary and help you spread the word. Word-of-mouth advertising goes a long way to bringing clients in.
You need to work hard for your clients and you need to work well with your clients. The service you provide is provided by others, many others, show are you going to raise your head above the water. By following some simple but essential rules:
Quality – deliver on the quality that you promised
Results orientated – clients care about that results – make sure your marketing is achieving what they want to achieve.
Communication – Go big on communication, as a tool for successful projects, satisfactory outcomes, and also to build relationships that will last
Be Professional – As a business, you need to act like a business. Show you professional business skills from day one. Organization, communication, contracts, negotiation, – they matter for the clients, and being efficient in these areas makes life easier for both sides.
14. Room to Grow
Starting a Social Media Marketing Agency is just that – start. To be successful you'll need to grow, and the ethos, philosophy, rules, and tools you put in place at the very outset should be chosen to allow for expansion and hopefully rapid expansion.
Once you start to experience those clients coming back, singing your praises, and boasting about their results, then be ready to scale quickly. You will need to take on new staff, selecting the right people is never easy, and there are sure to be some disappointments. Put that down to experience and move on. The important thing is once you've expanded your staff base, do they have the right skills but also the right tools to do the job.
Technical tools for doing the work are one thing, but equally important are the tools that organize and allow communication within the team and with clients, both potential and established. If you've thought about this from the beginning and chosen tools that can help you grow, you are already on the right track. You can establish the correct and most efficient systems when you are a small start-up much more easily than have to swap and change later. Things like email for contacting clients work well for a limited number but become messy with larger volumes, and when you have to include other colleagues.
So select your platforms and tools now, but keep an eye on where you want to be in the future.
15. Platforms and Tools
Social Media and social media tools and analytics are obviously going to be your go-to in terms of creativity. There's plenty of software for creatives, free and paid too.  From the free Canva to brilliant Social Media software such as Agorapulse.  But as far as business is concerned you need to use the best tools available for communication and administration in order to run the business smoothly and for both your staff and clients to be comfortable and informed as needed.
There is a great selection of general and specific tools that social media agencies can use both free and pay for and here are some of the best:
Free business tools for social media marketing agencies
Free tools are great for business start-ups where money is understandably tight. But remember free is still only good when it does the job you need, luckily there are plenty of tools that do just that. Also quite often free is free but limited in either numbers or features. To really scale up you'll need to start paying.
The well-known Trello, Click-up, and Asana have got all your bases covered here. There are others to link your clients and your staff.
Video Communication Tools
Zoom and Skype offer free options to link through live video feeds. Popular and widely known, which help clients feel secure and comfortable.
You can use tools like Dropbox, Google Drive, Files2u, and PipeBytes for free to send large files to colleagues or clients.
Many of the project management and communication tools already include features to enable collaboration. So you can keep it simple by using those. Others like Microsoft teams are whole packages that let you communicate and collaborate
Slack is a popular tool popular for in-house messaging. Of course, email is still a big favorite and is great for a limited number of clients.
Paid business tools for social media marketing agencies
Adding to the list of free options are numerous great paid-for services and software. These are quality products that can take managing and running your business to whole a new level of efficiency.
Quick books, Fresh book, Sage are all great software tools to help you manage your accounts and save on paid-for accountants. These allow you to invoice, pay tax and track expenditure alongside many other accountancy features.
Client communication and organization are essential for a growing business. Kitchen is an ideal application for ultimate messaging control both with clients and for internal operations. It creates a specific client area for your business to manage all communications. It also includes many other features too such as payment protection file sharing, automated quotes, and invoices. Even one-click acceptance of quotes and single-click payment.
Stripe and Paypal both make accepting client payments incredibly easy.
Check out HelloSign or DocuSign for help with those all-important contracts.
Payment Protected File Delivery
You don't want to run the risk of working without getting paid. The best way to cover yourself is to deliver the goods as payment-protected files. Kitchen allows you to do exactly this and offer many more business management features besides.
In Conclusion
Many people start Social Media Marketing Agencies and it's easy to see why. It is a growth market and plenty of people have the skills, so why not. Well, the why not, is because running an agency is not easy. It comes with pressure and the skills you have at Social Media Marketing may not be the ones you need to run and manage an agency. The vast, vast majority of Social Media Marketing agencies fail. This is a fact not meant to put you off but to warn you. If you want to succeed in the massively competitive industry the tips above can help, but they are not a magic wand. It takes hard work, long hours, a slice of luck here and there and there will a rough patches. But in the end, success can reap rewards and we wish you well.