How to Create a Good Scope Management Plan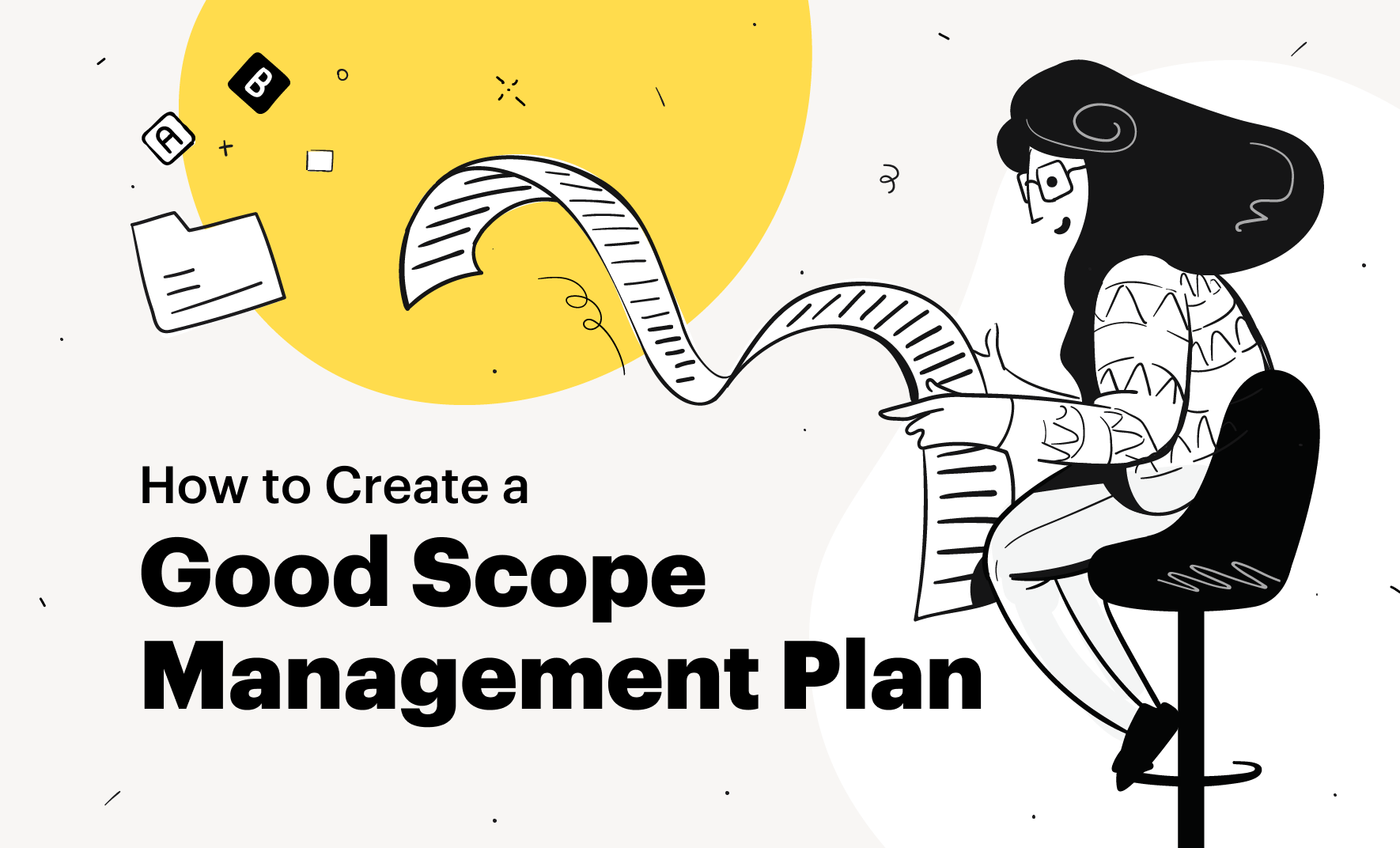 A project's scope can quickly go off-track and affect your schedule and budget in a negative way. That's why one of project managers' areas of knowledge is scope management and one of the important skills – creating a good scope management plan.
In this article, you learn how to create a scope management plan that can be extremely beneficial to your project in some easy steps.
First things first, let's start with a quick definition of what project scope is. Probably, some of you are new to project management, and starting with the basics is always a good idea.
What is Project Scope?
A Project Scope lists all goals and objectives of a project, as well as costs and deadlines. It also points out the people responsible for keeping the boundaries of the project – not going out of scope. Basically, a Project Scope is the parameters for the whole project.
Of course, changes are inevitable, but a scope management plan helps you manage and control these changes to stay on track with your budget, time, and resources.
Let's have a look at one more term that you will hear about in scope management and it is unpleasant as it sounds:
Scope Creep in Scope Management
Scope Creep often occurs because of poor communication between parties and a lack of precise description of the scope. It can also be new requirements, added after the project has started, and the inability to review and deliver them within the initial resources and time planned. There can also be too many new requirements, which are actually approved but can easily overwhelm the project schedule and budget.
And as you can expect, creating a good scope management plan can help you manage a project better, plus avoid Scope Creep.
What is a Scope Management Plan?
To sum it up, the purpose of a Scope Management Plan is to describe how the scope will be defined, developed, monitored, controlled, and validated (PMBOK, 6th Edition). Simply put, it is the plan that helps you manage the project's scope.
You can also look at the following graphic to get an overview of where scope management lies in the entire project management field and what is consists of: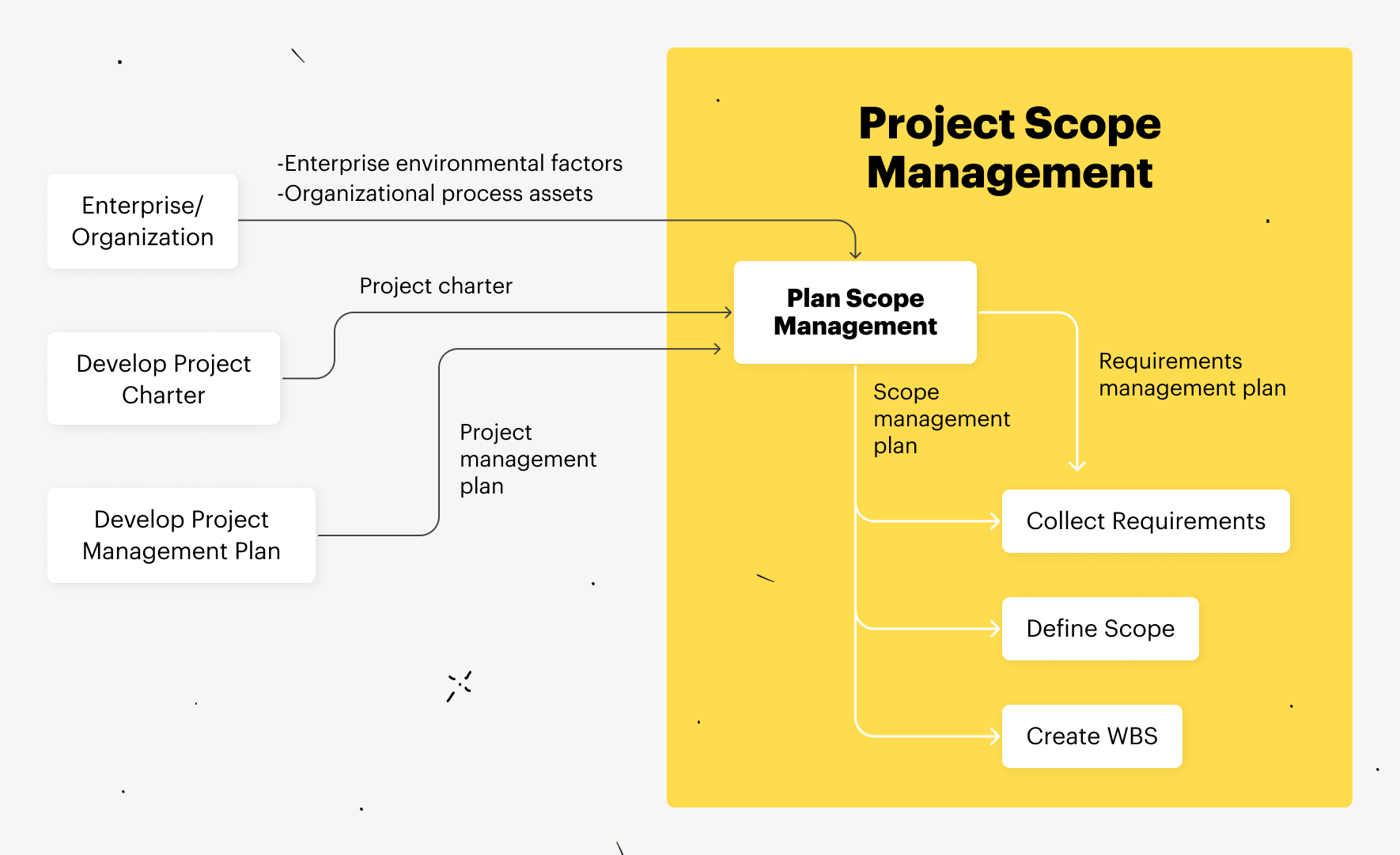 Let's have a look at the inputs, techniques, and outputs as well:

All right, enough about scope management definitions, so let's have a look at the steps to take when creating a good scope management plan.
How to Create a Good Scope Management Plan
1. Get as many as possible and clear requirements from stakeholders
At this step, you contact or meet the stakeholders and identify and prioritize their requirements.
The PMBOK guide includes a Requirements Traceability Matrix – a tracking chart, where requirements are signed-off at different stages of the project. It is a useful tool to stay on track with the requirements of the stakeholders at any time.
2. Review requirements, and summarize the main goals and objectives in a detailed scope statement to be reviewed by stakeholders
The scope statement is the basis and core of the scope management plan. It is a written description of the project's scope, major deliverables, constraints of the projects and so on. It is a good practice to list as much as possible, to avoid misunderstandings later.
3. Create a Work Breakdown Structure of the project's tasks, after approval of the scope statement
Things that your WBS must include are an identification number/code, a description of the work, and a responsible individual or organization for the work. It must be clear to see what needs to be done and who is going to do it.
You can also include other information such as start dates, deadlines, budget, milestones, resources, etc.
WBS is a solid starting point for creating the project's schedule and it is a necessary step in project planning overall.
4. Get approval for the Work Breakdown Structure
You need to check with your team, suppliers, and stakeholders, if everything you listed in the WBS is enough and if you've missed something. Only with the approval of stakeholders can you move on to the main and detailed project schedule.
5. Assign roles and responsibilities to the project's team members
Keep in mind that project roles and responsibilities can change throughout a project, particularly if the project scope changes.
Still, you should assign who is doing what is already in your scope management plan.
6. Define the approval process for the project's deliverables
You need to have a clear shared understanding of the quality of the project's deliverables.
If you don't have expectations for the deliverables, your client might not be satisfied with the results, which can lead to unexpected changes and scope creep.
Also, even if the deliverables are up to standard, you still need to get the stakeholders' approval. This way you are also avoiding never-ending requests for changes.
7. Decide how you will control and document change requests
Part of a good Scope Management Plan is to decide how you will react to changes – what actions you will take.
Controlling changes is needed again to avoid scope creep.
And documenting change requests will help you not only stay on track but give you useful insights for future projects.
You need procedures to inspect and examine the scope of the project at regular intervals.
Hopefully, these steps of how to create a good Scope Management Plan will really come in handy in your work.
You are free to use them as a checklist when you first start with scope management.
We'd like to wrap this article up with a quick list of what to include in a scope management plan:
Scope Management Plan summary example
Intro
Defining the process
Connection to other areas of the Project Management Plan
Budget and Resourcing for Scope Management
Stakeholders
Requirements
Scope statement
WBS (Work Breakdown Structure)
WBS dictionary (terminology used)
Deliverables
Control
Scope Assurance
Scope Monitor and Control
Stakeholder Acceptance
Roles and Responsibilities
Benefits Management (how you will ensure delivering the benefits of a project)
With that, we conclude this article and we hope it will save you time, make your work more effective, and will inspire you to learn more about project management.
If you feel inspired to read more, here are some more quick reads we recommend: