How to ask a client for a testimonial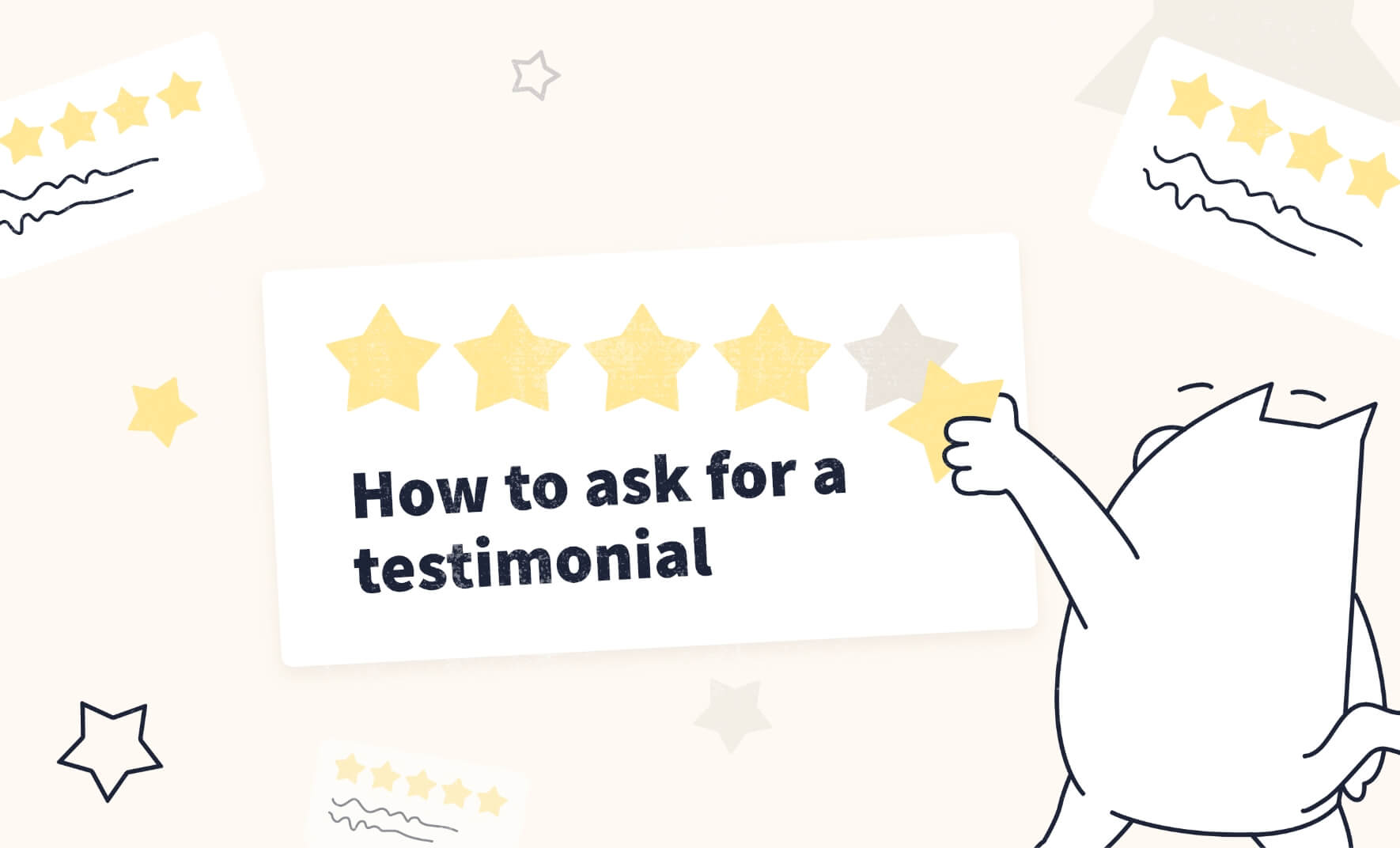 In this brief article, you will learn quick tips on how to get customer testimonials. Let's dive in.
What is a testimonial? A testimonial is a statement about your work by a customer or client, hopefully stating how good your work is. A real person's opinion in a short paragraph or a couple of lines that serve to give readers an insight into your quality of work.
Testimonials help establish trust and credibility in a business and its work. There is a mass of statistical data showing that positive testimonials generate custom, increase sales, drive revenue, and increase traffic and SEO ratings.
In short, you need testimonials.
Where should a testimonial be placed? Testimonials should be strategically placed on your website's dedicated testimonials page but also throughout the site, so viewers are left in no doubt that your work is praised.
At the end of this article you will know how to get customer testimonials, but please, keep them updated! Testimonials need to be fresh, recent and relevant.
Unlike reviews, testimonials are collected, collated, and published by you, for you. You are responsible for what goes on the site and what doesn't and vitally you need a strategy for getting the satisfied client to give you a testimonial. Some will offer, many will need to be asked.
So let's look at how to ask your incredibly busy client to take some time out of their day, to write a glowing testimonial purely for your benefit.
Here are our best tips on
How to get customer testimonials in a nutshell
Timing – ask for a customer's testimonial right after you finish a project
Be polite – thank the client for the successful project and ask politely for a testimonial
Use your communication history – ask for permission to use clients' praise received by mails and messages
Reward – offer something small and thoughtful in return for a testimonial
Make it easy for clients – use templates, recordings, buttons, star ratings to get testimonials
Be proactive – not all clients will instantly compliment your work, have a follow-up request for a testimonial
Don't ask for a testimonial more than once
Ask for a customer's testimonial right after you finish a project

Timing is the key. After weeks or months of hard work, you've finally completed and signed off on the project. All the changes and additions have been incorporated and the client is happy. Now is the time to ask for the testimonial.
The waiter in the restaurant asks you if you've enjoyed your meal as he is collecting the plates, he doesn't phone you the week after. Why? Because you have a full stomach.
The atmosphere is positive, all the creases in your relationship have been ironed out, and you've delivered. The client is ready to put their site into action, it's what they've been waiting for. You want to finish this project and you are happy – they are happy.
Thank the client for the successful project completion and ask politely for a testimonial
A final polite, well-written round-up email; thanking them, assuring them you'll be there for them, hinting you'd be more than happy to work with them again, promising them they've been a pleasure to work with, an interesting project – and asking directly for a testimonial.
Let's see how to get customer testimonials in one more way:
Ask for permission to use clients' praise received by mails and messages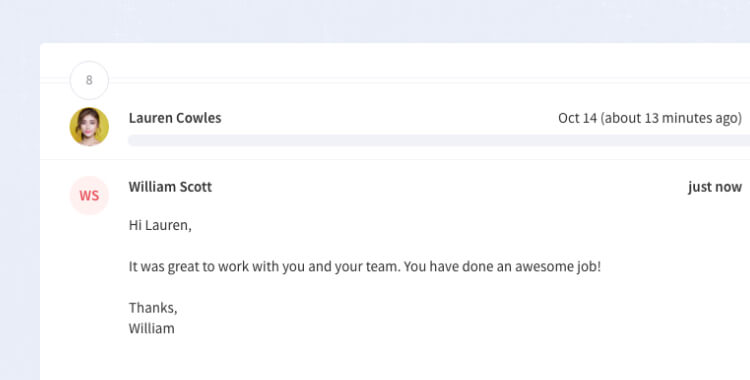 Reviews are managed by third parties, they decide what is published and by what process. Testimonials on your site are controlled and managed by you. In an ideal world, after each successful project completion, the client would write you a testimonial to be proud of, praising your communication and professionalism and highlighting your skills and quality end product. But we don't live in an ideal world, so you need to be ready to record the praise however it comes.
You'll often receive emails and messages from clients expressing gratitude and commenting on your team's performance. These can be easily used on a testimonial page, all you have to do is record them and importantly ask permission to use them. It could be a few words, a sentence, or a paragraph – get into the habit of saving these snippets. Have a place where you can store them and then use them to update your page.
Offer something small and thoughtful in return for a testimonial
As testimonials are so important especially in the world of web design and development you may feel tempted to offer something in return in order to increase the client's motivation and willingness to write something about you. It's not a bad idea to offer something but make it a little something, don't let it be mistaken for a bribe or a push to write untruths or overemphasize your talents. Often these can be seen through by the reader anyway, as they immediately sound false and reflect badly on your whole image.
A gift card, voucher, small discount of a future project are all appropriate nudges to push a busy client to take a few minutes out of there day to do you a favor.
Make it easy for clients – use templates, recordings, buttons, star ratings
Writing a testimonial takes effort, some people can rush off a few complimentary lines in a minute or two, others will pore over every word. You make the process as quick and easy for clients as possible. How can you do this?
One way is to ask direct questions. This will structure the format of the testimonial, which you can then write up and let the client read before releasing as a testimonial.
Or why not record a conversation, digital communication platforms are ideal for this. You can ask the client for feedback, they don't even have to take time to write it down. Again, you simply write it up and get the client's permission to use it.
Another method is to send the client a standard template for testimonials, with gaps to fill in the information.
Look at how rating sites do it, clicking on ready-made potential answers, smiley faces, buttons, star ratings, everything is designed to make it as quick and easy as possible.
Be proactive – a follow-up request for a testimonial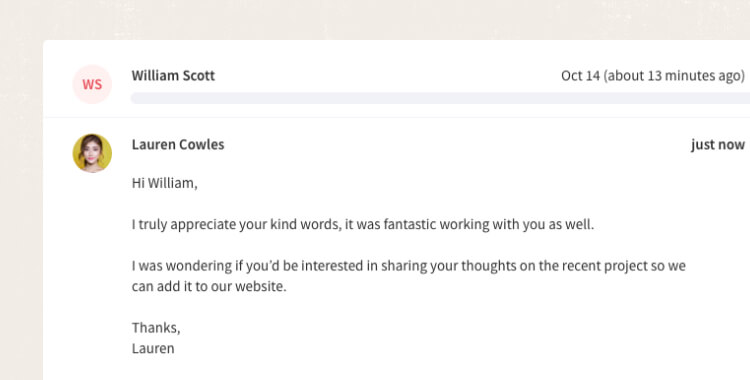 You might often dwell on how to get customer testimonials… But the answer is simpler than it seems – never be afraid to ask for one! You've worked hard, not only on the project but also on developing a relationship with the client. If they are happy with the outcome, they won't be afraid to say so, but they may need a little push. Not everyone is openly effusive with praise and positive feedback, in business as in life there are many different characters.
Some clients may be happy that you've fulfilled their expectations but at the end of the day, they are expectations so it's no surprise to them. If your wife or partner always looks good when going out, do you really have to let her know all the time, and keep saying it – you know you do, and if you don't there'll be consequences. She'll ask you or at least make you realize in some other way! In a similar way never be afraid to ask for testimonials and feedback in general – few people refuse.
The latest research by G2 shows that 80% of reviews originate from follow-up emails and that 68% of consumers have left a review for a local business after being asked. So be proactive with a follow-up request for a testimonial.
Don't ask for a testimonial more than once
Once you've asked, you've asked. Don't return, pestering, like a child demanding attention. You don't want to be desperate, let them think you've got a tremendous number of testimonials to choose from – and if you stick to the advice above you will have.
Respect the fact that some clients don't have the time or inclination to deliver a testimonial. It's probably nothing personal -some you win, some you lose.
How to get customer testimonials… but WHY?
People believe testimonials
People read testimonials, people believe testimonials, and people trust testimonials. The evidence of the power of testimonials speaks loud and clear, you need them on your site, plenty of them and easy to find. They should also be subtle and effective. New clients feel reassured, old clients, feel they are in good hands, and what about the effect on you?
Testimonials are motivating for you and your team
Use testimonials to attract business, as well as motivate your team. Share testimonials, they make the developers and designers feel appreciated and respected. Share the testimonials, digitally or physically, people want to read about themselves and others in their workplace. It shows you value your staff, it signifies that you respect the fact that they deserve the plaudits too. It also motivates and inspires your whole working environment.
We hope that this how to get customer testimonials article was useful for you and you will be able to use these tips straight away. Good luck!