Best Tools for Asynchronous Communication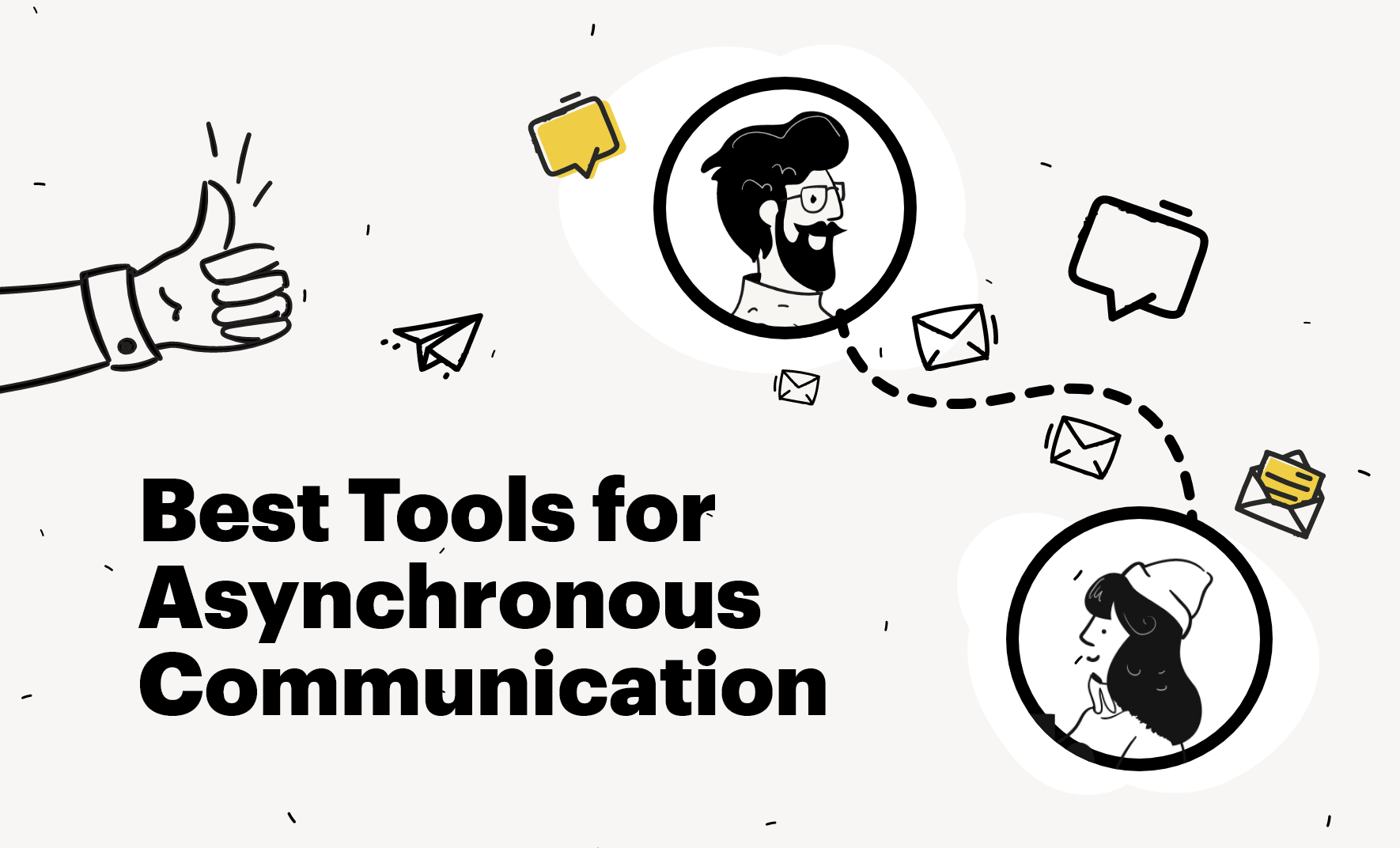 Asynchronous tools allow for communication between two or more parties from anywhere but most importantly at different times. The tools often contain further possibilities alongside communication enabling collaboration, especially for businesses.
The advantage of Asynchronous communication is that you can send and respond to communication when it is most convenient for you. As so often in business today you are working with remote teams, employees and colleagues working off-site, and clients that could potentially be based in other time-zones, this means finding time for a real-time chat or conversation is not as easy as walking down the corridor to someone's office or picking up the phone. Asynchronous Communication systems help you to overcome this communication obstacle. Asynchronous Communication is best used alongside synchronous (phone calls, face-to-face meetings, video chats) as appropriate to the situation and context.
Benefits
The key benefits are;
Avoid scheduling problems – workers or clients can pick up and digest the communication at the most appropriate time for them.
Enables flexible response pace – as recipients have control over the time they access the communication, it also means they can respond when they have time.
Effective and Efficient – This convenience gives the recipient time to think about and compose the most effective response (time to research, find answers, organize communication) and therefore plan the response to cover all the points needed.
Recordable and Archivable – Asynchronous communication gives you the opportunity to keep a record, refer back to for clarity, document communication
Whilst Asynchronous communication is nothing new, (think Email) it is more and more used. And with this greater use becomes a greater range of tools fighting to add features and functions that will add to the benefits and negate potential issues. Like a fine craftsman, the best workers use the best tools. The tools that make the job easier and the right tool at the right time. Asynchronous tools can be messaging tools, document sharing tools, screen recording tools, task and project management tools, and are often a combination. From these communication tools, we move into the area of collaboration too.
Asynchronous Communication Tools
E-Mail
The classic Asynchronous Communication tool, that shouldn't be dismissed. It's stood the test of time and most people still use it today. One of the great advantages is that it is so ubiquitous, and standard that people feel completely comfortable using it, you don't need any technical skills, and of course, it's free.
A well-written email ticks many of the boxes for good effective asynchronous communication. It is flexible enough for plenty of content, that can be read easily, there's an inbox for you to access anytime, anywhere, and you can attach documents and integrate email to other apps such as calendars, and notifications. And email service providers are always making improvements.
The downsides are that email communication is often used almost as a direct messaging service, with communicators expecting immediate responses, often to single questions. This means that people end up checking and responding to emails in an almost synchronous way, taking away from the obvious time-saving convenience advantages. The other problem is the organization. Many email systems provide filtering systems but the more emails you get the harder it is to keep track. Personal and professional emails can get mixed up and don't mention Spam issues.  In addition, long-running threads are particularly difficult to follow, and the time taken to find or retrieve information and copy in other stakeholders means that perhaps email isn't the most efficient business communication method.
It should also be mentioned that emails are vulnerable to viruses and hacking, something to seriously bar in mind for your business communications.
Messenger Apps
For real-time instant messaging then messenger apps such as Facebook,  and WhatsApp are commonly used. There is a more social and therefore informal element to them which can be absolutely appropriate. But messenger apps do not have to be synchronous. Actually, you can pick up and answer the message at your leisure. If you want to use messenger apps for your business communication it may be more appropriate to use a more business-orientated service.
Slack is a hugely popular tool for organizing your in-house and remote teams. It can be used as a chat room, for synchronous communication but it has other uses. You can use it as a messenger service with the recipient picking up as and when. But it also has excellent search and organization facilities and you can store particular task/project-related material in one place and can operate on different channels for different teams. Plus, there are good integrations with Google Docs, Trello, etc, and collaboration tools such as file sharing.
Slack is certain more business orientated than other messenger apps and has the advantage of being a large scale all-in-one communications service, and has better security than social media apps and email. However, it is used mainly as a direct messaging service between colleagues, and managing this can be distracting. It could also be argued that the setup works better for teams working together rather than for client communication.
Twist is a fast-growing rival to Slack. A remote team communication app that uses a single platform to combine email and chat. Twist organizing team communication into topic-specific channels, threads for long discussions, and messages. The idea is to structure the conversations for more efficient working and less time-wasting distraction. You can connect or disconnect whenever you feel the need. There is a bigger focus on asynchronous with Twist than Slack.
Document Sharing
Google Drive is a superb addition to your asynchronous tool bag. It is simple but beautiful, a way of storing, sharing, and synchronizing work. You or your colleagues can then access the files from, any device, anywhere, and at any time. It is a cloud-based shared working space where you can access files and edit with permission. It is free but extra storage needs to be paid for, with prices starting at $1.99 per month.
Is an easy way to send files, especially large files, securely without the limits of many email services. It works by storing the files securely on the cloud and you send a link to access the file. From this link, you can then access and edit the files. It is similar in many ways to Google Drive but is slightly quicker. There is a free service, but it is limited and then you'll need to pay. Prices start at $15 per user per month. It's moved from being purely a storage sharer to a full all-around collaborative system with some great tools.
Video/Screen  Recording and Sharing
When it's easier to talk than writing, easier to be visual than text descriptive then it's possible to share a recorded video. Loom is one such application that allows you to record and share a video or record your screen and the processes on it. This is a great way of explaining complicated, and complex points to remote-based clients or colleagues. It is easy to use with your webcam, you then share a link to the video and it's all free for videos of up to 5 minutes. You can upgrade if you feel the need for more time and Business packages start at $8 per creator per month.
Another tool for creating and sharing videos is Soapbox. It is a web recording app that is simple to use and allows for basic transitions and editing as well as screencasting and split-screen recording. Then you share the link. the basic package is free, with a much more serious package for marketing at $300 per year.
Is a very popular Screen recording app. You can record screen or webcam in full HD, add annotation, trim and edit the videos all for free, as long as you fall within the 5-minute limit. From $49 per year you can do the same but with unlimited time and recordings.
Task/Project Collaboration Management Tools
With project and task management platforms such as Trello, you can log on, check your assignments, and get on with it. There is a little more to it than that but essentially the platform allows for members of remote teams to know what needs to be done and to have a visual record of it on the creation of a Trello board. Task status, notes, notifications, attachments can all be added to this single link system that brings the team together. It is easy to use, incredibly visual and the starter package is free. Upgrades with unlimited boards added features, and greater control, support starts at $9..99 per month per user.
Monday.com is similar to Trello in that it is a communication and collaboration tool that allows team members to visualize tasks in a project and thus get on with whatever task is assigned. It offers greater flexibility with customization than Trello and therefore you can set up different ways of visualizing the tasks, although this comes at a cost. The Basic version is $8 per seat per month and Standard and Pro packages go up to $16 per seat/month.
Basecamp is an internal communications and task management system that is mainly asynchronous.  A simple system of organization that allows users to create and assign tasks, and keep track of them. You can get involved in real-time chat but the focus is very much on Synchronous communication. It's a kind of all-encompassing software for messaging, document and file sharing and sending, to-do lists, etc. Basecamp has a very limited (3 projects, 20 users, 1GB storage space) free version. The Business version is a $99 per month flat fee for unlimited use.
Another popular and well-known project management system is Asana, and it is particularly good for large-scale, large team projects. Managers assign tasks and deadlines to the team via visual boards. Managers can keep track of exactly where the project is and at what stage. There is also a messaging system for communication. It's very flexible and heavy on features and still fast and intuitive. There is an excellent free version ( 1,000 tasks per team, unlimited projects, 15 teammates) as well as Premium and Business versions starting at $10.99 per user/month.
Asychronous Client Communication
Many of the asynchronous tools on the market are great for collaborative work within internal systems. Excellent for sharing work, and messaging colleagues. However, Kitchen is a single platform for asynchronous project management that focuses on communication between the team and the client. With Kitchen, you are in total control of the communication with your clients, and they can see and read-only what you want them to see.
Kitchen will organize all communications on an incredible number of ongoing or potential projects making it easy for you to access the thread and receive notifications and include relevant colleagues in discussions. There are fantastic search features and archiving. Additionally Kitchen provides features that make in an all-in-one client communication hub. Alongside the well-organized clear messaging there are many other features including file sharing, secured payment facilities, invoicing, quote features, and the possibility of securing the sending of files so that clients can only open them on payment. Kitchen separates your internal systems and your external systems, ensuring efficient communication on even the most complex and demanding projects.
Conclusion
It's easy to see the advantages of asynchronous communication and collaboration in the world of business today. For this reason, it is a trend that is sure to continue. To make the most of these obvious advantages you need to use the right tools. There are plenty of options, and it's well worth spending the time finding exactly what you want, what features you need, and the numbers involved.
It may be appropriate to use different tools or different parts of your business, a combination of tools to complete the job.  It will probably also be appropriate to use some form of synchronous communication too in certain circumstances. Good communicators are flexible, diverse, and able to function in different situations. Good communication tools follow the same rules.
You may also be interested in some of these related articles: