How to Manage A Project Effectively: Stages and Useful Tips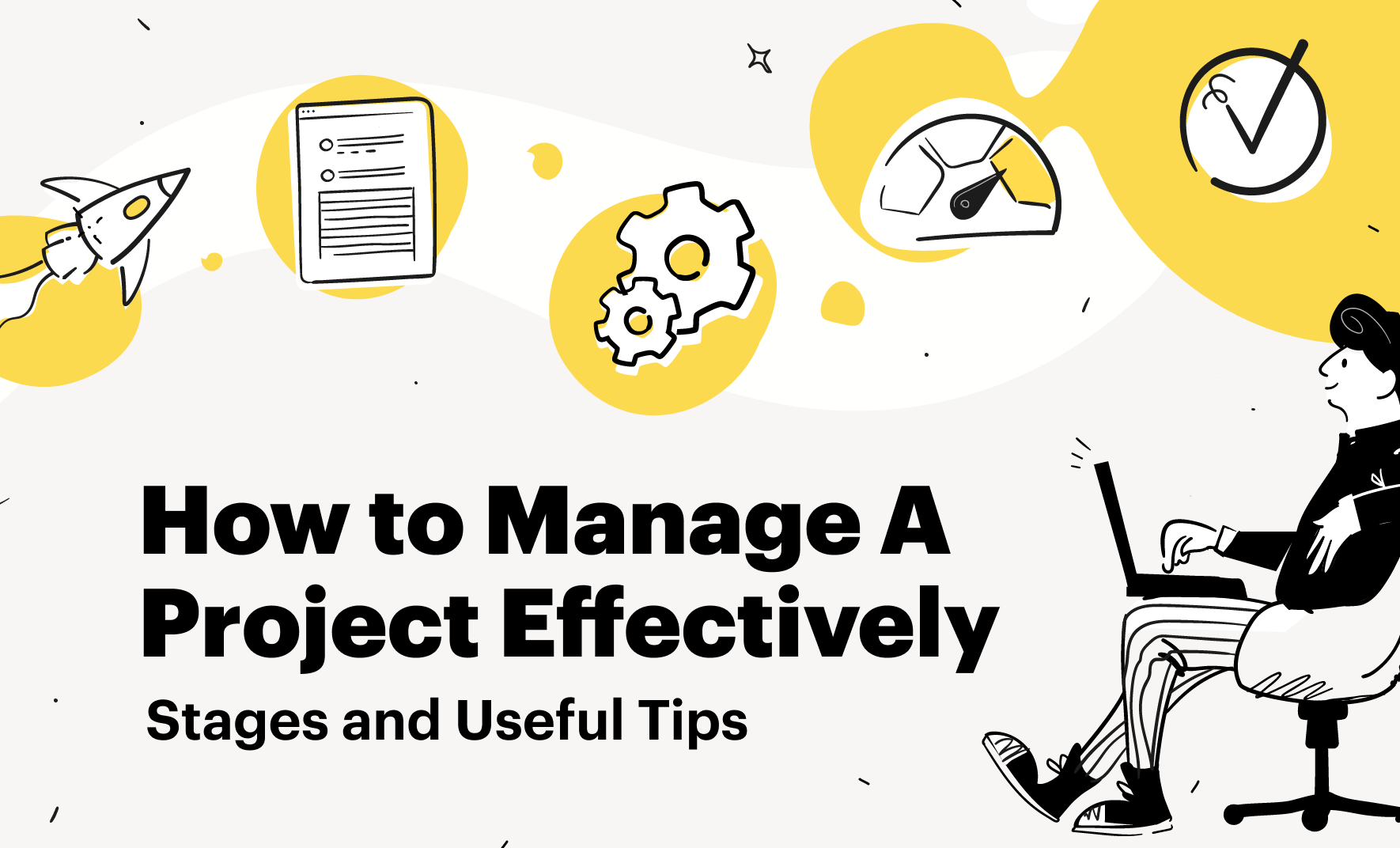 Good results follow good organization, and it is not a coincidence that companies that understand and implement project management successfully are the ones to thrive afterward. If you would like to learn more about effective project management, this article is for you.
What is Project Management?
Project management is the way you combine processes, skills, experience, and different methods to achieve project-specific goals, according to what has been written down in the Scope of Work. The most important thing about project management is that all resources – time and budget, are limited.
In order for one project to thrive, it has to be effective. And speaking of effective, what exactly is effective in the means of project management? Let's find out.
Effective Project Management
Effective project management is the delivery of the completed project that fulfills all the criteria set by the assignor and agreed upon by the assignee. We should stress the phrase "agreed upon," as some clients tend to have many demands which are not part of the contract.
To have all parties satisfied, effective project management has 4 crucial components:
Client – a client who wants to have a project completed should be aware of how to manage their demands.
Agency – an agency that is looking to boost its results will not overpromise and underdeliver.
Team – a team that will achieve a great outcome will need ongoing support from all parties involved.
Project Manager – this is the "glue" that holds everything together, and they need to support the team and balance between the client and the agency.
What is a Project Manager?
A project manager is one of the most important roles in each agency. They ensure clients are happy with the results, teams are fine with the task assignments, and agencies generate a good revenue without sacrificing quality or receiving a bad reputation.
To learn more about what a good project manager has to do to bring benefits to your agency, you can read our article about the role of the project manager in today's business environment. However, the next thing is to identify the stages of project management.
The Five Stages of Project Management
Project management is all about organization, so if you fail to break down each step, you may well lose efficiency. To satisfy your clients and receive top ratings (which is crucial in this competitive world!), you should put everything under control.
1. Project start
The first step is to launch the project. All stakeholders should agree on what is to be delivered for the estimated budget. In this phase, agencies provide previous projects similar to what has been mentioned. The idea is for clients to create certain expectations. We could say this is the first "evaluation" phase, as many project ideas don't proceed to the second stage. If all stakeholders agree, they should start working on a Statement of Work and get it signed by all parties involved.
2. Project planning
Once you've launched the project, this is where "the real" work starts. This stage is where great project managers have their "15 minutes of fame". They should allocate team resources, add collaborative channels (like Slack or Skype), and set goals. Speaking of goals, SMART goals have been a synonym for business success. But there is a new kid on the block now – CLEAR goals. The latter gives more depth to the process. Let's see what CLEAR goals stand for.
Collaborative – The goals should drive more team collaborations rather than solo performances.
Limited –  To manage the processes, all goals should have limits in duration and scope.
Emotional – Employees should have passion for the project in order to deliver better results.
Appreciable – All big goals should be broken into smaller, more easily achievable ones.
Refinable – All goals should be flexible, so they can be refined in time.
A complex project can be broken down into tasks, teams and subteams formed, collaboration opportunities discussed and the whole project begins to take on a realistic, reliable form.
The project manager needs to organize and manage such meetings, pull these ideas together, make the decisions on the direction of travel and prioritize. Once this is done, you will probably need to get the plan approved by the client or a company senior.
3. Execution stage
On approval, the team can move into the actual execution phase. Certainly, this is made easier if the planning and early development ideas are done well. The team members should know what they are doing and have clarity of process and timelines or milestones to adhere to. This doesn't mean you can sit back and relax. An effective project manager needs to be on top of everything, tracking, analyzing progress and results, and making sure everyone is on track.
The best project managers will be in frequent contact with all the stakeholders, keeping them up to date on progress and getting information on possible difficulties. They are there to motivate, inspire, drive, set, and keep standards but also to be the glue holding the project together. If problems arise, and they will, a project manager will find a solution.
Burndown and GANTT charts are crucial for effective project management. They can visualize the performance of the teams and can give a warning sign to the project manager before big stakeholders escalate the situation. Charts can be useful to measure consistent team efforts and allocate resources in a timely manner.
4. Project performance tracking
A project cannot be run by itself. Successful projects cannot afford to lag behind the time estimates and then play "fetch." This is where KPIs (Key Performance Indicators) come into place. The project should answer a couple of questions:
Deliverables – Are the client requirements met?
Project Performance – Is everything going smoothly, or are there roadblocks that are slowing down the project?
Project Progress – How well is the project progressing against the time target?
Cost Efficiency and Effort – Is the budget fully utilized without extra expenses for each stakeholder?
The answers to these questions will define if a project will be a success or not.
5. Project completion
Completion of a project can and should feel like time to relax. But it is also the time that a really effective project manager can reflect. Make sure you take this opportunity. Get the team together, and celebrate the completion – a great way to forge bonds and stimulate team morale. Listen to feedback from clients and from the team. How you get this feedback, whether you think people will feel comfortable in meetings, individually or anonymously, will depend on the nature of the team.
You should be aware that not everything has gone perfectly, and so will others. It's vital to look back at the reasons because that should affect the next project. Whilst some projects will obviously have specific issues, internal miscommunication or misunderstandings might be down to you rather than the clients. Think about what you can do to improve, and show your team you are there to listen and learn.
Project Management Tips
Planning
1. Gather all the information
Before you start doing anything, you need to ensure you have collected all relevant information. Knowing everything is crucial for success.
You'll need information on the following areas
Goals and Scope
Contract and deadlines
Budget
Manpower and resources available
Roles and responsibilities
Quality assurance and standards
Completion Criteria
Without knowing what you have to accomplish, you have little chance of achieving it. There is every chance that no matter how well you are informed at this point, things will change, but at least they'll change from a concrete foundation. Forearmed is forewarned. Some things require more detail and thought.
2. Detailed Deliverables – what are you expected to produce
What are you and your team expected to deliver, and do you have enough detailed information to make this possible? Pin this down, get it in writing and make sure all the stakeholders are aware of this aim.
3. Defining the overall goal and objectives
Once you've established the what not, get the why. What are the reasons for the project, and what does it need to achieve? You have to be aware what you're getting into before you actually do.
4. Scope
What will and won't be included in the project is the scope. Spending time going through exactly what the scope is will save you time and hassle further down the line. Part of your job is to make sure the team is starting off on the right track.
5. Select the team
No man is an island! Without a good team behind you, you will be fighting an uphill battle throughout the project. Selecting the team or team members and assigning roles is mightily important. What input you have into this will depend somewhat on the structure of your organization. However, good project managers with a good reputation are never short of candidates ready to join the team. Importantly try, if possible, to select your team based on fitting the member to the skills required rather than the skills of the people. Balance is important in terms of personalities too.
6. Structure and Systems
Assigning the roles within the team and putting a structure in place for everyone to work to is an important aspect of project management. From routine tasks to meetings, communication, tools, testing, and resolving problems, a structure is what holds the team together.  An effective company will establish the structure and the systems from the very start of each project. An established team may already know them, but they will need reminders, as will new members.
Once you have a strong system functioning, many teams will buy into it, and the hope is that they will police themselves.
Development
1. Defined and detailed planning
This may seem like part of the planning, but actually, this is the earliest development stage. Sitting down with the team, breaking down and outlining the tasks and requirements of each.
The most effective managers see these meetings as opportunities to not only plan tasks but also to help create and bond the team as well as to reinforce the roles, responsibilities, and structures. The team input is good for you. Their technical knowledge and experience should be used. It is also good for them to start taking responsibility and creating a sense of ownership that most successful projects have. Teams need to have input into breakdowns, timelines, and milestones, and you can set an example by trusting their judgment, allowing discussion and ideas, and backing your team's opinions.
2. Build the Plan, share the plan
When everything is in place, don't keep the plan a secret. Share the plan, and make it accessible and transparent for all team members. The tasks, the guidelines, the quality and standards, everything.
3. Risk management
Projects are affected by any number of situations and circumstances, some are foreseeable, and others come completely out of the blue. An effective leader can identify most risks with a project and plan their resources carefully. Issues like staff absences, holidays, and an inexperienced workforce are not acceptable excuses. Plan for risk or risk failure.
4. Communication and Collaboration
Effective managers don't leave communication to chance; it is a skill that needs to be worked on. Whether it is face-to-face, messaging, or video conferencing, communication needs to be clear and appropriate for the task. All contact has an aim. Communication is a two-way process, and the quality of your communication will hopefully be reflected in the quality of the return one.
In general, communication needs to be clear and concise. It has to be conducted with a professional tone and it has to leave no room for misinterpretation or misunderstanding.
As far as collaboration is concerned, it should be encouraged. If it doesn't happen organically, you may need to lead the way. Effective project management cannot be achieved without teamwork from top to bottom.
Execution
Moving on to the actual production of the project is a key step when hopefully, you'll start to see the hard work put in in the planning come to fruition. You have to keep the communication and collaboration and keep on top of the team and generally keep things ticking along. But sometimes, the ticking is not like clockwork so don't just put your feet up.
1. Monitor progress
You have to be aware of and manage the progress being made, and make sure that timelines are being followed and the tasks are getting done. Your highly developed communication skills will help here, and hopefully, everyone will feel comfortable enough to vocalize problems early so you can do something about them.
You do need to monitor progress in a more analytical way than just a chatty approach. Any issues will affect other things, missed deadlines can build, and problems can quickly grow and get out of control. Your job is to hold the upper hand all the time. You will need to track progress and analyze data over and above your regular communication. There is a great deal of software and tools available for this.
Highly developed project management software is unbelievably useful in so many ways. They help improve efficiency and let you keep a firm grip on exactly where the project is and what is happening at any time. If the tools are there, and there are plenty of them, then use them. You can track timelines, analyze workflow, produce charts and graphs, generate reports and beyond this, you can also communicate and use collaboration tools. The added bonus is that these tools allow all the members of the team to see the general progress too.
2. Active management is adaptive management
When everything is running smoothly, it's easy for everybody. If you run into trouble, this will put stress and strain on the bounds holding things together. So, solve this problem as soon as possible, and then look at how you can avoid it from happening again.
To evade things from slipping out of control, you need to constantly monitor the charts and address problems as soon as possible. Timely resolutions might cost money, but it's much easier to compensate a couple of workforce hours with optimizations than mess up a milestone…and a whole project.
3. Quality assurance
Progress needs tracking but also testing. Make sure you have quality assurance throughout the production stages. Check the quality of work done by your team, it's so much easier to address issues early than let poor standards become the norm. Teams that are checked often and consistently are the teams that keep their standards high, the aim is to make top quality the standard quality.
4. Embrace change
Projects are often not set in stone, especially not the very long and complex ones. Fear of change by you will transfer onto your team. Handling change with confidence gives the whole team a sense of calm and confidence too.
5. Keep the team motivated and onside
Team members can be a tricky bunch. Even in the best functioning teams, you'll get different and diverse characters. These often produce the best results. Your job is not only to get the results at the end of the day but also to create an environment where the team feels comfortable and confident in producing their best work. Man management skills are not secondary to getting results. They are essential to producing results for the current project and to long-term success for your business.
Final Stages
The final stage of the project should be a time of joy, although probably a very brief one until you move on to the next one. However, just cool your boots and take some time to reflect both on a personal level and with your team and hopefully with your happy clients.
With the project signed off, this should be the time to look back on the success but also look to what can be done better. It is common to hold retrospective meetings with the team, this should be a time for celebrating the success – don't underestimate this moment for team bonding and motivation. This is the time when you can get feedback from everyone within your team, and see if you can improve your methods.
Look at ways of getting good honest feedback from clients too. This feedback is important for you and your business to demonstrate your successes.
Conclusion
Effective project management can be challenging, and who would want it any other way? Challenges are a chance to prove yourself. If everybody could do it, they would. However, with a structured, calm, and organized approach, you will go a long way to establishing your authority both with your team and with the client.