How to write Scope of Work that won't let you down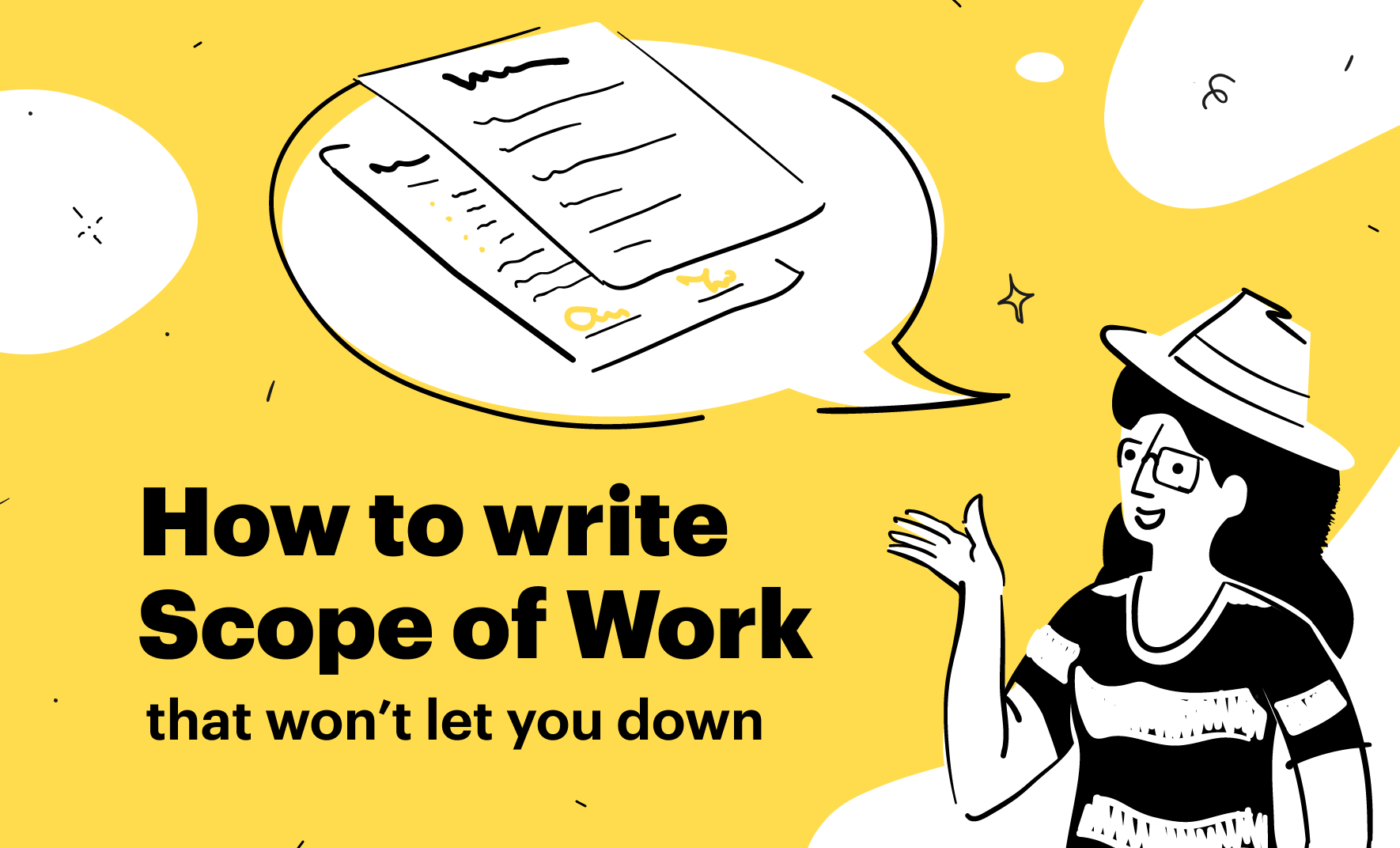 A project's success is never guaranteed at the beginning, as many questions are yet to be answered. But there's an excellent chance to succeed if money and a plan are in place. That's the Scope of Work.
Nobody is willing to pay if they don't see a well-written plan that will show each step of the process. After all, the common thing between you and your client is that you are both after money – you are after your client's investment, and your client is looking forward to making a profit from customers.
For both parties to agree on a deal, there should be a well-written Scope of Work. In this article, we will provide you with the Scope of Work definition and some tips and tricks to develop a good one!
1. What is a Scope of Work?
A Scope of Work, often abbreviated to SoW, is a formal agreement of all the work you will do on a project. It sounds basic, but it is absolutely vital. It is an integral part of the Statement of Work which defines how your team will achieve each set goal.
In the Scope of Work, every single task is well explained, and there is a breakdown of everything that will happen throughout the project. The Scope of Work is the Project Manager's job who will have to write down the tasks that will happen during the project length, assign a time frame for each task, and notify all parties – operations and the client.
The Project Manager should write the Scope of Work in a clear and concise language, focus on structure and avoid ambiguity at all costs.
2. What is a Statement of Work?
While Scope of Work and Statement of Work use the acronym SoW, they are not the same. The Scope of Work is only a part of the Statement of Work. The latter refers to the whole document. That includes information about the legal parties, an explanation of the tasks that will be performed, a payment schedule, and other project details.
To better differentiate the two – Scope of Work is part of core business operations while Statement of Work is an administrative procedure (to be more precise, legal).
3. Why write a Scope of Work?
A Scope of Work is an essential document for any project manager when working with outside parties. A well-written one explains everything you will need to fulfill for the project to meet the expectations of the client. It is a detailed action plan with a timeline, it is a definition of expected outcomes and it outlines the terms you are working under.
The Statement of Work (which the Scope of Work is part of) is signed by both parties, thus it sets the expectations from the beginning. It can portray the whole partnership between assignor and assignee and can set the tone of the business relationship.
A Scope of Work should provide the client with your promises of what will be delivered and it should help you when additions and changes are requested. A good SoW can be considered a safeguard against demanding clients and protect you against potential legal action.
4. How to structure the SoW?
When considering the Scope of Work construction, you should also be aware of the other party. If written well, the SoW can ease negotiations and clear grey areas. There are two factors to keep in mind that are crucial for your project's success.
4.1. Clarity
Your Scope of Work proposal should tick two boxes in order to be considered a serious offer.
Clear – you should write your SoW document in clear language, and it should not only be error-free, but it should also have clients whose native language isn't English in mind.
Concise & Specific – a Project Manager should ensure the Scope of Work template they've produced is concise. No vague explanations, no stretched deadlines, etc.
The best Scope of Work is the one the client understands without asking further questions.
4.2. Client Involvement
You cannot make the Scope of Work all by yourself. Why? Because there is someone else involved – the client. Everything that you add to the Scope of Work should include your client's agreement. It might initially seem like a nightmare to spend hours writing emails and calling, but it will be worth the wait.
4.3. Follow-up
Follow-ups have their place in business commutation because they work. It's one of your main Scope of Work requirements to confirm that client is satisfied with the Scope of Work, and that you can proceed with the other details from the Statement of Work. It should happen before you sign the contract and is something like a "double confirmation."
5. What to include in a Scope of Work?
There is a whole list of things you could include in your Scope of Work. Some are essential, others are going to depend on the nature of the project, and even the methodology and strategies you are using to complete this project. It is important to remember this is an agreed document and both sides need to know what each other has promised. It would help if you considered including the following:
Objectives/Aim and Outcomes – What the project will achieve and how you aim to do it show that.
Requirements – Establish what precisely the needs of the project are.
Schedule/timeline – The starting date, expected completion date, and key milestones showing progression.
Breakdown and Task Priority –  An ordered action plan of the different elements that will produce the fully completed project.
Deliverables – What your project will produce; a document, a piece of working software, a mockup.
Reporting – How you will report progress and who you will report to.
When writing a Scope of Work, it is not only a detailed document of promises and agreed-on outcomes, it is a sign of your professional standards. It is a demonstration of your organizational skills and a symbol of your business identity. How you put this information across is as important as the information it contains, at least as far as your business image.
Your Scope of Work document template needs to be set out with a clear purpose of what the project is before signing the agreement, what the project will look like after the contract ends, and all the stages in-between.
6. Statement of Work Overview
While our main topic is the Scope of Work, the Statement of Work is crucial, as it is the legal document that is getting signed.
Section 1: Title
The Statement of Work should have a clear title. From the file name to the document title, clients should easily scan what this document is all about.
Section 2: Introduction
In general terms, the reasons behind the project and why the project is being done. Put your services into context and briefly explain what you intend to do to meet the need. There is no necessity to go into detail. The idea is that any reader can get an idea of what is to come by quickly reading through a short introductory paragraph.
Section 2: Project Objectives/Aims and Solutions
In this section, you need to focus on the clear goals of the project and how you intend to meet them. List the plans with a solution, don't go into details of exactly how you will implement the solution. You can add some context about the project here and some background to the reasons for needing this project but again, try to keep it brief.
Section 3: Scope of Work
While it is not the final section, the Scope of Work is the most important one. As you've already understood, you need to pay a lot of attention for it to be accepted by the other party.
Section 4: Payment schedule and T&Cs
This section includes one of the most important paragraphs from the whole contract – the payment schedule and the Terms & Conditions. Before releasing the Statement of Work, this section should have your legal team agreement before passing it to the client.
7. Scope of Work Tasks
In this part, we are looking at the specific tasks and the breakdown, demonstrating how you plan to attack this project.
Section 1a: Action plan
The Scope of Work action plan is crucial for the overall success. What works need to be done to complete the project, and how do you plan to break it up into sections or stages? Each task must be specific and quantifiable. A bullet point list is enough; you don't need to mention small details, but every task should be documented to justify your payment. You should understand that most clients aren't aware of your processes, and if you don't prove your work, they might not feel like you are worth your payment.
Section 1b: Task & Deliverables
You can combine this with the action plan depending on how you want to set up the document. This is the real Scope of Work, the part where you match your tasks with the deliverables requested. Each deliverable may be made up of numerous tasks, so you can get creative with how you draw these together in your Scope of Work. As long as the client can see a direct relationship between the tasks and the results, it's fine. You might use color coding, or block tasks together under deliverable headings. As long as you demonstrate the link between what you plan to do and what you plan to achieve.
Section 1c: Task Details List
Again this can be linked to the other task sections. You just give some detail of how the task will be achieved, the specific action, and it may be appropriate to state the technical and staffing resources needed. The point should be helpful for the clients to see what will happen in each stage and for the team working on the tasks to know what is required.
Section 2: Putting into Action
The value of this section is that you demonstrate exactly how all the separate deliverables will combine to produce the completed project.
Section 3: Project Timeline/Schedule
This can be difficult, and a lot depends on the nature and strategy of your project management system, and the type of project you are working on. A Waterfall process is much more predictable than an Agile process, for example. Whenever possible, you should try to give an estimated timeline for events. These should be done in the expected time taken rather than exact dates unless, of course, you know the precise starting date of the project in advance. This gives all the stakeholders, including your own team, a time frame to work within.
It is where milestones come into place. Instead of being rough with assessments, you can break down the biggest tasks into smaller ones (usually with checklists) which can help you identify the estimated time much more precisely. It will be helpful for both your team members and the client.
8. Scope of Work Administration
Administrating a Scope of Work is just as important as writing it. Let's see some of the most important things:
Section 1: Roles & Responsibilities
There is plenty to cover here, and it's worth taking some time to decide what part the client and yourself play in this process.
Who is responsible for signing off the stages of the project and the final project?
Who is responsible for agreeing or adding to the previously agreed Scope?
Where do you report progress, to whom, and by what method? How often do you report progress?
How do you expect to receive feedback?
Do you have set meeting times? How much client input do you require or want?
Who is responsible for maintenance and support after the project sign-off, and what does this include?
Think of all the potential problems that could come up during this project, and specify who the person to contact in every situation is. These may seem like minor details but getting them in writing before the start of the project makes your project managing life so much easier.
Section 2: Standards & Expectations
Be clear about the standards you will apply. Certain projects may require legal standards; others could be down to your professionalism. Set a paragraph aside to make note of what the agreed actions are from both parties and what extras are not covered by the previous agreement.
Section 3: Criteria for Success and Project Sign-off
What are the agreed criteria to show that the project is complete? And who decides whether or not they are fully completed to a satisfactory level? Get a name if possible. This is important to get in writing at the outset, as it will reduce potential problems later. Make these criteria clear and specific and establish the terms with the client before embarking on the project. Take as much upfront information as possible to avoid misunderstanding and unwelcome surprises.
Section 4: Signatures
All that's left is to leave a designated space for the signatures of the representatives of both parties.
Summary
Defining a good Scope of Work is critical for the whole project's success. It sets the boundaries between assignor and assignee and manages expectations. A well-written SoW can help you negotiate better terms with your client and can serve as a shield if you come across unrealistic demands that haven't been mentioned beforehand. A high-quality Scope of Work template is what makes your Project Managers worth their salaries.
FAQ
What is the difference between a Statement of Work and a Scope of Work?
The Scope of Work is part of the Statement of Work and explains the operational aspect of the business – tasks, assignments, milestones, deadlines, etc. The Statement of Work is an official document that includes not only the Scope of Work but also legal information – company info for your business and your client, payment schedule, and contract definition.
How to write a Scope of Work?
To write a Scope of Work, you should follow the best practices for creating a Scope of Work – you should define milestones, deliverables, and timeframes of tasks. You should make a clear structure in the document and communicate it with the other party.
Who should make the Scope of Work?
The Project Manager is the one that should create a Scope of Work. But for the document to be successful, you should involve the client, letting them make suggestions. It is a must-have step to avoid misunderstandings.